We love our summer "crazy style" races; Tough Mudder, Tough Mountain Challenge, Mountain Mucker, whatever. We love seeing lots of different folks of all ability levels pushing themselves to their personal limits in a supportive atmosphere of fun and camaraderie. Personally, "crazy racing" gives us a reason to actually monitor our food and workouts to try to be in SOME sort of shape. But…these races are a summer activity; winter means more "normal" pursuits.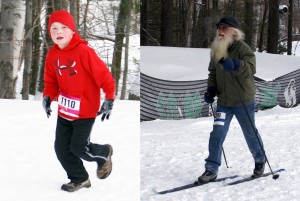 Or…does it? Recently, we ran across a race series that sounded like a winter version of the same insanity we so love in the summer. NE Winter Wild is a winter racing series that's all about getting up AND down ski mountains, using whatever equipment you want. Feel like using alpine skis or a snowboard? Carry them up, put them on, slide down. That's probably not the most efficient option, but it's there for you if that's what you want to do. Much faster are the skate skiers and the runners (many wearing Kahtoola MICROspikes –Kahtoola is one of the event's sponsors); behind them are the snowshoers, AT and Telemark skiers, and the snowboarders. The nice thing is that you get to "compete" in your own category and age group, so you don't have to slog up on your Tele skis thinking about how far ahead that skater who blew by you at the start is by now.
For adults, this race involved making two full laps up and down Pats Peak. There's also a  free "Let's Move" category for school kids in the NE Wild Winter races. For the Pats Peak race, kids could do one lap or two, and many did the whole race). Obviously, we can't miss a chance like this! With a friend about 2 miles from Pats (otherwise known as "free lodging"), it seemed like a good way to start. And, Pats isn't the steepest mountain out there, right? So, a good way to break into the series. I registered, and the butterflies began.
I'm one of the worst skate skiers on the planet, so that was out. And, I'm a better skater than I am a runner. This meant…AT skis. Since we're working more on getting out backcountry at EasternSlopes.com, it seemed like a great chance to work on my skinning technique; climbing while pushing your physical limits makes you better when you're doing longer, more normal efforts. You'll find any weaknesses in your strength-and-balance equation when you're pushing hard, and you'll get better fast.
With that decision made, the next was…what equipment? From looking at last year's results, the average time was around an hour for a two-lap event. Hmm. It takes about 3 minutes for a full-tilt run at Pats; take 6 minutes off the hour, and you get about 27 minutes per climb. Clearly, climbing is where a racer can gain time! My body weight is what it is; where could I take weight off my equipment?
Luckily for me, I have a set of older Karhu Jak BC skis with lightweight Silvretta bindings (Dynafit was the popular choice at the race for their ultra light weight), Black Diamond skins, and light Garmont boots. That combination is the biggest factor; weight on the feet is more important than weight on the back, since you're moving and lifting them all the time. Next most important is poles, since every stride you're lifting and planting. We had in-house for testing the Exped Alpine Lite 140 Trekking Poles
; at 13.4 ounces, they're by far the lightest backcountry ski poles we've tried. And, they've also got a very low "swing weight;" in other words, more of their weight is in the handle than the tip, so they feel lighter than they actually are.
That took care of the basic gear. Now, head scratching on the rest of it. The biggest factor to take into account is that climbing would be hot. Yet, a 40mph downhill run could freeze me, fast. After much thought, I decided on an earlier generation of Craft Men's Zero Extreme long underwear. It blocks wind, but breathes in the back, allowing what is the best warmth/breathability compromise we've found yet for cold weather aerobic activities. And, years ago I'd started to get into XC ski racing, and gotten a nice, stretchy outfit from the shop that I was going to race for (and then no snow came, leaving the suit brand new). Breathable, comfortable, and definitely fast in the downhill section, it seemed ideal.
With those choices made, all that was left was head and hand wear. For my head, I decided on a light earband and a cycling helmet; while this is a mostly climbing race, I knew I'd be tucking the downhill as much as I could (I'm a better descender than climber), and a fall at those speeds could be dangerous. For my hands, I knew that I'd want something that blocked the wind, but also could be taken off and put back on easily even with wet, sweaty hands. We're currently testing the Outdoor Research Stormtracker Gloves, which seemed ideal; 
they're light, made of Gore Windstopper with leather palms, come on/off easily, and have such good dexterity that I figured (correctly, as it turned out) I might not even have to take them off to change my skins and store them.
Hmm…storing skins. I'd better take a backpack. The  Osprey Raptor 14 is one of our favorites for active sports, as it sits tight to our backs and has a stretchy waistbelt that doesn't interfere with the dumb things we do.
Finally, eyewear. With a race starting at 7 a.m., it'd be darkish this time of year, but could get pretty bright by the finish; and, that 40mph downhill without eye protection is NOT a good idea. I went with Tifosi Slip Fototec Sunglasses; we'd tested them for mountain bike racing, and their nearly clear lenses for the early morning that would darken if it lightened up, plus full coverage to block the wind, seemed ideal.
With all the gear questions answered, it was just a matter of getting to the race, getting ready, and then…hurting. With an early start time, I prepared a breakfast smoothie the night before, set the alarm for 5, drank my breakfast, and curled back up for a half hour. Anytime you're thinking of racing, it's good to eat at least a couple of hours in advance so that it has the time to settle, get some energy into your system, and, um…not come back up when you're pushing hard.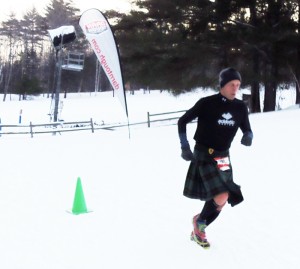 Finally dragged myself out of bed and headed for the mountain, and was shocked to find it PACKED! Clearly, I'm not the only idiot who thinks getting up early to abuse myself by racing UP a mountain is a good idea. Packed is good, though; the energy and vibe were positive and fun. Registration was a breeze; these people have their act together. I found out later that their volunteers actually go from race to race, so they have the routine down pat (or would that be Pats?).
The starting line was wild, with skiers, snowshoers, runners, you name it all massed together; some serious, some worried, some laughing. At "GO!," we all took off, and it became clear that skinning up was NOT the fast way to go. It seemed like everyone passed us, leaving me looking around at the other few who were slogging and sweating. The most debilitating moment was when a kid of about 9 passed me running (and yes, he reached the finish line ahead of me, too!); I suddenly felt very old and out of shape. Ugh. I just kept reminding myself that hey, this is about having fun, not winning, and that running is faster uphill anyway. Right?
Climbing up Puff, a green circle trail at mountain right, was hard but…hey, this racing isn't too bad! I couldn't go that fast, but I could definitely keep a pace. We learned a long time ago to not go too hard early in these races; if you do, you burn out, end up slower than death, and have a truly miserable time. Better to go at 85% for the first lap, then let loose in the second lap.
That sounded good, anyway; and then I met Twister. As my friend said "Going up Twister, huh? They must not like you very much; that's a steep little bugger." If you're a skier and have never climbed UP a ski mountain, it's shocking how steep they are. Even with my full skins and my binding heel lifts in the highest position, it was hard to keep from slipping back with each step; it really took pressuring the ski hard to keep going forward. Remember that bit about racing helping your technique? Yup, great example; I'd never normally try to ski straight up a pitch like that. Pace wasn't an issue; it was simply a matter of going UP without losing traction. Well, pace wasn't a factor for me, anyway; for the skate skier that passed me on that section, it clearly was. Frankly, I was blown away by the athleticism of the skaters in the group; that's hard enough work on a FLAT. If I were them, I'd have taken my skis off and walked up.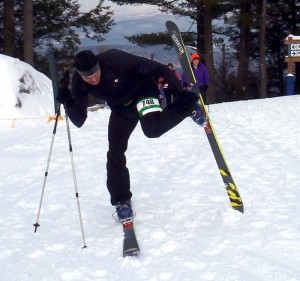 Finally, the top came in sight. As predicted, I was soaked in sweat (and regretting the headband; that was my ONLY clothing choice that didn't work, though), and trembling with the effort of getting up Twister. And that's when I figured out my big mistake. The Raptor is a wonderful pack, but the pack in general was a dumb idea. The time necessary to take it off, open it, get the skins off and tucked into it, zip it, and put it back on was good for having about 30 people pass me and head downhill. Now, I knew that I'd be catching them quickly, since my skis were designed to go fast DOWNhill, but psychologically it was debilitating. As soon as I was ready, it was tuck time; I knew I needed to make up as much time going down as I could.
And that part was seriously FUN. After all that work climbing, passing tons of people going downhill felt GREAT. Maybe skinning isn't the slowest! The soft conditions that made climbing difficult made putting edges in easy; too soon I was back at the start. And the backpack mistake haunted me again…get it off, open it, get the skins out, put it back on, get the buckles buckled…as many of the people that I'd passed passed me again.
But miracle of miracles, my skins seemed to be sliding better this lap! Puff was actually fun…sort of. I knew what Twister was, knew I'd be able to handle it, and could let loose a little more on the lower sections. Better still, I had two guys who were skinning up with me; direct competition ALWAYS inspires me to do my best. I fought hard to keep them from passing me, and actually managed to open a little gap between us on Twister. This is what's fun about these races; you don't know if you're 10th or 100th, you simply do your best and use what you have in the moment.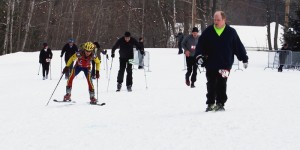 At the top, I got smarter; left the pack on, ripped the skins off, and tucked them inside my stretchy top; I looked like Dolly Parton's ugly sister. But, it was MUCH faster. Red-coat-skinning guy (later to be found to be a super nice chap named Dan Conway) got his skins off faster than me; I chased hard to catch him. He started to tuck, and…well, my reptilian brain came out. I HAD to pass him! I've never been a pretty skier, but I've been a strong one, and tucking is all about strong. And, that silly stretchy suit was REALLY aero; I flew by him and kept on going. By the bottom, my tired legs were starting to cramp, but I made it and headed for the finish; I didn't dare look back to see how close the other guys were. With true evil intent, the organizers gave us an uphill finish; knowing how slow I am with the skins, I made my smartest decision of the day and skated my way up. Sort of. Skated, poled, skated, poled…it seemed like the longest 100 yards of my life. Finally, the finish line, and no skiers had passed me!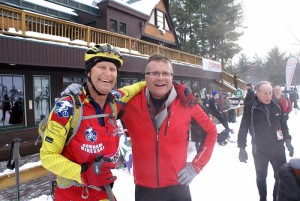 Not long after I crossed the line, here came red-coat-guy across, and up to me. We each thanked each other; that competition had spurred both of us to do our best. Dan turns out to be a veteran of these races, proving that people DO find them to be worth doing over and over! Shortly after, #3 showed up; Dave proved to be as nice as Dan, and another veteran. Typical of these events, they were in high spirits even without winning, and welcomed a new competitor.
Upstairs at the awards ceremony, competitors chowed on bagels with peanut butter and Nutella, clementines and bananas, and traded war stories. It was loud and boisterous and fun. Considering how tapped out everyone had been a little while ago, the recovery was impressive. Speaking of impressive, the door prizes ranged from energy bars to Marker bindings; many people came away with more than their entry fee. It was clear that lots of people knew each other from previous races, and planned to see each other again at the next one. I can't guarantee that I'll be at that one…but I know I WILL be at more of them in the future!
As with all of these mixed-up, open category, ridiculous races that the EasternSlopes.com crew has done, this was a great chance to get out in the fresh air, test limits, and cheer on and be cheered on by fellow competitors. Aside from the impressive few who really have a chance of winning, it's more event than race. If you haven't tried one yet, please do; we're betting that you'll feel the same exhilaration we do on finishing, and enjoy basking in the shared glory and misery with the other participants. Hope to see you out there!