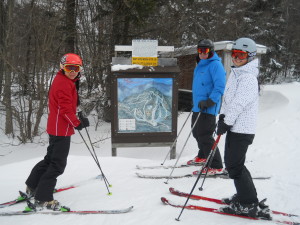 For the third year in a row, we set out on another EasternSlopes.com family skiing adventure, and it was as memorable as the winter trips to the Eastern Townships and Chaudier Appalaches in Quebec! This time, we were headed for Vermont, where we had planned a perfect trifecta of winter trails at Middlebury Snow Bowl, Rikert Nordic, and Robert Frost Mountain Cabins. When  you go on a trip with two teenage girls (and a Mom who travels with the "bare maximum"), it's not only an active getaway, it's also an adventure in packing! A two-day skiing and snowshoeing trip can fill an SUV with clothes and gear; where are we supposed to put the kids?
When you think of skiing in Vermont, it's likely that the first resorts that come to mind are the larger ones – Stratton Mountain, Killington, Stowe, Sugarbush (another EasternSlopes.com Family Adventure), Mount Snow , etc.  Yet for this Middlebury College alumnus, the prospect of skiing the Middlebury Snow Bowl and returning to the old alma mater after 35 years had more appeal than any big resort.
February, 2014 will probably go down in the record books for snow accumulation, and the day we set out was no exception. If The Weather Channel gives the winter storm a name, it's likely to be a doozy, and winter storm "Nika" was no exception. Our planned 4.5 hour trip to the Robert Frost Mountain Cabins from our home on the Maine coast turned into 8 hours as we crawled at no more than 20mph in blinding snow. While travelling over  the Middlebury Gap road on ice-covered roads at night is a challenge, the silver lining for this trip was the chance to see the most beautiful view of the big dipper, bright and beautiful in the night sky, when the snow finally stopped.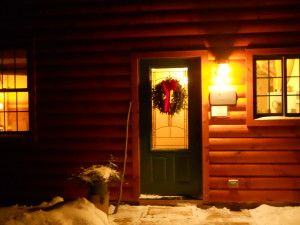 Hungry and tired, our family finally arrived at the Robert Frost Mountain Cabins and we were delighted to see a welcome to "the road less traveled." As promised, they left the light on, and the fire in the fireplace. The spacious accommodations, the full kitchen and the memory foam mattress toppers were all welcome amenities for weary travelers. For my kids, a thorough inspection of all the electronics was the first order of business, and squeals of delight came when the strong wi-fi signal was discovered. If you travel with kids, you know that all is well in their world if a wi-fi signal is available.
We awoke the next morning to grey skies, and plenty of excitement about visiting the Middlebury Snow Bowl for a day of skiing on fresh snow. When homemade, steaming hot blueberry maple corn muffins were delivered to our cabin, however, everything stopped for a group gobble.
Fresh Powder at Middlebury Snow Bowl
That didn't delay our skiing, though, as the Snow Bowl is located just 15 minutes from the Robert Frost Mountain Cabins, and we were able to pull right up to the lodge to unload. "I love these small family-oriented mountains," said my husband, Lincoln, as soon as we pulled into the parking lot. "It's what family skiing is all about," he beamed. Indeed, the convenience and ambiance of New England's classic smaller mountains is wonderful for families with kids of all ages;  you never have to worry about getting lost or walking far from the parking lot to the car.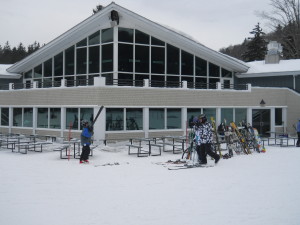 The first change I noticed to the Middlebury Snow Bowl from 35-years ago was the expanded base lodge. I especially liked the enlarged deck overlooking the mountain. We arrived the day before the annual Middlebury Winter Carnival, and work on the race course was already well underway. Having thoroughly enjoyed four Carnivals during my time there, I couldn't help but feel a wave of nostalgia. Time to find out if my nostalgia for the mountain was accurate!
The second change I observed were the expanded Allen and Ross Race Course trails, front and center in view from the base lodge. Both race trails were expanded in 2006. The old, slow double chair was also replaced by the Worth Mountain Triple in 2009, but the newer, faster lift still offers the views of Pleiad Lake I remember so well!
The Snow Bowl offers 17 trails, and 45 percent of the mountain has snowmaking. After the successive snowstorms of recent weeks there was no shortage of snow, and all the trails were powder-filled. Our first run was down the ungroomed Proctor trail, a thigh burner for me which elicited whoops of joy from the rest of the family who took off down the mountain without me. Skiing alone, I couldn't help but remember how, when I first came to Middlebury as a beginner skier, this trail was the biggest challenge I could manage. Today it was just plain fun for me, our family, and the few other skiers on the trail.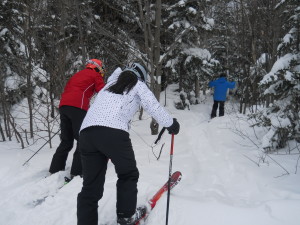 Probably the biggest change at the Middlebury Snow Bowl is the boundary-to-boundary skiing. They dropped the ropes last year, offering unlimited access to tree skiing across the mountain. If you love skiing in the woods, this is one place you'll find plenty of it; in fact, they claim the Snow Bowl offers among the most tree skiing in the East! On trail after trail, I'd turn around to see my family dropping into the woods, only to come out below with big smiles on their faces.  Those with aging knees can stay out of the woods; the trails still offer plenty of great terrain of varying difficulties.
One thing that hasn't changed in the years since I visited the Middlebury Snow Bowl is the classic New England feel of the trails which twist and turn in and out of woods. No longer the beginner skier I was then, I could appreciate the easier trails which always challenged me as I cut my teeth on skiing at the Snow Bowl, and also now enjoy the steeper black diamonds. As anyone who skis with their family knows, if the kids are happy, Mom and Dad are happy too, and this was one mountain that promises to captivate even the most sophisticated skiing teens. If your kids are resistant to trying something new, take them to the Snow Bowl for a taste of classic skiing, fun wooded trails and seemingly endless tree skiing. You might just coax a smile.
Skiers on a budget will find no problem filling up for under $10 at the welcoming Snow Bowl cafeteria. We enjoyed Vermont Melt Sandwiches (grilled Cabot Cheese with turkey on Vermont Multigrain bread), soup in a bread bowl, pizza and chicken fingers. Outside, the snow started falling hard and heavy once again;  just in time for 300 students  to descend on the area for the Middlebury Carnival.
The Snow Bowl got one more opportunity to prove its family-skiing legacy…we stopped by the ski shop to add another ski area sticker to our collection, and met the current manager of the shop who told us that his father and his grandfather both worked at the Middlebury Snow Bowl ski shop. How's that for classic New England tradition?
Here's the inside secret about the Middlebury Snow Bowl: Because it's not one of those big Vermont resorts you think of first, it's blissfully uncrowded. Even during February vacation week, we skied right up to the lift, never waited in a lift line, and often had trails to ourselves. Add to that a $30 midweek lift ticket, and it's clear this is a no-brainer discovery for skiing families on a budget. Stay at the Robert Frost Mountain Cabins, ski a day at the Middlebury Snow Bowl , then explore nearby Mad River Glen and Sugarbush (or Mount Ellen)  for the best of all worlds.
The Rikert Nordic Center at Bread Loaf Campus of Middlebury College
After lunch, we drove just five minutes down the road to the Rikert Nordic Center at Bread Loaf. Known in my Middlebury days as the Bread Loaf Nordic Center (and now sometimes known as the Carrol & Jane Rikert Nordic Center), this well-respected facility is located on Middlebury College's Bread Loaf summer campus.  You can't miss the yellow buildings while driving by on Route 125, along with the groomed trails crossing the road. As we drove by, the grooming machine was just making its way up the trail.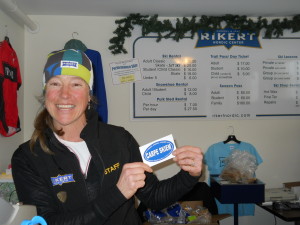 Rikert was also a hotbed of activity as preparations were underway for both a high school championship race and the Middlebury Winter Carnival.  We entered the welcome center building and found a combination warming spot, ticket sales, rental shop and snack bar serving up home baked items. Friendly staff were on hand to help with XC ski rentals and snowshoe fitting. Caroline Marston, who gets the prize as the cheeriest and friendliest ticket sales person/info manager ever, explained that Rikert is among just a few XC centers offering dedicated snowshoe trails, allowing the tracks for XC skiers to stay intact, while pristine wooded trails can be reserved solely to snowshoers.
Once again, when we stepped out of this lodge it was pounding snow, which made for tougher visibility yet better photo ops. We took the First Loop Trail and started up the hill, climbing for at least 45 minutes through well-blazed and packed trails in two to three feet of snow. Eventually we came to a trail junction and we could see that both trails continued up the mountain. We'd seen another family along the trails earlier in the hike, who mentioned it was "all uphill." While the heavy snowfall finally had let up, it felt like daylight was beginning to wane almost as much as our energy level, so we headed down.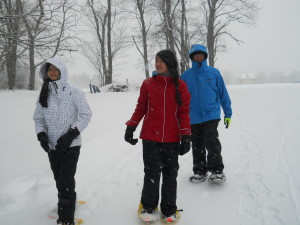 "I can't believe how quiet it is here in the woods," said 12-year-old Kim Han.  "Yeah, and the colors seem so bright against the white snow," observed 14-year-old Calli as we snowshoed through the woods.  While not new to snowshoeing, both girls agreed Rikert was the nicest place they'd ever done it. As snowshoes allow anyone to walk on the snow, Lincoln and I agreed this is the perfect way to take a winter walk in the woods for families of all ages.
For Nordic skiers, 50 km of trails wind through the woods  filled with massive old growth hemlock trees at Rikert. Caroline told us stories of seeing bear claw scratchings on those trees during one of her jaunts through the woods, but assured us that she never saw bears, nor had other reports come in about bear spottings.  Darn!  We would have loved to have seen a bear, agreed my kids, but we all know they sleep during the winter.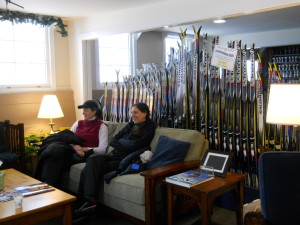 Two years ago, Rikert Nordic Center built an internationally sanctioned (Federation International du Ski or FIS) race course designed by John Morton, a Middlebury alum and Olympian, and last year they installed 5 km of snowmaking on this trail.  Rikert is one of only a handful of FIS Homologated race courses with full snowmaking capabilities in North America; and for non-racers, the snowmaking extends the seasen from November to March. For the most accomplished of Nordic racers right down to the family that likes to ski or snowshoe together, Rikert has something to offer everyone.
Robert Frost Mountain Cabins
For Moms of traveling adventure families, where you stay can make or break the trip.  A good kitchen, room to spread out, and enough beds for everyone to be comfortable are key. For the teens, it's all about the electronics. Give my husband a roof over his head and he's generally happy anywhere. The Robert Frost Mountain Cabins filled the bill for our whole family and no doubt will for others.
Take a right off Route 125 at the Ripton General Store and put the car in low gear.  You'll find the Robert Frost Mountain Cabins well marked about four miles up a road less traveled.  Beautifully set on 122 acres of wooded land, the four (soon to be five) cabins are a treasure of sustainability for the eco-friendly traveler.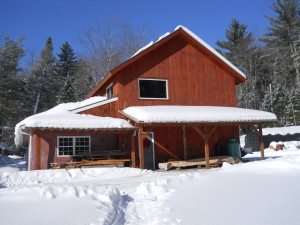 Built from trees on the property, cut and milled personally by co-owner Marty Kulczyk, and built by a local artisan joinery expert under Marty's watchful eye, the cabins are a study in local sustainability. Their design comes from a building method developed by the Cold Climate Housing Research Center in conjunction with the University of Alaska. Build-in-place insulated panels fashioned locally and sheathed on site provide extra insulation, and straw bale insulated walls are planned for future cabins, offering an excellent, easily obtainable and chemical free barrier between you and the cold. In addition, 88 of the 112 acres on which the Robert Frost Mountain Cabins stand are in a state-approved forest management plan with restricted development. The cabins sit on just seven acres, leaving the rest of the land for open space and trails.
Indeed, Marty and his wife Carol are committed to creating an environment offering maximum enjoyment of their special mountain retreat while ensuring privacy. More than once while we talked, Marty shared "this is our home, too, we want to share our lifestyle with others, while also maintaining it for ourselves and the future". For this reason, more cabins are being planned, but not so many that privacy can't be assured.  The resort offers up plenty of common space, including a loft barn and a welcoming campfire pit. The Kulczyks are tuned in to the fact that over-use of these facilities will lead not only to wear and tear but a lack of privacy which would diminish the experience and the outstanding memories for the singles, couples and families who share them.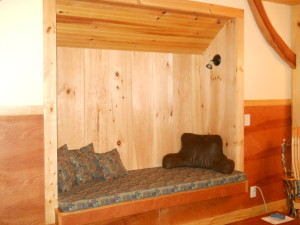 Open the door to your cabin and the first thing you'll spy is the Swedish reading nook. Throughout our visit, almost every moment we were at the cabin one member of the family was found snuggled up there. The fully applianced kitchen allows for in-home cooking. Be sure to bring all the necessary ingredients; while the Ripton Country Store is at the bottom of the hill, a larger grocery store is at least 20 minutes away. Meanwhile, the kitchen offers up everything from toasters, coffee makers, and locally roasted coffee to pots, pans, utensils and most importantly, a heavy duty wine opener!
Each of the cabins features a bedroom with a queen bed and another with twin beds, making it ideal for a family of four.  The futon in the living room can accommodate an additional two people if necessary, allowing a comfortable place for three couples or a larger family. The subtle earth tones were appealing to my husband, and the kids found the adorable snowmen and whimsical brown bear statue a nice touch.  After a day of travel and then a day of mountain fun, the memory foam mattress toppers meant sleep came easily and comfortably! The screened in porch with a large dining table will be perfect for warmer weather dining, and the charcoal grills right outside each porch make grilling so easy.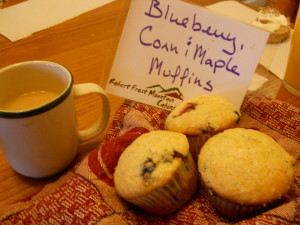 The list of extras at Robert Frost Mountain Cabins is extensive. Starting within the cabins, you'll find complimentary coffee, and a home baked breakfast item delivered once during your stay. Eco-friendly containers of shampoo, conditioner and soap are found in showers. Flat screen TVs with DVD players are included along with free wi-fi in each cabin too. In the summer, guests make use of the Park (charcoal) grills outside each cabin. Walking sticks are found outside each cabin. Head over to The Loft common area and you'll find snowshoes for guests' use, along with a large TV and satellite access for those who don't want to miss the game or get their news fix (no satellite access in the cabins). In The Loft is a complimentary laundry for guests to use, plus fitness equipment and a nice complement of board games and DVDs to borrow too. Add complimentary hot chocolate, coffee and tea to the list and its no small wonder that we ever got our kids to leave here!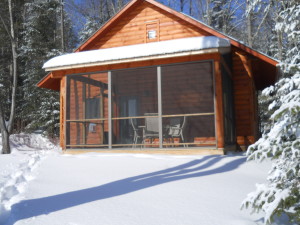 A trail loop has been added to the property, winding across the meadow and through the woods, making it easy to get good use of the snowshoes they provide. After a day of skiing and snowshoeing at the Snow Bowl and Rikert, we waited until the next morning to explore the trails. When we awoke to a bluebird day with sun sparkling on the snow on the trail, we had to take a winter hike, making this the perfect trifecta of trail exploration for our trip! What a great ending to a great getaway.
Resort Stats
Middlebury College Snow Bowl
Vertical Drop: 1000′
Summit Elevation: 2720′
Number of Trails: 17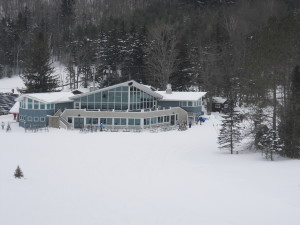 Easiest: 7
More Difficult: 4
Most Difficult: 7
Number of Glades: 6
Number of Chairlifts: 3
Number of Surface Lifts: 1 Carpet
Skiable Acres: 600+
Snowmaking on 45% of trails
Average Yearly Snowfall: 150″
Open daily from 8:30 a.m. – 4:00 p.m. on weekends and 9:00 a.m. – 4:00 p.m. on weekdays throughout the ski season.
Located 13 miles east of Middlebury on the scenic route VT-125 in Hancock, VT.
Directions: Click here, Addison County Transit Resources (ACTR) runs regular shuttle service between the town of Middlebury and the Snow Bowl from Christmas Eve until March 1st, with weekend service continuing until March 31st.
Contact: 802–443-7669.  Info: http://www.middleburysnowbowl.com.
 Rikert Nordic Center
50 km trails
5 km snowmaking
Season: open daily from 8:30 am to 4:30 pm, November – March, weather permitting.
Contact:  802-443-2744 , http://www.rikertnordic.com/
Robert Frost Mountain Cabins
Open year round.
5 cabins available (as of mid-March)
2430 North Branch Road, Ripton, VT  05766
Contact: (802) 388-9090, www.robertfrostmountaincabins.com