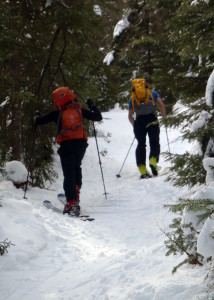 While not all outdoor adventures have to be a hard-core challenge, sometimes it's fun to push yourself a little and see what you can do. On January, 3, 2013, I began what I'm calling the Aiming High Challenge, a quest to stand on the highest points in New York, Massachusetts, Vermont, New Hampshire and Maine in winter. While it would be nice to do them all in one winter, that just isn't realistic with my schedule. Like most of you, I have family and work obligations that don't let me take to the hills whenever I want to.
So, I decided to do them one at a time, whenever the weather cooperated and free time permitted. If it takes me several seasons, so be it. The mountains are always there.
I began with a sub-zero stroll up Mount Greylock in Massachusetts, which is the perfect place to start your own "Aiming High" challenge. Greylock was a total hoot, and a great first step into what I thought would be a winter of hitting high points. Then life happened . . . From early January to early March, it seemed that, every time I had a window of opportunity to summit a mountain, the weather prevented it. I missed three scheduled dates to tackle Mount Mansfield due to bad weather. And, worse still,  when the weather would have allowed it, life interfered. Then, the second weekend in March, things started to come together.
The plan was to visit Lake Placid with EasternSlopes.com's publisher and senior editor David Shedd and our wives, Susan Marean Shedd and Marilyn Donnelly. Lake Placid is one of the great winter playgrounds in the northeast, and we planned to stay for two nights at the comfortable Golden Arrow Lakeside Resort right in the heart of town. From there, we'd ski Whiteface on Saturday. Then, on Sunday, weather permitting, our wives planned to enjoy a "Ladies Day" at Whiteface with an afternoon exploring Lake Placid while the guys "did stupid stuff" (their words, not ours, but I'm not sure I can argue with them . . .). That "stupid stuff"was an attempt to summit  Mount Marcy on skis. On Saturday, we had magnificent corn snow skiing at Whiteface, which left us with climbing Marcy to make the weekend complete.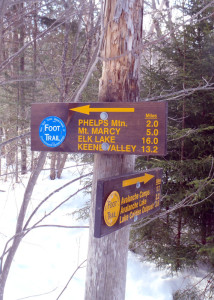 Up Mount Marcy On Skis
On Sunday, March 10, 2013, the weather for once cooperated in our try for Mount Marcy's summit. The day was cool and clear with bright sunshine and light winds.
At 5,344 feet, Mount Marcy's summit is the highest point in New York, and climbing it in any season is a worthy goal. But, here's the problem with Mount Marcy: Though it isn't a technically difficult climb, it's l-o-n-g. Via the Van Hoevenburg Trail, the most direct and most popular route, the summit is 7.4 miles and 3,200 feet up from the nearest road.  In summer that makes it a very long, interesting 15-mile day. In the winter, when regulations require you to use skis or snowshoes, it's a challenge, to say the least.
Being cautious by nature, in winter, on trails we didn't know, on a mountain we'd never tackled, we decided to hire a guide to lead the way and help keep us safe and on track.. Early in the planning stages, we had contacted Dan Sandberg, manager of the Eastern Mountain Sports Climbing School in Lake Placid. Both by email and on the phone, we found Dan personable, accessible and ready to answer all our myriad questions. We decided to make the climb with him.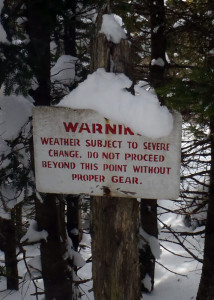 A word of warning about planning an adventure like this. Be obsessive; let your inner OCD run free. If you don't, unexpected things can set you off schedule or get you into other trouble. We had discussed all our options with Dan long before leaving for the Adirondacks. Snowshoes would be slow, safe, and reliable. On a day like this, we'd be pretty certain of reaching the top. We could also use lightweight touring skis for the first few miles of trail and carry snowshoes for the steeps. But, because David and I are both experienced Alpine skiers with some backcountry experience, Dan suggested we try to summit Mount Marcy on Alpine Touring skis with skins, arguing that the relative speed (and fun) of sliding downhill would balance the extra effort needed to skin up. We chose the AT option, recognizing that this was much farther than either of us had ever skinned in a day and that choosing to try it on skis meant we might not make the top. There are always tradeoffs  . . .We had snowshoes and boots in the car if we needed them, but with the weather and snow conditions perfect, this was clearly a day for the skis.
David and I got up early, hit the Howard Johnson on the outskirts of Lake Placid for a really hearty breakfast (Warning, Lake Placid isn't an early-rising town and very few restaurants are open for an early breakfast. If you want to get an early start on the trek up Marcy, Ho-Jo's is a marvelous place to fuel up–and a bit of living history.)
After breakfast, we met Dan at the EMS shop, did a last-minute gear check (they have all the rental gear you need but we had our own), and headed for the trailhead near the Adirondack Mountain Club's historic Adirondack Loj at Heart Lake (elevation 2,180 feet) , a little less than a half an hour south of town. Despite our best intentions, we arrived at the trailhead later than we'd planned–which would have consequences later. We slapped the skins on our skis, donned our packs, picked up our trekking poles and hit the trail to the rhythmic "click, click, click" made by our ski bindings each time we slid one ski in front of the other. That's the sound of backcountry skiing and there's nothing else quite like it.  After your first winter of it, you'll find yourself dreaming of that sound in the heat of July.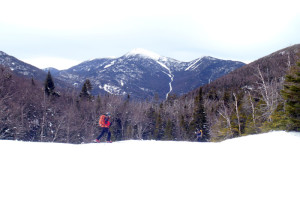 The most popular trail up Marcy, the Van Hoevenburg Trail, is very flat for the first two miles to Marcy Dam, a good warmup for what's to come. For the early part of this trek we used narrow skins with less grip surface, which allowed the skis to slide forward more easily, but which wouldn't provide the necessary traction for climbing up the much steeper section of the trail we'd encounter later on. We carried full climbing skins in our packs along with extra clothing and emergency gear. This is a wilderness area, and you need to be prepared for any eventuality.
We saw several campsites near the dam and more farther on at the base of Phelps Mountain. This would be a wonderful way to make Marcy more accessible: pack in partway and camp out overnight, spend a day (or two!) skiing the slopes, then pack out.
From Marcy Dam, the trail starts to climb, gradually at first. We kept the narrow skins on and slid along easily. Then, at the base of Phelps Mountain, we stopped to pad hotspots developing on my heels, and swapped out the kicker skins for full climbing skins. From there on out the trail was much steeper in spots, sometimes scary-steep. Even though you slide rather than lift your ski with each step, that much climbing over that much distance is a workout, and I know I wasn't moving as fast as I should have been, especially given the late start. Someone in better shape might have made better time; I did what I could.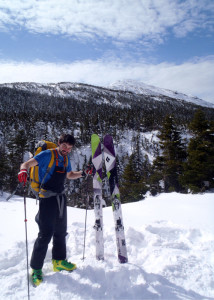 We stopped for a breather, snack and water after each of the steepest sections, eventually passed Indian Falls, and topped out on a flat spot with a clear view of the trail ahead to the summit. From there the trail runs roughly another mile, first dropping into a gully, then climbing up a spine above an open bowl which promised the best skiing. The final crest is exposed, windblown, icy and rocky. We had traction cleats in our packs in case we got that far.
All the way up, despite frequent refueling, I'd been watching my internal power meter drop with each step and calculating how much energy it would take to ski down those very narrow trails. I also looked at my watch and decided that the time it would take to reach the summit would likely have us completing a death-march out in the final moments of daylight—or later. Finally, despite preventative efforts, I'd developed really nasty blisters on both heels. Eating a late lunch, admiring the view of the trail ahead (and the 900 feet left to climb), I decided I wasn't going to chance it. Without any discussion, David had made the same calculations for himself and reached the same conclusion. Dan could have and would have easily continued on—ah, youth!
 Down Mount Marcy On Skis
The higher we skinned up Marcy, the clearer if became that the ski down was going to be more physically challenging than the skin up. Controlling your speed on steep, narrow trails is tough enough if you've ridden a lift up, let alone when you've tired out your legs by climbing up over 2200 vertical feet (that's more than many "large" alpine areas offer).  In many spots, the trail was only four to six feet wide, bumpy and uneven, with rocks and trees on both sides. Letting yourself go too fast was an invitation to disaster, and if you hit a tree in the backcountry, there's no friendly ski patroller close by to quickly haul you out on a toboggan. So it was up to us to keep ourselves safe.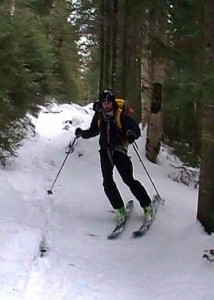 For the more moderate pitches of the descent, we kept the skins on our skis, which actually helped slow them down. But sliding skins-on meant losing a large degree of edge control and the ability to sideslip. So it was a tradeoff, and we took the skins off to ski the steeper spots and relied on technique.
Controlling speed on the steeps without skins meant snowplowing in spots, using your legs as long-travel shock absorbers in the bumps, skidding sharp, quick, short-radius turns (much like skiing bumps) wherever you could, and stopping often to catch both your breath and  a glimpse of what was ahead. In other words, whenever you had space, you did whatever you could to slow down and control your speed for safety. That kind of skiing, where you can't relax even for a second, is very, very tiring. The more uptight you are, the more energy you expend, the more tired you get, the more uptight you become. It's a vicious cycle. I had to stop often, which slowed our egress from the mountain considerably. What I really wanted was a parachute—but that would have gotten tangled in the trees. No matter how good you are on open Alpine terrain, even in the bumps, this is a different skill set, one that needs practice. By the time we were halfway down, I was just getting comfortable with it. Only when the trail flattened out a little could I begin to relax and really enjoy the ride.
The last couple of miles to Marcy Dam were on relatively gentle terrain and a total hoot. It was like riding a kids roller coaster. Dan told us he'd normally ease his clients into backcountry skiing with a day on milder terrain before tackling Marcy. In retrospect, that probably would have been a good idea for us, too. Next time.  And there WILL be a next time; although I had been "Aiming High," I hadn't gotten quite high enough. I'll be back, in better shape, more experienced and better prepared, and with an earlier start to what I know will be a great day outdoors.
If You Go: What You Need To Know For Tackling Mount Marcy on Skis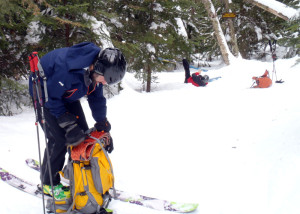 Where To stay:  You have two basic choices for tackling Mount Marcy. First is the "luxury" option. Base in Lake Placid and enjoy all the amenities of civilization, including hotels, spas, shops and great restaurants before you hit the backcountry. We stayed at the super comfortable Golden Arrow Lakeside Resort and ate a couple of times in their excellent Generations Restaurant.
The other option is to stay at the wonderful Adirondack Loj run by the Adirondack Mountain Club. The Loj is right at the start of the Van Hoevenburg Trail.
Guide service: While there are several guide services in the Lake Placid area, we went with Eastern Mountain Sports , a company I've climbed with before. Guide Dan Sandberg did an excellent job of explaining what we were facing and encouraging us to push to our limits, all while keeping us as safe as possible. If he was disappointed that we didn't make the summit, he never showed it.