If you aren't a dog person, stop reading now…in fact, if you aren't, why did you even bother to click on this link? Now that we've gotten THAT out of the way with, let's assume everyone here likes dogs. They're fun, they've got personalities, they're there for you when you're down…they generate massive amounts of hair that allows you to spend lots of time cleaning your house…they've got bad breath…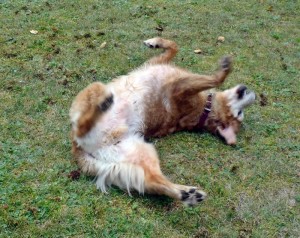 Okay, so dogs aren't always perfect. But they're our best friends; it's heartbreaking when they get old and we know time with them is short. So, we do what we can to make that time as long and as healthy as possible. Take a look at the pet food stores; you can pay more to feed your chihuahua than your children. Easily. And that's with buying food for your kids at Whole Paycheck…er, Foods.
But where we often lag is in exercising an older dog in the way they need. You take your puppy running, and he has a ball. At 5 years old, he's outrunning you. But at 9 years old…he's lagging, and he doesn't get up so easily the next morning; he's sore. Think about it; do YOU expect to run as hard at 75 as you do at 40? That pesky "dog's age" thing gets in the way so quickly that we don't tend to notice that how we're exercising them isn't working anymore. But…how, then, to give them the long, steady exercise that's good for them, without it hurting them as much as it helps?
We faced that recently as our big, lovable, STUPID Golden, Barley, had his 10th birthday. Stupid, in this case, refers to the infamous dog habit of going, going, going, until they pretty much pass out and then are stiff for days. Okay, in his case stupid covers a lot of other habits, but that's not what we're talking about here. Even a long walk in the woods has him running, running, running…until he drops. He weighs 100 pounds, and I'm damned if I'm going to carry him home. What's the solution?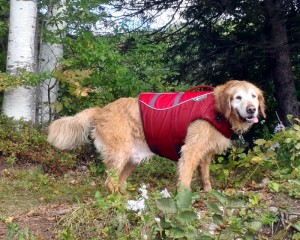 And then it hit us; a friend of ours who is headed for octogenarian does aqua aerobics. She's in great shape, gets fantastic cardio workouts, and it's actually GOOD for her joints, helping her to participate in other activities with more ease and ability. If we could get Barley to do that, it might solve the problem!
But, Barley being Barley, other problems arise. If we take him in the water with us, he's flat-out dangerous—flailing his big feet and sharp claws; he swims a beeline for us, and we have to scatter to avoid serious damage. Plus, there's no ability for him to rest at all; he has to be going full-out constantly to keep his head above water. We want him to get exercise, but that's a little TOO intense. Could we find a way to get him out there safely, but still get him the exercise he needs?
And then we found the Ruffwear K-9 Float Coat. We had used a Stearns dog life vest with our old dog Chester (who couldn't swim at all), but the Ruffwear is an entirely different creation. Rather than just holding his head above water, it gives more support along the length of his body, providing more flotation and holding his body in a better position to swim. It's built like a tank, and able to be adjusted to fit his porky body. Fingers crossed!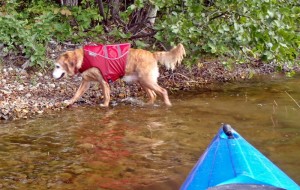 Step one was to fit him to it. It worked well, except for one problem…he sulked. He didn't see the humor in it in the slightest, and stood on the shore looking disgusted. Wouldn't come in the water, wouldn't play. Well…nothing for us to do but keep having fun and see how he'd adapt. By day 2, without really wanting to admit he was having fun, he actually came into the water. Knee deep at first, and he finally started swimming;  that's when he realized that it was easy and fun. Remember I said he's STUPID? Yup.
Day 3 was to be the real test. It was a nice, hot late summer day, and now that he was used to the coat. Would he go out and get the kind of exercise we wanted for him? He's always had a bad habit of following us when we're in kayaks; bad in that we'd have to go back in to keep him from following us until he drowned, and bad in that if we let him get close, he'd try to get in. 100 pound Golden crawling into kayak = capsize. But, if we didn't have to worry about him drowning, we could fool around in the boats, keep him away from us, and let him get a workout, right? Into the boats we went, into the water he went.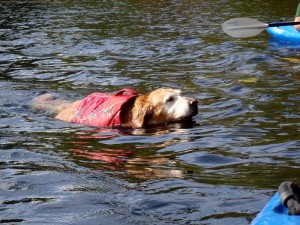 And all of us had a ball. He chased us around for a couple of hours, working his legs without noticeable strain. No more of the awful sound of him getting water in his mouth and nose as he breathed; his head easily stayed above water. At times he'd slow down a bit and sort of "coast," but in general he kept a good pace up. By the time we quit, he was clearly tired but also clearly having fun, and when we took the vest off he rolled around in the grass for a while getting a good backrub.
He slept well that night, too; no driving us nuts asking to go out 5 times. We'd clearly tired him out well…or too much? In the morning, though, he got right up with us and headed for his food bowl (yup, stupid AND fat), no sign of stiffness that we could see. And when we headed for the water, he was right there with us, and this time didn't try to avoid the Float Coat at all. Even HE had figured out that it was fun!
End result; a great new way to keep him active. He's just had his 11th birthday, and the water's still too cold to take him in swimming, but when I got the coat out of the garage the other day, he stood still to let me put it on, and wagged his tail, looking at me expectantly: "So, when are we going swimming???" Looks like it's going to be a good summer…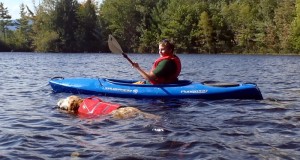 If you want to try this with your dog, take the lesson from our experience; if your dog doesn't take to the coat immediately, try, try again. It's an unusual feel for them; set up correctly, it covers a lot of their body and is pretty snug. If we had it to do over again, we'd have gotten him used to the K-9 Float Coat on dry land, by having him wear it a few times around the house and yard, before going to the water. Not only might he have been more comfortable with wearing it into the lake, but we'd probably have been less frustrated with trying to get him to do what we wanted. But, it was clearly all worth it; we've now got a great way to keep him in shape, have fun with him, and make sure we get as much happy, healthy time with him as possible!