Touring Falmouth, Woods Hole, and Martha's Vineyard By Bike, Day 1: Onset to Falmouth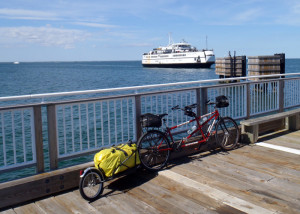 Over many years and many, many tours together on our tandem bike, my sweetheart Marilyn and I have learned that it's sometimes tough (but almost always worth it!) to leave your car behind and travel only by bike. Especially when the weather isn't cooperating. We've pedaled through the aftermath of Hurricane Irene and countless unnamed downpours. Only once have we chosen to take our car when we had planned to bike, and that was when a steady 60 mph wind was making it difficult to walk, let alone pedal. Biking would have been dangerous, so we drove. But that was only once. Otherwise, we bike.
So, when the first morning of our planned adventure, touring Falmouth, Woods Hole, and Martha's Vineyard by bike, dawned raw, gray, damp and foggy, we didn't hesitate (well, not more than a little). We'd planned to travel by bike  and we were going to pedal, period. So we parked our car in Onset (not far from the western end of the Cape Cod Canal), loaded our luggage in the BOB Yak Trailer and set out for Falmouth.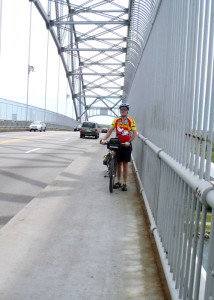 This time, the weather gods rewarded us for our fortitude. It was gloomy as we threaded our way through the village of Buzzards Bay. The clouds were beginning to thin a little as we pedaled alongside the Cape Cod Canal for a short way. But by the time we found our way up onto the sidewalk of the Bourne Bridge (if you are looking toward the Cape, the sidewalk starts in the parking lot on the right (eastbound) side of the bridge  and by the State Police barracks on the other side) the sun was breaking through the clouds in patches. Hooray! It gave us something to celebrate as, for safety's sake, we walked our bike and trailer on the narrow sidewalk over the bridge with Cape-bound traffic roaring by just inches away.
It turned into a very pleasant morning as we pedaled the quiet Shore Road south through Bourne Village, Pocasset, and Cataumet. You don't see the water very much on this ride, but it's still very nice on a quiet morning. This was June, tourist traffic hadn't really gotten started on the Cape yet, and the back roads were pretty empty. Then it was onto a short stretch of busy 28A  (wide shoulders to ride on) before catching the northern end of the Shining Sea Bikeway (one of the nicest bike paths we've ever ridden) which took us straight into Falmouth. There are plans in the works to extend the Shining Sea all the way to Bourne; I hope it happens soon. The northern end of the bikeway already parallels the active railway line that hauls trash off the Cape, so the right of way is already there, it's a matter of putting the bike path alongside.
Our total ride was about 21 miles, mostly flat, which is just about the right amount for us for a first day of touring with enough luggage for a comfortable five-day journey riding in the trailer. 
That night we stayed in the beautiful Palmer House Inn, where innkeepers Bill and Pat O'Connell treated us like family, provided a quiet, luxurious room with a supremely comfortable bed. These folks are really willing to cater to peddlers. They had secure storage for our bike in a dry basement (our tandem barely fit, but it's perfect for solo bikes). Just a 10-minute walk away were all the great restaurants in Falmouth (we ate at the Quarterdeck, a favorite). Here's a hint: when you are traveling by bike, make sure your lodging has restaurants close by in case you don't want to ride any more in the evening or have to take a taxi to dinner.
Touring Falmouth, Woods Hole, and Martha's Vineyard By Bike, Day 2: Falmouth to Vineyard Haven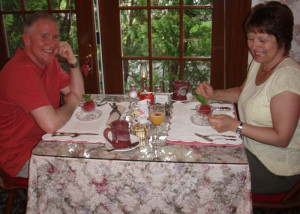 The next morning we awoke to—you guessed it—pouring rain. No light drizzle here, this was a genuine torrent. So we lingered over a delicious breakfast (try the "Cape Cod Sunrise"). Then we lingered some more in our cozy room, waiting for the rain to stop, or, at least, let up a little. It didn't. By checkout time, it was raining harder than ever. We only had to ride four miles down the bike path to the Woods Hole Ferry, but, in that short distance, our shoes and raingear got totally waterlogged. We laughed and kept pedaling, grateful for the dry bag protecting our spare clothes in the BOB. That's the way it is when it rains on a bike tour. You have to ride, so you ride.
Outside it was rain and fog, but we sat inside, warm and dry, for the 45-minute ferry crossing to Vineyard Haven. Our big bicycle and trailer rode down on the car deck. Here's one advantage of the tandem bicycle–they only charge for one bike: $8.00 total for the round trip! After carefully threading our way through the busy streets of Vineyard Haven, we biked just over a half mile through the unrelenting downpour to our next cozy haven at  The Doctors House Bed and Breakfast. This elegant old house is hidden away on a quiet side street within easy walking distance of Vineyard Haven's many restaurants. The Doctors House is another great location for cyclists—they have a locked garage for your wheels.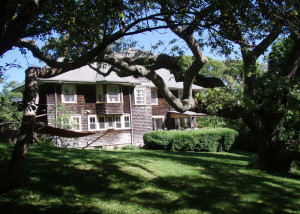 Our original plan had been to depart Falmouth right after breakfast, catch an early ferry, arrive on Martha's Vineyard  early, drop our gear at the B&B and go pedaling out to Mememsha that day.  That's a long ride  on narrow roads with a lot of hills. But it's a wonderful ride. But the late start and the fact that we we were thoroughly soaked and slightly chilled by the time we arrived at our B&B forced a change in our plans. Frankly, riding in already wet gear in a cold downpour didn't seem all that appealing. We'd already had our "wash and rinse cycle." So, instead, we took a welcome hot shower, changed into dry clothes, stuffed our bike shoes full of newspapers to help them dry, and spent a relaxing afternoon reading in our comfortable room and talking with other guests in the cozy common rooms. That evening, we borrowed an umbrella from the inn and strolled around the village in the intermittent downpours and enjoyed a quiet pub dinner.
Touring Falmouth, Woods Hole, and Martha's Vineyard By Bike, Day 3: Vineyard Haven to Oak Bluffs, Edgartown, Katama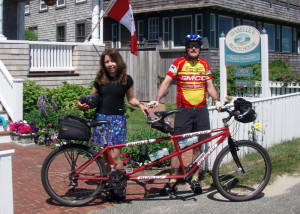 Blue skies. No rain! Yay! After another delicious made-to-order breakfast at the Doctors House, we strolled the beautiful grounds and gardens for a bit, then loaded up and pedaled. Our four-mile route took us along the bike path beside Beach Road, then threaded through Oak Bluffs to Isabelle's Beach House B&B. Yet another perfect place to stay! Five minutes (max) from the Oak Bluffs ferry dock, with a beautiful sandy beach right across the street, and many restaurants nearby.
The short ride with the gear was a great warmup. Despite our early arrival, our room was ready when we got there–bonus! We quickly popped the BOB off the bike, dropped our luggage in our bright, sunny room and went pedaling unburdened in the morning sunshine. The Edgartown Road bike path starts just a few feet away and we rode it into Edgartown for lunch. As we ate, we debated between exploring the dirt roads of Chappaquiddick (some of them are quite sandy, not easy to ride even on a fat-tire bike) or taking the bike path to Katama. Katama won. That's a beautiful ride with a long stretch of beach views.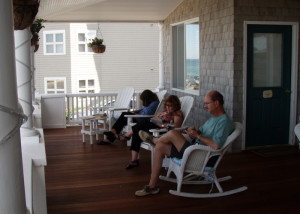 By mid-afternoon, counting a few deliberate detours along interesting side streets in Edgartown and Oak Bluffs, we'd covered about 25 miles by bike and found ourselves back at Isabelle's practicing our French (Isabelle is originally from the Saguenay/Lac St.Jean Region of Quebec–which is one of our favorite places to visit). We spent more time reading on the wide front porch, looking out at the ocean, and strolling hand-in-hand along the beach, even going for a quick swim in the still-chilly waters. A little exercise, a little relaxation, the perfect vacation day!
That evening, we strolled through Oak Bluffs, exploring a town we'd never really spent any time in, and found a very reasonably-priced Thai restaurant with excellent food on a quite back streets.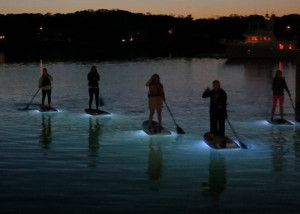 But our day wasn't over just yet. As the sun set we met up with Chick Stapleton, the owner of Island Spirit Kayak and four other adventuresome folks for a one-hour nighttime SUP (Stand-Up Paddleboard ) tour of Oak Bluffs Harbor. For those who had never tried a SUP (it's easy!) Chick took a few minutes to show the basics, then we were off and paddling as the sunset colors faded over the town. What makes this adventure really interesting is that the SUPs you use have bright LED light bars on the bottom. Standing on the SUP with the light below the water's surface, you glide along like a spaceship on a pool of light. In the shallow water of the harbor edges, we saw a whole host of sea creatures, including starfish, crabs, flounders and the occasional striped bass going about their business below us. It was like having your own personal aquarium that went wherever you chose to go. Great fun, something you'll remember for a long time to come!
Touring Falmouth, Woods Hole, and Martha's Vineyard By Bike, Day 4: More Martha's Vineyard, Oak Bluffs to Woods Hole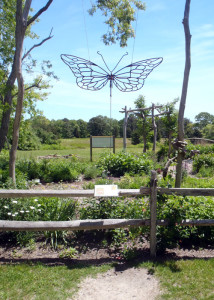 After yet another great breakfast (yes, it's the most important meal of the day, especially when you are cycling), we thought about pedaling up-island to Menemsha and Aquinnah, but that ride is long and hilly on narrow roads, and with a loaded ride ahead for tomorrow, we decided to take it easier. So we packed our gear into the trailer right after breakfast, but left it at Isabelle's and went riding along the beach back down to Edgartown then out through the center of the island on the bike trails around the Correllus State Forest. We weren't hurrying, and the route made for a very pleasant 25-mile ride with few hills and almost no traffic.
One of the highlights of the day (along with the beautiful ride down the Beach Road bike path) was a visit to the beautiful Nature Trails at the Felix Neck Wildlife Sanctuary, where the flower gardens were in full bloom and the trees and ponds were alive with birdlife. This place is an absolute gem. Don't miss it! It's easy to reach by bike from Vineyard Haven, Oak Bluffs or Edgartown and would make a perfect picnic spot if you were only visiting the island for a day trip.
We made it back to Oak Bluffs in plenty of time to load up our luggage  and catch the ferry back to Woods Hole and a wonderful room at the Woods Hole Inn. This vintage inn is right in the center of town, about 500 feet from the ferry terminal. The Inn has been completely refurbished under the dynamic vision of new owner Beth Colt (who, by the way, frequently bicycle commutes to work). The room had hardwood floors, big, bright windows and all the comfort you could dream of. Woods Hole quiets down  after sunset on weeknight; on weekends, it has a lively music scene. The outdoor decks at the Woods Hole Inn are a great place to sit and watch the world go by as the sun sets, and to listen to the band playing in the courtyard below on weekends. If you are an adventuresome eater, don't miss the lobster tacos offered at Quick's Hole right next door. A couple of those and a pitcher of Margaritas is a very nice way indeed to end a long day on a bike. There are many other restaurants in town, too, and the Inn has locked storage for your bicycle.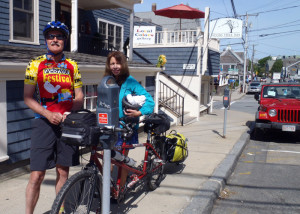 Touring Falmouth, Woods Hole, and Martha's Vineyard By Bike, Day 5: Woods Hole to Onset
The next morning, we discovered that the breakfast they offer at Woods Hole Inn is a cyclists dream; it's worth the price of admission—great for fueling up for a long bike ride.Usually the last day of any trip is a letdown, but we really enjoyed pedaling the loaded bike ride back to Onset, following the same route we took down. 25 miles (4 miles to Falmouth, 21 miles from there to Onset) with the trailer on the back had our legs singing. Crossing the bridge leaving the Cape is always a symbolic and slightly sad moment, but we still had some pedaling to reach our car, and that helped continued effort helped dispel any gloom. Five great days on the bike, four great inns, lots of food and fun places to see, and we came home in better shape and weighing less than when we started.
Cape Cod and Martha's Vineyard in June my idea of a perfect vacation. See why we insist on touring our bike rather than taking the car no matter what the weather?