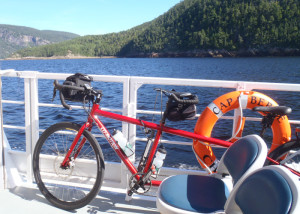 Wherever you can combine them, ferry boats and bicycles create opportunities for wonderful Active Outdoors adventures. Add in sea kayaks, whales, and gorgeous scenery and it gets even better. You find them all together when you go to Quebec and explore on and around Saguenay Fjord.
Exploring Saguenay Fjord: Day 1, Getting There
If you are going to try to explore  the whole Saguenay/Lac St. Jean region in one trip, allow yourself plenty of time. You could stay three weeks and still not get to see and do everything there is to do here. And no matter how long you stay, you'll want to come back another time.
On our first trip to the Saguenay/Lac St. Jean we spent 5 days cycling the Veloroute Des Bleuets. This was, by far, the best bike tour we've ever taken and we hope to repeat it again in a year or two.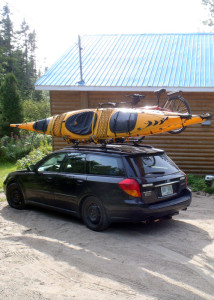 Our second trip to the region focused on Saguenay Fjord for 6 days. We tried a little bit of everything: a wonderful spa, fabulous restaurants, charming inns, B&Bs and rustic cabins. Some biking, fly fishing for Atlantic salmon, and, most memorably, kayaking with wind, waves and whales on Saguenay Fjord itself.
We'd only gotten a tiny taste of the kayaking and biking and we wanted more. Our only window of opportunity in the summer of 2013 was short but doable. We could leave on Friday at noon, but we had to be home on Wednesday evening to work on Thursday morning bright and early. Ok, we can do that. . . .
We had the car all packed on Thursday night with our brand new, big red Co-Motion Java tandem touring bike and our two Prijon Seayak sea kayaks on the roof racks, and hit the road at noon on Friday. It's normally a 9-hour drive from our home in central New Hampshire to the ferry at Tadoussac, Quebec (the site of the first permanent European settlement in Quebec) where Saguenay Fjord empties into the St. Lawrence River. But we hadn't calculated for summer Friday afternoon traffic escaping Quebec City, which added more than an hour to our journey. It was well after dark on Friday night when crossed on the Tadoussac Ferry turned north to Sacré-Coeur and Ferme 5 étoiles (roughly translated as "5-Star Farm"), about 15 miles north of Tadoussac. They checked us into into an absolutely spectacular room with a full kitchen in the log spa building. We would have loved to have more time to relax and simply enjoy the room, but we had to get up very early on Saturday morning to fuel up with a big breakfast, then bike to Tadoussac to catch a 9 o'clock shuttle ferry. So, we hit the pillows on the supremely comfortable bed as fast as we could, slept until the alarm woke us (long before we wanted to get up!), and began our real adventure.
Exploring Saguenay Fjord: Day 2, Ferries and Bikes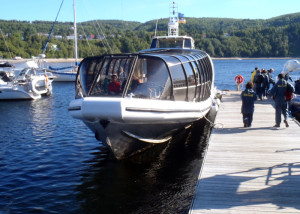 In the quiet early-morning light of a misty Saturday morning, the farm's deer, peacocks, emus, raccoons, and geese watched us get our bike off the car, load Arkel waterproof panniers onto the rear rack and start riding. The route we pedaled (three miles on a dedicated bike path into the village of Sacré-Coeur, then 12 miles on Routes 172 and 138 with wide, smooth shoulders) to Tadoussac has one very big hill  but we climbed it with no real problems. This was our very first long, loaded ride on our brand-new Co-Motion tandem touring bicycle, so we allowed ourselves ample extra time, just in case. We made it to the ferry with plenty of time to spare (it's definitely faster than our old bike!). 
The Croisieres du Fjord shuttle ferry system makes a ride like this easy to plan. Bicycles are welcomed aboard and the shuttle stops at several interesting points of call around the Fjord, including L'anse Sant-Jean, Rivière Éternité, Sainte-Rose du nord and La Baie. You have time to explore at some of the stops if you wish. The ferry boats are comfortable, with glass-enclosed observation decks for foul weather and open decks for when the weather is nice. The ride itself is a great experience; much of the land around the Fjord is undeveloped and protected by the Saguenay National Park. In spots, 900-foot cliffs plunge directly into the deep dark waters of the Fjord. It's a beautiful area, and the ferry ride is a great way to get an overview.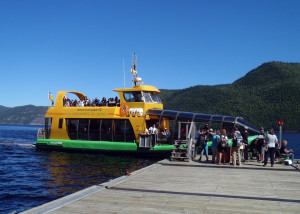 Our ferry pulled out of the harbor at Tadoussac right on time, and into the strong currents in the mouth of the Fjord. We immediately started seeing numbers of the small (only in comparison to other whales!), white Beluga whales which summer in the Fjord, feeding on abundant fish and shellfish. One swam within a hundred feet of the ferry, giving us a great look. The ferry stopped to let it pass safely.
The 50-kilometer (31-mile) ferry ride from Tadoussac to the village of L'Anse Saint-Jean, is just spectacular. At L'Anse St. Jean, the beauty of the bike/ferry combination became immediately apparent—while others who got off there had to content themselves with strolling in the harbor area or taking the taxi into town, we were free to pedal and explore more of the countryside. Our first stop was a tiny diner/art gallery (Restaurant le Grillon) which displays paintings by Linda St. Hilaire, a reclusive local artist. We'd discovered it on our last visit and had actually purchased a painting which now hangs prominently in our living room. After a lunch of grilled chicken and salads, we rode a section of bike path along the river, and visited another delightful art gallery on a covered bridge. In all, we rode another 9.5 miles.
Back on the ferry we motored slowly, almost in touching distance, past the spectacular cliffs at Cap St Marguerite. The last time we'd seen these cliffs from the water, we'd been fighting 6-foot waves and 40 mph winds in our sea kayaks! Seeing the same view  by ferry was not nearly as exciting, but it sure made it easier to admire the scenery. Our next stop was Rivière Éternité, where we left our bike behind and strolled on some of the easier hiking trails in the National Park. A complete exploration of this park is still very much on our to-do list. The views from the cliff tops must be spectacular.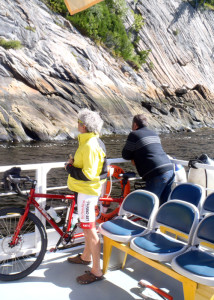 Back at the ferry dock, we watched a group of kayakers preparing to launch and explore the area. We'd tried to do this the year before, but high winds had kept us pinned inside the bay; it would have been too dangerous to venture out onto the open fjord. These folks had perfect weather, clear blue skies, calm winds, smooth seas. We enjoyed watching them paddle past, then it was back onto the ferry for a 45-minute cruise to Sainte Rose du nord where we would spend the night.
Our accommodation for the night, Auberge Café de la Poste, wasn't even half a mile from the ferry but it was all uphill. It was a nice "challenge" for finishing off our day. We'd biked 25 miles, a lot of it with hills, which was enough to make us really enjoy a hot shower, a wonderful dinner of fresh, local salmon, a comfortable bed in a clean, cozy, quiet room, and an excellent breakfast. Stephan Roy, the amiable innkeeper (and excellent chef!) is setting up to host groups of cyclists touring the region, and this a perfect overnight stop, comfortable and unpretentious with great food. Highly recommended.
Exploring Saguenay Fjord: Day 3, Up and Down Hills On A Bike
Stephan fed us a hearty breakfast the next morning to fuel our long ride. We were going to need it.

Knowing what was coming, we were in no hurry to hit the road. We packed up, played a bit with two kittens who were terrorizing the front patio, picked and ate a few blackberries for more fuel, and then climbed aboard the bike and set off. It was one of those cool, beautiful, sunny mornings that are perfect for biking. The breeze was out of the north, a tailwind for our day's ride. Every biking day should be so nice!
From Sainte Rose du nord to our starting point in Sacré Coeur was 45 miles, which is a long day of biking for us. Especially on hilly roads. If you'd like an overview of the cycling route from Sainte Rose du nord to Tadoussac, go here. Reverse the route to see it in the direction we rode. Sainte Rose du nord is that low point at Kilometer 27, Ferme 5 étoiles is at Kilometer 94, the ferry dock is at Kilometer 114. Hills? What hills?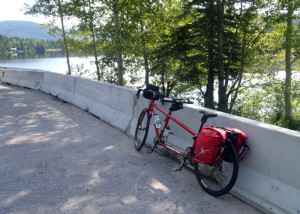 There are no villages or stores or restaurants at all along this route, not even many houses. So we carried a substantial picnic lunch, plenty of snacks and lots of water. The first 10 miles were relentlessly, endlessly, grindingly uphill, but we were fresh off a good night's sleep and had enjoyed a good warmup ride the day before. So it wasn't tooooo bad (at least that's what we kept telling ourselves). Just past the first downhill, at about mile 12, we stopped for a snack and some water beside a lovely little lake with undeveloped shorelines.
The next 25 or so miles were mostly level or downhill (hooray!) along the valley of the Riviere Sainte Marguerite, and they went fast and easy. The scenery is magnificent, the road shoulders are wide and smooth—this is part of la Route Verte, the network of designated bike routes that spans southern Quebec. (Quebec is very good to cyclists). And the traffic, even on a summer Sunday, was quiet. In all the riding was very pleasant, even with the hills.
We stopped to relax and eat our picnic lunch in a beautiful spot beside the river at about mile 30. The sound of the river made us drowsy, but the end of the ride was calling us, so we jumped back on the bike and pedaled some more.  The last four miles were all uphill again . . .
We finished the 43-mile ride in about five hours including rest stops. I can tell you honestly, we were happy to see our car. Over two days, we'd traveled 50 miles by ferry, and almost 70 miles by bike.
After loading our bike back on the car, we drove about 8 miles to one of Ferme 5 étoiles' chalets on the shores of the Fjord. This group of chalets is less than a mile from the main complex, but there's no direct road and it would be a tough hike down steep cliffs. "Our" chalet was a clean, private little piece of heaven, with two bedrooms and a serviceable kitchen where we cooked dinner with local ingredients purchased at one of the two supermarkets in Sacré Coeur. We ate dinner on the picnic table out on the sheltered porch, thoroughly enjoying the incredible view north along the Fjord to the cliffs at Cap Ste. Marguerite.
Exploring Saguenay Fjord: Day 3, Hiking Trails and More White Whales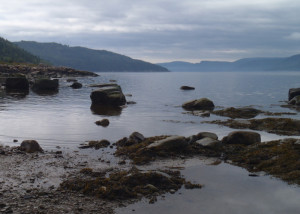 It was raining when we awoke the next morning, a soft, gentle rain, just a bit heavier than a drizzle, but not much. We didn't mind a bit. We had enjoyed absolutely perfect weather for our two days of traveling by ferry and bike, and the the rain was a good excuse to relax and recover. Sitting out on the covered porch as the light grew stronger, I watched two white Beluga whales pass by far out in the fjord, and had a large family of mergansers feeding almost at my feet. I could feel each individual muscle fiber in my legs . . . which is part of the reward for a long day on a bike.
We lounged most of the early morning away reading and watching the light change on the Fjord from the porch of our cozy little chalet. As the skies cleared, we ventured out for a short walk on the muddy tidal flats at low tide. The easy walk felt good, letting our legs slowly recover without stiffening up too much. We hated to see checkout time arrive, but arrive it did. So we drove back to Sacré Coeur to the main complex at Ferme 5 étoiles, checked out, and spent some time strolling the grounds and meeting the menagerie of animals they keep here.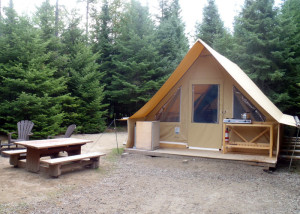 Then we drove  a few miles north to the Baie Ste. Marguerite sector of the Saguenay National Park , where we had reserved two nights in a "Huttopia," a very comfortable canvas cabin complete with real beds (they provide sheets, you don't even need to bring sleeping bags!), a gas stove. plates, utensils and cookware, lights and a fridge. The name "Huttopia" is even more apropos when you remember that the "H" is never pronounced in French. We'd stayed in a Huttopia on the other side of the fjord the previous visit and couldn't wait to repeat the experience.
That's one of the beauties of exploring Saguenay Fjord–any type of lodging you desire, from 5-star luxury to cozy chalets, inns and B&Bs, to primitive tent sites and everything in between is available just steps from the Fjord.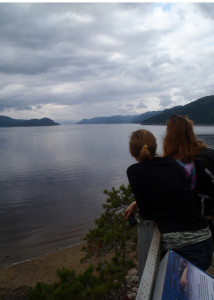 The skies cleared completely that afternoon. The fjord was flat calm and we should have gone kayaking, but there's no convenient spot to launch a kayak here and we needed to stretch our legs (gently) after the previous day's long bike ride. So we walked five miles (round trip) on flat, smooth trails out to the Halte de Beluga, an observation platform overlooking the whale sanctuary at the mouth of Baie Ste. Marguerite. At least a dozen Belugas were clearly visible rolling and spouting (you can hear them when it's quiet) in the water below us. The walk loosened up our legs and we slept very well that night in the quiet campground
Exploring Saguenay Fjord: Day 4: Kayaks and Close Encounters With Whales
The next morning, we were eager to get out in our sea kayaks. There are very few places along the Fjord's northern shore to launch boats, and Baie Ste. Marguerite is a whale sanctuary and closed to boaters. So we drove to the marina at Anse de Roche, intending to paddle back up the fjord toward Baie Ste. Marguerite. The fjord was lovely in the morning light, but the clouds tearing across the hilltops indicated strong west winds aloft and the breeze at the surface combined with strong  tidal currents created a chop that bounced our 16-foot kayaks around like bathtub toys. Having seen before how quickly the wind and waves can grow here, we played it safe and stuck close to shore inside the protected bay, admiring the scenery, vacation cottages we wish we owned, and flocks of ducks and seagulls.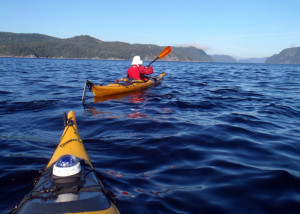 After an hour or so of leisurely paddling (no whales seen) the west wind was getting even more blustery and blowing directly into the bay. So we paddled back to the launch, threw the boats on the car, drove 20 miles to Tadoussac, and crossed on the ferry to Baie Ste Catherine where Saguenay Fjord enters the St. Lawrence River. The waters here are part of  the Saguenay–St. Lawrence Marine Park which  was set up to protect the marine mammals and birds which visit here. 
This area is well protected from a west wind and is a perfect place to paddle when the Fjord itself is too choppy. The visitor's center overlooking Baie St. Catherine has a boat ramp and we launched from there onto flat calm waters. We pointed our kayaks  north toward the mouth of the fjord at Pointe Noire. We'd seen whales in this area as we crossed on the Tadoussac ferry. Almost immediately, we saw two minke whales feeding at a distance and started paddling along the shoreline in that general direction.
Our goal was to get closer to the whales–but not too close. Park regulations mandate that you stay 150 meters from any whales. As we paddled over the shallows near shore, the water was clear enough to see starfish and sea urchins on the bottom. As the tide dropped, the whales disappeared, so we turned around and paddled south and west along the shoreline toward Pointe aux Alouettes, simply enjoying a perfect day on the water in a beautiful spot. We saw a couple of whale-watch boats leave the docks and return, but other than that, we had the huge expanse of water to ourselves.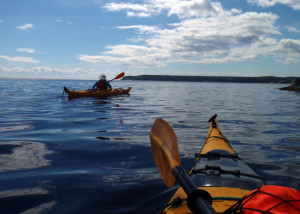 A sailboat moored out in the bay a mile or so from the launch served as a reference point, and we paddled in that direction, intending to circle the moored boat and head back.
We were within 100 feet of the moored sailboat when, suddenly, without any warning at all, several minke whales began surfacing around us. Close around us. Where they came from, we have no idea. it had been over an hour since we last saw a whale.
As you can imagine, it's exciting, awe inspiring and more than a little disconcerting to have a 25-foot long, 10,000-pound critter suddenly materialize within a few yards of your 16-foot, 60-pound kayak . . . We did our best to maintain the mandated 150-meter distance, but the whales almost seemed to want to be near us. Every time we changed direction to avoid them, they changed course, apparently following us. We never really felt threatened—nor, obviously, did the whales. They clearly knew we were there, clearly meant us no harm. We quickly gave up on the idea of  keeping a "safe" distance between us and them. We  had no choice but to trust that they wouldn't capsize us by accident, and they didn't. It was truly an awe-inspiring experience.
That three hours on Baie Ste. Catherine, and the few minutes we spent up close with the whales, was probably  the best adventures we've ever had in a kayak, certainly in the Top 3. We'll never forget it. If you're a sea kayaker or want to try it, and you've never gone paddling in this part of Quebec, put it on your bucket list and don't miss out!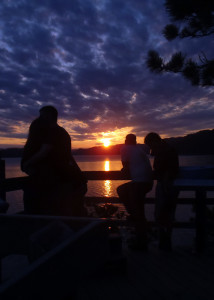 That evening, our last in the region, we watched a truly magnificent sunset from the Halte de Beluga. This seemed a perfectly fitting end to another wonderful getaway in what we truly believe is one of the best places on earth. The long drive home was an anticlimax, of course, but all we could talk about was going back, exploring Saguenay Fjord again as soon as we can.
Exploring Saguenay Fjord: Resources
If you want to visit this area, the folks at Tourism Saguenay/Lac St. Jean speak English and will help you plan a perfect adventure.
If your main interest is bike touring, you might want to consider doing the Veloroute des Bleuets around Lac St. Jean as part of your trip. The biking is flatter there than it is nearer Saguenay Fjord. Based on our experience, this is one of the best bike tours in the northeast. Highly recommended.
We had our own kayaks and paddling gear for this trip. If you have your own boats, you can get ideas on where to launch and where to paddle on the SEPAQ website under Activities/Sea Kayaking.
But if you don't have your own kayaks , don't want to transport them this far,  or don't have the skills to go on your own, you can find rentals and guided excursions in the area:
 Ferme 5 étoiles offers a number of sea kayaking excursions as part of their activities program. 
We've paddled in the past with OrganisAction which offers guided excursions from Riviere Eternite and  several other locations on the fjord.
We've seen groups kayaking with Fjord en Kayak from the harbor at L'Anse St. Jean. Everyone seemed to be having a great time. 
Mer et Monde Ecotours offers kayak whale watching excursions near Tadoussac.