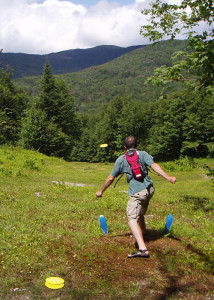 Golf with Flying Discs  = Disc Golf
Have you tried playing golf? "Real" golf, that is, with clubs and the cute little white balls with dimples that fly really far when you whack them with a baseball bat. Did you agree with whoever first called it "a good walk spoiled." Yeah, me, too . . . When someone asks me why I don't play, I usually just answer "I'm not old enough," and move onto other topics. But Disc Golf is a completely different experience; much simpler, more active than golf with a cart, and (for me at least) just plain more fun. But even if you actually like regular golf, I'll bet you love Disc Golf, too. It's that much fun.
Disc Golf comes complete with tees, fairways, roughs and holes. But, instead of using clubs and a ball, it's played with flying discs (most people call them "Frisbees®" but that's a registered trademark). If you've ever tossed a flying disc in your yard with kids or for your dog, you have more than enough skill to get started.
There are thousands of disc golf courses in the U.S—including (at this writing . . . more are springing up every year . . .)  38 in Maine, 13 in New Hampshire, 21 in Vermont, 32 in Massachusetts, 14 in Connecticut, 1 in Rhode Island, and whopping 66 in New York. Disc Golf is beginning to catch on in Canada, too with at least 10 courses in Quebec, 2 in New Brunswick, 4 in Nova Scotia and 1 on PEI.  Some are free and you must bring your own discs; some have a small "greens fee" and rental discs available. Generally speaking, the "pay-to-play" courses are fancier and better maintained, but that isn't always true. And every course is fun. And a little frustrating…this is golf, after all.
In Disc Golf, you typically tee off with a "driver," a compact, heavy disc designed to fly a long way. If you're good, you can make it go straight for most of its flight, then fade left or right at the end for precise shot placement. Or, you can be like the rest of us who are lucky to get the disc to fly in the general direction we had in mind when we made the toss. Some long holes require even the very best players to make several shots with a driver—and LOTS of shots from the rest of us.
Closer to the hole, you use an "iron" designed specifically for accuracy. If you played the whole game with only one disc, this would be it.
As with regular golf, when you get close you then use a "putter" (a soft, sticky disc) to (you hope) sink your final shot into the "hole." The softer disc is less likely to bounce away if (when) your shot isn't perfect.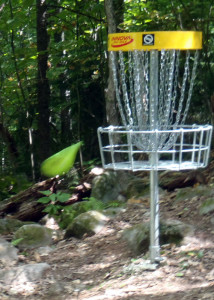 Holes can vary from an opening cut in a piece of plywood to the fancy Innova "DISCatchers," and similar designs which use hanging chains to stop the disc with a distinctive clanging (if you hit them!) and drop it into a catch basket about waist high. Way cool! Accuracy is required. You are definitely allowed a Tiger-Woods-style fist pump when you nail one.
Some courses have 18 holes, but nine holes are really plenty for beginners and duffers (like me) who take a lot of shots on each hole. It takes at least an hour  to play nine holes—more if your discs have a tendency to bounce off trees and fly way in to the "rough". That's a real advantage over "real" golf, where 9 holes can take 2 or more hours.
Some Disc Golf courses have spectacular settings. Some are easy (well, sort of), flat and wide open, others twist and turn through the woods, and still others snake their way up and down mountainsides on ski trails. Those are the best.
Disc golf is just one more worthy way to get motivated, get outdoors, get some exercise and have some fun. Most courses open as soon as the ground dries out in the spring (blackflies add an interesting challenge as they fly into your eyes and mouth at, inevitably, just the wrong moment) and stay open through foliage season (what a wonderful way to go leaf peeping!)
Do yourself a favor. Even if you hate "regular golf," grab a group of family or friends and go play a round of disc golf. It really is just plain, silly, goofy, wonderful fun outdoors.
Tips For Playing Disc Golf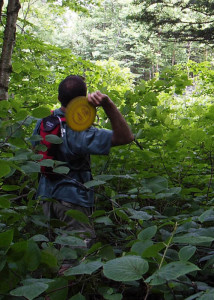 1) Wear hiking boots or trail shoes, especially on mountain courses. You may want long pants when your discs fly into the "roughs" and you have to go searching. Some roughs are definitely rougher than others. Blackberry patches are the worst.
2) If the course you are playing offers short tees, start there. You'll have more fun. Seriously. You can go all competitive from the long tees later, but make your first outing about just having fun.
3) Unless you're a real pro with a flying disc, go for accuracy rather than distance. Keeping your disc in the fairway makes the game go a whole lot faster, even if your "score" suffers (and as "real" golfers know, your score is usually better with shorter shots that stay in the fairway than longer shots into the williwacks that may require multiple recovery shots). Searching for lost discs is the least fun part of Disc Golf.
4) Let the best player shoot first, then have him or her move down the fairway to spot for other players in case their flying discs fly into the trees. You can always blame poor shots on stray gusts of wind! Another advantage over "real" golf, where that format would mean real danger for the spotter.
5) Bring a small backpack with drinks and snacks, just as you would on a short hike. You'll probably walk a couple of miles, at least.
6) Forget  "par," forget beating your buddies (well, maybe), go out, get some exercise and have a great time. Worry about keeping score later, if you want to.
7) Take a whole crew with you when you go to play—Disc Golf is ideal for mixed ages and abilities. It's cheap, fun and easy.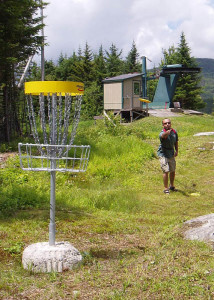 Where To Play Disc Golf
For a searchable listing of disc golf courses, go to pdga.com/course_directory. Put in your zip code or town and it will list and link to all your options starting with the closest. Great resource!
There's a second list at DiscGolfCourses.org that isn't quite as comprehensive but is still useful.
Disc Golf Course At Ski Areas
Some of the very best disc golf courses here in the northeast are at ski areas.
Bousquet Mountain in Pittsfield, MA
Bretton Woods in Bretton Woods, NH
Granite Gorge in Roxbury, NH
Hunter Mountain in Hunter, NY (Two courses!)
Base Camp Outfitters in Killington, Vermont.
Okemo Mountain Resort in Ludlow, Vermont.
Brewster Ridge Disc Golf at Smugglers' Notch Resort in Jeffersonville, VT
Village 9 at Smugglers' Notch Resort in Jeffersonville, VT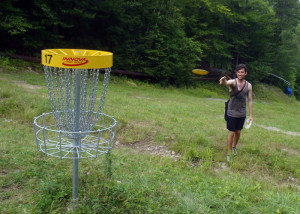 Sugarbush Resort in Warren, Vermont (Two 18-hole courses!)
Mount Sunapee in Newbury, NH
Whiteface Mountain in Wilmington, NY
Wildcat Mountain in Pinkham Notch, NH
On Course: A Great Round of Disc Golf
Recently, I shared the new 18-hole championship Disc Golf course at Mount Sunapee in Newbury, NH with four Australian twenty somethings:  Phil "tree-nied" White, Max "pitch and putt" Halden, Andy "fading" Wood, and Alex "lady arms" Peters. These four terrific kids were on their way from Canada, where they'd played in a series of "Ultimate" tournaments  (another game played with flying discs) to Boston to visit friends. They'd somehow found their way off I-89 and onto the course at Sunapee. Such are the miracles of smart phones.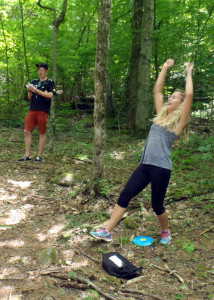 Familiarity with the basics of throwing discs accurately theoretically should have given them a huge advantage, but they quickly discovered that Disc Golf requires its own skill set. "Ultimate fields don't have trees in the way," Phil observed with a grin after losing his driver on the first hole. It was particularly fun to see them enjoying a game they clearly weren't yet good at.
Alex ("lady arms"), was smart enough to play conservatively from the short tees and, as a result, schooled her three more macho companions who spent lots more time looking for discs in the woods . . .
Walking the course with them, I couldn't help but notice how much pure, silly fun they were having. The three young men were fairly serious competitors with discs, but any tendency they might have had to get competitive at Disc Golf was quickly squashed by the ability of the discs to unerring find any obstacle between the hand and the hole. After the first hole, everyone just relaxed, and laughed a lot when things didn't go as planned. By the time we reached the 18th hole, they were planning how to import Disc Golf to the masses Down Under.