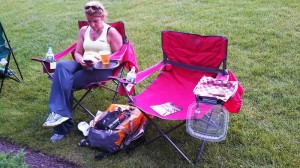 We don't know who invented the collapsible "bag chair," but whoever it was is a hero to car campers, beach goers and fireworks watchers everywhere. Bag chairs are comfortable, easy to use, and more compact and portable than the ubiquitous folding lawn chair they replaced as the traveling seat of choice. Then, someone got the bright idea to put cupholders in the arms of the chair, making it possible to control your drink while getting in and out of the chair (and to not tip it over while sitting and relaxing). Could it get any better than that?
The Wenzel Banquet Chair XL made us think that, perhaps, it could. The product designers at Wenzel scratched their collective heads and came up with a way to integrate a sturdy, 9-inch diameter plastic plate (7″ flat inside area) into the left arm of the chair and still get the whole thing to fold up into a bag. We were intrigued by the idea when we first saw it at a product show, but wondered if it would work in the real world.
Well…months and many trips by many testers, the answer is a resounding "yes."
Let's get the negative out of the way with first; the size of the plate means that the chair won't fold as compactly. The bag takes up a lot more room in your car. If you're in an SUV, or even the ubiquitous Subaru wagon, you're all set; in a Mazda 3, things are a little tighter. For our videographer Leif Crook, who made a cross-country trip with his wife in a tiny Geo Metro hatchback, it was a deal killer; they simply couldn't fit the extra bulk into their miniature back seat. But, for the rest of us, it simply meant reworking our spaces to get the beasts in.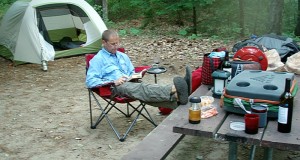 We did, and it was worth it! From car camping to outdoor concerts to backyard parties, we relaxed. Because the plate automatically makes the bag big, Wenzel went ahead and made the rest of the chair larger, as well. We can sit in it, curl up in it, sit sideways with a leg hanging over a chair arm; things you can't usually do with a regular bag chair. The angle of the arms adjusts with a strap-and-buckle arrangement, allowing you to fit it to your body, a nice touch. The frame is beefy, and there's no sense that it might not be the smartest thing to put too much pressure in any one place.
And, the plate. Obviously, it was great for putting food on (especially flimsy paper plates), but we also found it nice for holding books or anything else you want to keep handy. And, it made a great platform for getting a lantern to light exactly the area we wanted; that's always a problem, and finally an easy solution! Give us time, and we'll come up with more ways to use it, but what we've come up with is more than enough reasons to choose this chair over other bag chairs.
If you use bag chairs for car camping, the beach, or anywhere else, and have the extra space to carry them, we'd highly recommend that you bump up a few dollars and get these; you'll find more uses and get more comfort over a long time than you ever could with the original, wonderful bag chair. If the original inventor is still around, we're pretty sure he's impressed with Wenzel's "better mousetrap" design!