Being in an airport these days is almost like being in a Star Wars movie; hundreds of little wheeled 'droids roaming around, serving their masters. Oh, wait…those are wheeled suitcases. They're certainly an improvement over a heavy Samsonite hardshell pulling your shoulder out of its socket, but they're still limited; they're a pain on escalators, and when you have to handle stairs, tall curbs, and the like, they're actually WORSE than a standard suitcase, as they're taller and harder to lift.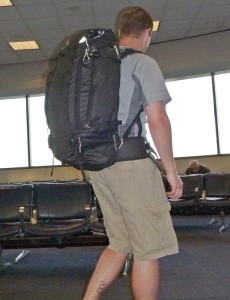 We, of course, like backpacks, and not just for getting out into the backcountry. Over the years, many of us have traveled a good part of the world with them, using their multi-pocket organization and easy carry to get us around, whether it's in an airport or hitchhiking or wandering through medieval cities trying to find that cheap hostel. And back "in the day," a number of companies made purpose-built travel packs that allowed you to zip all of the straps and harnesses inside a cover, turning them into true suitcases so that they didn't get damaged by overzealous/undercompetent airline employees, and allowing for easy carry in taxis, etc. The packs weren't made by luggage companies, either; serious backcountry companies like Lowe Alpine and Jansport were in the game. But since the advent of the 'droids, it seems the travel backpack has gone the way of the dinosaur.
Or, perhaps not. Eagle Creek, always an innovator in travel gear, has introduced the Eagle Creek Systems Go Duffel Pack 60L. Whew…what a mouthful! In a nutshell, it's a 60 liter pack that converts to a duffel, and uses the Eagle Creek Pack-It system of fabric "containers" of specific size that allows you nearly infinite organization choices. We don't tend to think of them as a company that caters to the backpacking crowd, though, and wondered if the system would be more suitcase and less pack.
And, upon receiving it, we could tell we were right; no frame. Now, that's not entirely the kiss of death, as many ultralight packs do without them, but we're looking for something that will carry some serious weight. But, we've been fooled before, so didn't write it off without trying it. Good decision…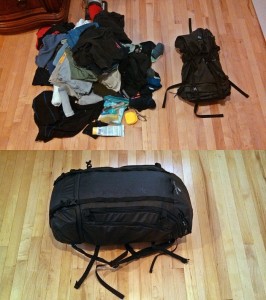 Here's the thing. Eagle Creek 's "Pack-It" system provides two advantages; one, you get some serious organization (for instance, white Pack-It cube for socks and underwear, orange for swimwear and t-shirts, green for pants, etc.). But almost as important, take those cubes, stuff them inside the pack, and they actually provide structure. The pack doesn't flop around and hang off your back; it becomes solid and stable and sits on you like a REAL pack. It works better than it seems that it should, and we traveled lierally around the world with it, with one tester taking it to Japan. Depending on what we were carrying, we used either 4 or 5 of the Specter Half Cubes to get the right combination of organization and structure.
The first tester to take it on a vacation with a long airline flight discovered a bonus; if you don't use the bottom pocket and cinch the straps up, the pack takes on the dimensions of a carry-on. That's huge; many of us want to GET to our destination with our luggage, get off the plane quickly, but still have room for souvenirs on the way back. Once we figured that out, the Go Duffel Pack became a much hotter item, with testers vying for the chance to use it. Airports, buses, taxis…universally, everyone was impressed with its utility and comfort. With a top pocket for incidentals, flashlights, etc., and a side pocket for clothing items you might want without having to dig through the cubes, plus side and bottom straps that allow you to attach…well, pretty much anything…the flexibility is enormous. There's even a ton of nylon webbing loops a la mountaineering packs; we doubt you'd strap on a climbing rope, but we often used carabiners to hang things off it. As for our serious world traveler, in his own words:
"I may have hit 30 years of age, but when it comes to traveling, I still act like a college kid. In the mornings, I don't always know what city I'll sleep in that night, let alone what hostel or airbnb. I need freedom to move—far, and if need be, fast—and I pack accordingly.  
This September, I headed to Japan with nothing more booked than the flights and a Japan rail pass (essential for getting around the country, and a tremendous deal: the rail pass allows you to travel almost any train in the country as often as needed for the duration of your stay). My luggage requirements: one backpack that could fit a ton of clothes and some gifts to bring back home. The thing about Japan is that you don't want to look like a bumpkin tourist— it's possibly the most stylishly dressed country in the world, even in the smaller cities. Since the point of this trip was to mingle and try out the Japanese language skills I had been developing over a year of daily study. I needed options for nights out, some fancy dining, and a lot of hiking.
The Go Duffel was large enough for my needs, but did not leave me feeling more packhorse than human. In dark gray, it's about as svelte as a big pack can be, with a bottom compartment that can be strapped down to make it carry-on size. The Pack-It system forced me to pack in orderly fashion. Even after some inartful rummaging by a brusque customs inspector (don't fly through Beijing), it was the work of seconds to return things to order. I'm a packing slob, and this actually made me more organized than my neat-freak travel companion; he's still in shock and may never recover.
The true value of enforced order only became more apparent through the weeks. I jammed this pack in every coin locker, capsule hotel, and luggage rack from Hokkaido to Kyuushu, changing clothes in transit and jamming in souvenirs, and still I knew right where everything was (the fabric containers are semi-transparent, in case you forget where your jeans are). Even overloaded, the pack was tolerably comfortable while leaping over rail crossings and hurrying after taxis. With its help, I survived the most frenetic and fun trip of my life. The Eagle Creek is headed to the next test, but after going through so much together, I'm not sure how I can part ways with it."
Eagle Creek Systems Go Duffel Pack 60L In The Backcountry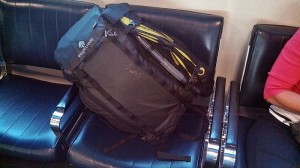 There's another dimension to our old travel packs that we loved, though, and that was the ability to use them as REAL packs for side trips during extended vacations. Sure, if we were planning to do a lot of backcountry during a trip, we'd use a "regular" backpack and just deal with getting straps and hipbelts and shoulder belts out of the way and hoping that the airlines wouldn't massacre them, but often it made more sense to focus on the travel aspect. Given an opportunity for a long day hike or even an overnight in a rainforest or on some distant mountain, though, we had the basics with us; good boots, good clothes, good pack. We could usually scare up a sleeping bag and were often with a local who had some sort of cooking gear, or could eat cold stuff…but we needed something good to carry it in. Could the Eagle Creek live up to that history?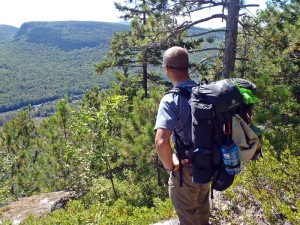 Abusers that we are, we took it out into the White Mountains for an overnight, and overloaded it ridiculously; 35 pounds, festooned with water bottles and chairs and sleeping pads. And, you know what? It wasn't as good as a top quality frame pack, but, as one tester put it, "I'd rather carry this than my GoLite Jam!" (To be fair, his Jam is an earlier model without load lifter straps; we haven't tested the latest model.) Credit the combination of the Pack-It cubes, which added structure, and the load lifter straps, which helped pull the load up and into alignment with our center of gravity. We weren't able to fully use the Pack-It cubes, since some of the items we were carrying wouldn't fit into them (frying pan, for instance), but they worked well enough to hold the load up and avoid "butt sag." You'll want to pay careful attention to your loading, making sure to get the heaviest weight as high up as possible in the pack and as close to your back as you can so that the load lifters can pull it in where you want it. Having the water bottles hanging off the back definitely made it less comfortable; if we'd put them inside just under the top pouch, the whole thing would have balanced better. Still, that's a factor for any pack, and particularly for those without strong frames, and this really wasn't any worse than others we've used. We wouldn't hesitate to use it again for a backpacking trip; it almost makes us feel like we're back in college again!
Bottom line, though, is that it's a travel backpack…it's carefully designed and focused specifically for getting you and your travel necessities through airports and urban environments, rather than up Everest. And for that job, it's a pure A+, the best of it's type that we've ever used. The backcountry bonus just points out its versatility, and doubles its value to you.