Way back in the '70s, Hi-Tec burst on the scene with an innovative line of inexpensive, lightweight hiking boots that opened a new world for people who couldn't afford "the best." Many of us embraced them immediately; in fact, one of our editors still owns an early '80s pair of Hi-Tec PCTs; they're now relegated to lawnmowing duty, but the fact that they're still alive at all is pretty impressive for a roughly $40 pair of boots…put a different way, that's about $1/year!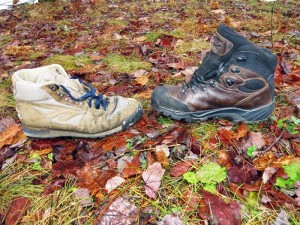 But, like many companies, Hi-Tec seemed to lose their way for a number of  years, producing product that wasn't of the same quality that we'd originally seen. Slowly, they disappeared from our radar, and we sort of expected them to disappear as a brand. But, they're back, a newly energized company with a much broader range of products than "in the day." We're happy to see it, as long as the products live up to the hype.
Beyond their more typical offerings, though, is the Hi-Tec Altitude Pro RGS. With a list price of $180, it's WAY above their usual price points. And, on the face of it, they offer a lot more; full-grain leather upper, Vibram sole, PU midsole, rustproof hardwear. In other words, all the bells and whistles that you'd expect from a high-end hiking boot, but at a much lower price than similar offerings from other brands. We were immediately intrigued and skeptical; our experience of value lines moving upscale hasn't been all that great, and that seems like a whole lot of quality for a bargain price. You know the old adage, "If something seems too good to be true . . ." Time to do some serious testing.
But out of the box, the Altitude Pro impressed. The leather is nice, smooth, and THICK; there's real abrasion resistance there, as well as likely long life. Rubber protection at the toe and heel is serious, again reinforcing the idea that they'll last well. Stitching is uniform and excellent, and the Vibram sole is, well…Vibram. If there's a name out there that's a guarantee of quality, that's it. Great start!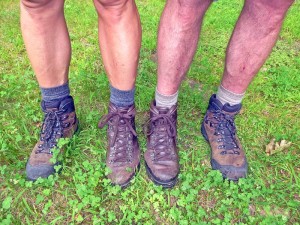 Because the Altitude Pro is intended to compete with the big boys, we decided to put it head-to head with one of our favorites, the venerable and venerated LL Bean Gore-Tex Cresta Leather Hikers. Originally introduced at about the same price as the Hi-Tecs many years ago, they're now $60 more. Could the upstart hold its own?
First impressions of the Hi-Tecs included excellent fit and a heel cup that worked for our narrowest-heeled testers. They're a mid-volume boot; if you've got a very high volume foot, you may want to go up a half size for a little more room, or add a midsole if you're low volume. Break-in was definitely required, but it was relatively quick; after a few days, ankle soreness disappeared and they were ready for serious trail days. After significant time trading them and the Crestas back and forth, here's our evaluation, point by point.
Overall Fit/Comfort
One of the reasons that we've loved the LL Bean Crestas is that they do a beautiful job of conforming to different foot shapes, making for long, comfortable days on the trail. The Altitude Pro RGS was at least equally comfortable, but achieved it much more quickly; in other words, they required a lot less break-in. One tester called it "the most comfortable full-leather boot I've ever worn;" that's pretty high praise for an upstart. That's probably because of the much more thickly padded collar and upper ankle area. Overall, we'd call this one a narrow win for the Hi-Tec.
Toe/Heel protection
Perhaps the biggest weakness of the Crestas is at the toe & heel; it's easy to bang them up and scuff the leather. This is a clear win for the Hi-Tecs, which have a protective rubber toe cap and strip down the heel.
Support
Carrying heavy loads is what these boots are about, so ankle support is paramount. Both allowed us to carry heavy loads comfortably and safely, but we give the edge to the Bean Crestas; the pair we were comparing to the Hi-Tecs have hundreds of miles on them already, yet still have strong support. Our gut says that after that many miles, the Altitude Pros won't provide as much support, although we have no reason to believe that they'll fall apart and become floppy slippers. But, more fabric/foam and less leather usually means somewhat less support long term.
Weight
There's a clear advantage to the Altitude Pro RGS here; with more foam & fabric and less leather, they're 5 ounces lighter/pair  than the Crestas, It's not the end of the world, and it's not a reason to buy one over the other on its own, but it's a factor.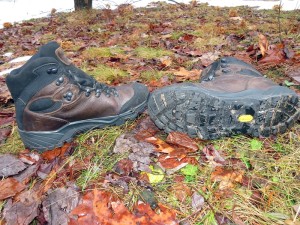 Sole
Well, both boots have Vibram soles, which you might think would mean they're about the same…and you'd be dead wrong. The sole is arguably the BIGGEST difference between the two. The Bean sole is a classic Vibram hiking sole; firm, heavy lugs, separate heel. The Hi-Tecs, on the other hand, have Vibram's Rolling Gait System (thus, the RGS in the name), which is more like a heavy duty sneaker sole, designed to roll fore-aft as you walk. The rubber is also softer, giving excellent feel and grip on rocks and slippery roots, although the lack of the separate heel means no ability to set that heel against an edge for more security on downhills. However, multiple days in rocky southern NH backcountry terrain gave us more confidence in the Vibram RGS sole than we'd expected, with the grippier rubber offsetting the difference in sole design. The Hi-Tecs also clearly wear faster; after 100 miles, it was visible although not excessive. This one comes down to your own preferences; if you want a boot that'll travel thousands of miles, get the Bean; if you're good with fewer miles but walking them faster because of better traction and the rolling sole, get the Hi-Tec.
Thermal characteristics
It's no great surprise that the Hi-Tecs, with more foam padding, feel hotter than the Beans. Testers consistently noted this, although didn't find it to be a major problem when they weren't doing a head-to-head comparison. If you hike a lot in summer in hotter climes, stick to the Beans; if you hate "triple H" days in the summer and hike more in the spring and fall, the Hi-Tec might actually increase your comfort.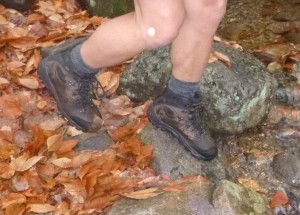 Waterproofing
This is one of the great problems of boots; so-called "waterproof" is often, at best, "water resistant for a little while." We do a two-part testing for waterproofing; the first involves standing for 10 minutes in a cooler with 4″ of water. Boring, but it's more of a torture test than you'd ever get crossing a brook. Then, we get the boots out into wet fields to see if the motion of walking "pumps" water through seams. The Beans passed that test a long time ago, and still pass; the Hi-Tecs passed with flying colors, as well, with multiple long days on wet, rainy trails with standing water and dry socks the entire time. However, we can't say what will happen under longer use with the Hi-Tecs, yet…so, a tie for now, at least.
Lacing system
We've always loved the Bean lacing system; it locks the laces at the instep, allowing the ankle support to be either tighter or looser, depending on the need and terrain. Kudos to Hi-Tec; they have the same system. Another tie here.
Overall assessment, and what's right for YOU?
These are both great boots, and we're happy to head out in either of them. So, it really comes down to you, and how you use your boots. If you're a light user, only getting a few trips in each year, the Hi-Tecs are a better choice; they'll break in faster, and you'll likely never wear them out. If you mainly hike on fairly smooth terrain, the same…we did find that the Vibram Rolling Gait System smoothed out long miles. If you hike a LOT, and want your boots to last forever, you'd probably be better off with the Crestas. For most users? We're shocked to say it, but buy the Hi-Tec Altitude Pro RGS, spend the difference on some really good wool socks, and you'll probably find that you travel more miles in more comfort than you ever have; who knows, maybe you'll actually get out more!