New Year's Day Morning…one of our favorite times to ski! Why? Because the resorts have all the snowmaking cranked up to handle the vacation week crowd, but the vacation week crowd has a hangover and doesn't start skiing until close to noon. Translation: Great conditions, wide open slopes, short lift lines. Heaven!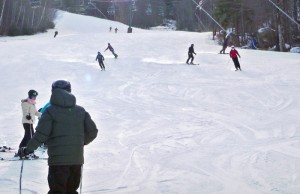 Except that December 2014 was about as bad for ski areas as any December in the last decade. Warm rains followed by warm overnights meant brown landscapes, not the white we all hope for. But, as we found at Cranmore earlier in the week, the snowmaking upgrades in New England over the past half decade mean that what we see in our back yards and on the drive to a ski  area, and even what we THINK conditions are going to be on the hills, has very little to do with what they actually ARE. Yes, relying only on snowmaking means fewer trails open, even at resorts with 100% snowmaking, but it still means open trails, with better conditions than we could hope for.
For the past few years, Loon Mountain has been our New Year's morning meeting place; it's got great snowmaking, and it's centrally located to meet friends.With dramatic improvements to their snowmaking system in the past few years, it made even more sense than usual. Up we got, a bit later than we'd hoped for, and to South Peak we headed. Why South Peak? It gets less wind than North Peak, so likely more snow on the trails, plus it doesn't tend to get as many early morning skiers. Sure enough, there were NO lines, and lots of room in the small Pemi Base Camp. We dressed quickly, and headed out into the wide white world.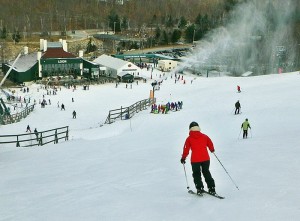 And white it was. January light is low and flat, and Loon's snowmaking guns were going full blast. It was sort of like skiing in a fog that stuck to your goggles, but oh, was it worth it! The snowmakers can dial in the new equipment to produce exactly what they want, and in this case (where it was about 10 degrees), they shot out a fine, wet snow. At goggle height, it was like freezing rain; but at trail level, only 5 feet lower, it had frozen to a sort of heavy, creamy powder. Skiing was easy and smooth, but the snow was heavy enough that it stayed put and didn't turn into bump/ice/bump/ice, even under heavier traffic around noon. We did move over to Loon Peak and North Peak for a little while, but as expected, there was more traffic and scratchier conditions over there, so we worked our way back across to South Peak. Cruiser, in particular, was a blast; tons of fresh snow, lots of little jumps and terrain features to make every line different, and even at noon the slopes were still wide open for us. We skied full-tilt, with our first wait in a lift line coming at 11:30. Bliss!
At our break for lunch, however, it was clear things were going to change; the lodge was PACKED with people suiting up. We'd already had a great morning with a ton of runs and plenty of early season thigh burn, so decided to quit and head home for a nap. What a great tradeoff…get up too early, but get great skiing, and then make up the sleep on the back end. About as perfect a day as we would have hoped for…and probably the most natural-feeling manmade snow we've ever skied on. We can't wait until Loon gets some natural snow to supplement what we were skiing on; with natural snow on top of this deep, man-made base, we may have the best conditions we've ever seen!