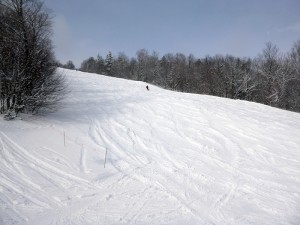 Fresh powder overnight in Portland, and some free time during the day…seems like time to go skiing to me! But, it's school vacation week, which means crowds…hmmm. Where to go, where to go?
When you're expecting tons of kids on vacation, the best way to get great skiing is to go for the difficult slopes; diamonds are your friends, doubles even more so. But, you need enough greens and blues to give people room to enjoy them without feeling TOO cramped, or they'll head to slopes that are maybe too difficult for them, which means you're skiing moving pylons on a scraped-off slope. It's still skiing, which is better than work, but when there's a better way, go for it!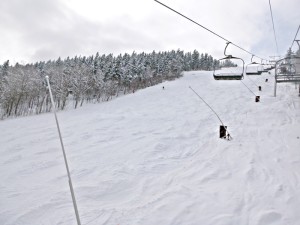 Based on that, Sunday River was my hill(s) of choice. With the multiple peaks, there's room for crowds to spread out, and you get to pick yours for the type of skiing you like. Following my usual pattern, I worked my way over to White Cap to ski White Heat and Shockwave before they got skied off; as steep as they are, it doesn't usually take too long. With my schedule, I didn't get there as early as I'd have liked, hitting the top of White Heat at 11. And, found some of the best conditions there that I've ever seen! Skier's left hadn't gotten much traffic, and was loaded with lots of soft bumps and good lines, no scratchiness. Shockwave, as it often is, was two trails; the top was steep, scratchy, and required a lot of thinking, but lower down was a series of huge, soft bumps that allowed a lot of playing. By the time I hit the bottom, my legs were burning but I was laughing.
That was enough "serious" for me for a while, so I worked back across to the lodge for a quick lunch, and was faced with a shock; after nearly empty slopes, it was PACKED. It's easy to see why people think that vacation week is a zoo; if I hadn't just been out taking run after run without anyone being in my way, I'd have expected the slopes to be a nightmare. It was clear that OUTside was where I wanted to be, so I wolfed down my snack and headed back out. I'd been hearing that the Northwoods glades that opened last season on North Peak were fun, so thought I'd get over there. A quick run up the Chondola, and there they were; a quick gulp at the double diamond sign, one look down at the scraped-off drop into them, a deep breath, and the plunge.
Two turns in, and they opened up…and there was fresh snow EVERYWHERE. There had been a moderate number of skiers in there, but true to form, many had followed the lines of skiers before them. It was ridiculously easy to create new lines in untracked, foot-deep powder. I'm nobody's idea of a great glade skier, but the tree spacing in Northwoods gives plenty of room to make turns, while not being so open that everything gets skied as if it was a groomer. As much as I wanted to get to other favorite trails, I couldn't resist completing my leg burnout with multiple runs through them; it was just too much fun.
Did I make a mistake coming to Sunday River during vacation week? Actually, I made two. The first was in not getting there first thing to take advantage of first-run powder; I didn't put boards to snow until 10, missing an hour of awesome conditions. The other was in having to leave early; I had an appointment back in Portland at 4, so needed to be in the car at 2. It was clear that by getting away from the easily linked greens-and-blues, I'd found my "happy place"…trails that were difficult enough that most of the vacation week crowd wasn't on them.
Bottom line; if you can ski blacks, you can get out during vacation week and have a ball. Yes, you can still have a ball on the greens and blues, but you'll face more traffic. With many "serious" skiers staying away because of the perceived traffic, you just might find better conditions on the harder trails than during a non-vacation week. If you're there with your kids, you might want to find a program to put them into for the day so that you can escape to the less used trails. I know this much; I'll never let a vacation week get in the way of chasing a powder dump again!