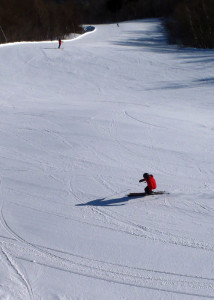 Was Wednesday, February 25, 2015 the best ski day of the season at Mount Sunapee in Newbury, NH? Maybe. In fact, quite possibly . . .
Mount Sunapee has gotten six feet of natural snow since January 24. This wasn't a powder morning. But if it had been, there would have been a lot more people fighting for first chair and fresh tracks, especially considering that it was NH school vacation week.
It wasn't particularly warm, either. But the wind wasn't blowing (unusual for this winter), the sun was shining brilliantly and the sky was that beautiful deep blue you only see in winter. The air was as clear as clear could be. The views out over Lake Sunapee were breathtaking and you could clearly see the high peaks of the White Mountains on the northern horizon.  Sunapee's nearest mountain neighbors, Kearsarge and Ragged, looked close enough to reach out and touch.
Combine a beautiful, blue sky day with Sunapee's flawlessly groomed corduroy and you've pretty much described perfection for 90% of the skiers and riders on the mountain. Anyone who wanted more challenge could find it. There was plenty of snow in the glades for anyone who wanted to go exploring and the bumps were large and pillow-topped with powder. Something for everyone.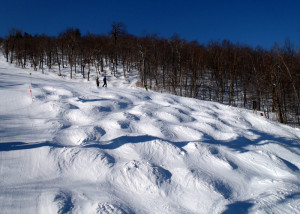 Marilyn and I only had the morning to ski, so we arrived early. She loves untouched corduroy above all other conditions, and I was on Tele gear which meant groomed-trails only for my limited abilities. We based at the Spruce lodge, rode up the North Peak Triple and made first tracks down Cataract into the Sunbowl on absolutely flawless, soft corduroy. Some people love corduroy, some don't, but this was simply corduroy perfection, probably the best snow conditions you can find anywhere without fresh powder or Spring corn snow.
At the bottom of the Sunbowl we found a pleasant surprise. The old Sunbowl lift has been replaced this season with a detachable quad pirated from Okemo. The ride up is now smoother and faster than ever and the lifelines that used to develop on sunny mornings are a thing of the past. Of course faster lifts sometimes mean more people on the trails, but that wasn't the case this particular morning.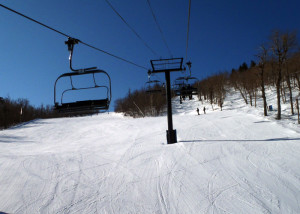 Our second run was down Whingding, again flawless corduroy. But on the way down I noticed something very interesting. The rope that normally closes off Stovepipe and Williamson wasn't there. These are natural-snow trails that get strong morning sun. They don't open every year and often don't stay open long. Because these trails weren't cut for groomers, they follow the curves of the mountain  and offer double-fall lines and gentle turns. They aren't steep or scary. Skiing them is like carving into a time-warp. Back to the '70s. What a treat! The snow had been groomed, but not recently. And there obviously hadn't been a lot of traffic. So we just cruised along, swooping from side-to side, not seeing any other skiers of riders. So much fun, we went back and did it again. And again.
The rest of the morning we explored more of the mountain, finding few people and plenty of soft snow. By the time we quit (before noon), we'd skied more miles than we normally would have in a full day. Conditions were that good.
So, was this the best ski day of the season? Maybe. Quite possibly. We'll just have to keep skiing until the snow's gone and find out.