Even if you don't want to read this entire article, pay attention to the following sentence:
$15 LIFT TICKETS ON FRIDAYS, $25 ON WEEKENDS.
No, that's not a typo or a joke. And it's not Black Mountain of Maine's "uphill policy." That's a ticket for anyone between the ages of 5 and 75 (if you're outside of that bracket, it's free!), anytime. Okay, not QUITE anytime…during vacation weeks, Friday tickets are (gasp!) $25. And the weekend prices go up to…oh, wait, they stay at $25.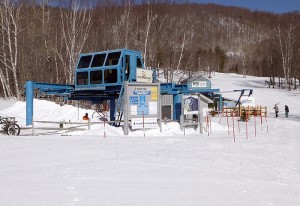 Seriously? In this day and age, can a lift-serviced ski area with snowmaking actually charge those prices? Yes. How? Well, thanks to the Maine Winter Sports Center, which donated the facility to the community to be run as a non-profit with a volunteer board of directors (after taking roughly a $1.5 million loss as they upgraded and improved the facility, allowing the mountain to run without a lot of repair expense), BMOM is in the rare position of having modern facilities and no debt. Running it only 3 days a week cuts costs as well…when you limit the number of skier days, you limit the amount of snowmaking and grooming you have to do. And, when you're staffing ticket counters and cafeterias and lifts and lounges, it costs a lot less per ticket if you're only doing it on the "busy" days.
But, what IS a busy day at BMOM? My wife Susan and I decided to find out by heading up on a Friday during New Hampshire vacation week. It shouldn't be the busiest day, but still, with those prices, 1380 feet of vertical, and lots of kids having time off, it should be…well, busy.
Step one, as always, was to get going early enough to get a good diner breakfast before hitting the slopes. We'd heard good things about Dick's Restaurant in Mexico (that's the one in Maine, not the one down south of us). A little over an hour from Portland and about 15 minutes from the mountain, the timing was perfect for us to enjoy our coffee on the way up and be ready for serious eating when we arrived. We weren't disappointed, either; the food was great, staff friendly, and the prices were outstanding. Stuffed to the gills, we walked out after paying the $15 bill, tip included. It's not just the skiing up this way that's a bargain!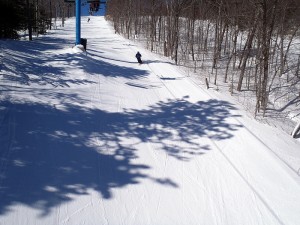 Now, we expected a busy Friday, but it happened to be 8 degrees with a howling north wind…and it showed. Arriving about a half hour before the lifts turned, we were able to park in the first row. As we unloaded, a busload of kids arrived, but even with that crew there was plenty of room in the lovely lodge for us to spread out and get ready. We bulked up our clothing, and headed out just in time for the lifts to open. First tracks!
At that temperature and with that wind, you pretty much expect bulletproof snow (or ice), particularly after a couple of relatively warm days during the week. But, the advantage of not having skiers all week long paid off; without the snow being pummeled and groomed all the time, it was firm but still easy to get an edge into. We started with a couple of runs down Swift and Upper & Lower Androscoggin (a/k/a the liftline), a wide groomer that allowed us to warm our legs up fully before getting into the blacks to mountain left. Even though the snow wasn't rock hard, it was still screaming fast, and 1380′ of vertical is plenty to get you breathing hard, particularly when there's no line to wait in at the bottom. Indeed, in our entire morning of skiing, we only ONCE waited in line, and that was behind ONE pair of skiers.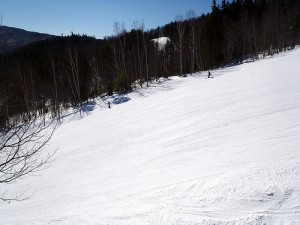 The slopes were like the lift lines…empty. Run after run, we simply didn't see another skier, giving us the entire slope to play with, not a single thing in the way. It was almost like having our own private mountain. Even on our final run, there was still fresh corduroy to play in on Allagash. Androscoggin had been skied more, but just enough to loosen the snow on the surface; the conditions were better at noon than they were at the beginning of the morning. Of course, it didn't hurt that the temperature had come up 10 degrees, and the wind had dropped a bit.
After a quick look at the glades, which showed plenty of wind scour, we decided to stick to the blues and blacks. The short, steep doubles to mountain right looked much like the glades, and one run down Lazy River convinced us that, until the next snowfall, we'd stick to the slightly less steep slopes, as they had better cover and weren't quite as hard.
So, we played…short radius turns on steep sections, edge-to-edge carving GS turns on the wide groomers (hey, with no other skiers around, might as well take advantage of it!). Black Mountain of Maine isn't the steepest mountain out there, but don't kid yourself; there's PLENTY of speed to be had; the collection of Blizzard and Rossignol World Cup racing skis at the lodge made it clear that we weren't the only people who agreed on that. We indulged ourselves, carrying speeds at times that wouldn't be safe if there were other skiers around. Susan's relatively new to skiing, and it was a great opportunity for her to practice feeling the carve. With the ability to turn all the way across the slope without worrying about other skiers, she was able to play with fore/aft balance, and tilting the ski more and less to see the effect on the shape of the turn, all in a single turn. The result was noticeable, with her control and speed increasing with every run.
Unfortunately, at noon we had to head back to Portland for some meetings. The conditions had been improving the entire time we were there, and the afternoon promised to continue to warm up. As we packed up, we regarded the lunch crowd with jealousy; they were going to get the best of the day. But, you know what? We'd had a great time on a lovely mountain with pristine bluebird skies, burned off a BIG breakfast, and paid less for the entire thing than the cost of a single discounted lift ticket at most mountains.
One thing's very clear; not enough people know about, and ski, Black Mountain of Maine. Even with the warming afternoon, if everyone in the lodge had hit the slopes at the same time they'd still be virtually empty. If you've never been, you owe it to yourself to give it a try. Think of it this way; with the savings on the lift ticket prices over a season, you can buy that new pair of skis you've been dreaming about!