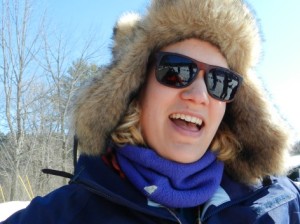 I'd never heard of
Doe Camp
until three years ago, but it sounded like such fun I finally cleared my schedule so I could go. Am I glad I did!
Sponsored by Vermont Outdoors Woman, Doe Camp is a weekend of hands-on education in all manner of outdoor activities for women of all ages and abilities.
I attended the Winter Doe Camp at the beginning of March, held at the Hulbert Outdoor Center on Lake Morey. Billed as "a winter retreat for adventurous women," the weekend promised skill development, adventure, education and fun. The only difficulty was deciding which skills and which adventures to try. While many of the instructors were nature-savvy women, some of the instructors were knowledgeable and gentle men.
Classes ranged from Archery to Winter Survival, and I had a hard time choosing between working on skills well within my comfort zone, like advanced snow shoeing, Nordic skating and winter camping, or challenging myself to try classes in which I was a complete novice, like hunting, rifle skills and game calling. I went on the wild side, learning skills I'd never even considered before.
A NEW WAY TO BE IN THE WOODS
After a lifetime of following blazed trails through the woods, I was ready to learn how to step into the wild, so I chose to learn about hunting.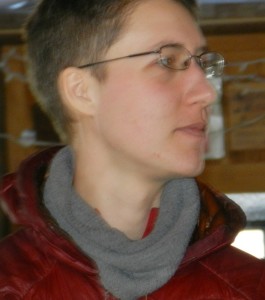 Becoming a Deer Hunter delivered exactly what it promised: a foundation of knowledge for learning to hunt in Vermont. Make no mistake: after our three hours of questions and answers, none of us newbies was ready to take down a deer, but we all now had the information we needed for the next steps to become legal, competent and ethical deer hunters.
Mary Murphy was our instructor. She's a professional guide and owner of Mountainsong Expeditions, where she teaches a holistic approach to hunting as a sacred journey. Fabulously knowledgeable, Murphy (as she prefers to be called) talked us through the legal requirements for becoming a hunter, from hunter safety classes to licensing to obtaining permission from landowners to hunt on their land. She brought up the ethical issues of hunting, many of which go beyond the letter of the law, including a hunter's responsibility to the animal that's been shot.
Murphy showed us a hunting rifle and a compound bow, the two most common weapons for hunting. Among the eight other women in the class, most had some experience with rifles, at least; many had already been out in the field, mostly with their male partners. Not me. I may have once shot a .22, but it was so long ago I can't even remember if I hit the target, so this was all new territory for me.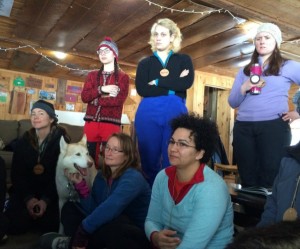 I was glad to be in a room full of women, free of the male bravado that often taints the culture of hunting. Among these women, I felt both safe and unembarrassed to ask the most basic of questions, and I felt honored to learn from their collective experience.
While I'm still ambivalent about actually killing a deer, I'm very interested in learning to scout for them. For me, learning to hunt is really about learning how to be more knowledgeable and more observant in nature. And if I continue on this path toward eventually taking a deer, I need to take a hunter safety course, buy a hunting license, and study the deer in the woods. As Murphy said, "There's so much to learn, especially if you didn't grow up with hunting," I need to find a mentor, someone to take me into the woods and teach me more.
NEW AND UNEXPECTED SKILLS
Meanwhile, I need to learn how to use a rifle.
There were just four of us in the Rifle Skills and Marksmanship class, taught by Larry Hamel and assisted by Dick Bayer. Two of my classmates were experienced hunters, one of whom brought her own deer rifle to sight and test. Another woman was as clueless as I was, and we couldn't ask for better instructors.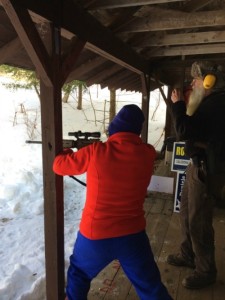 Larry's matter-of-fact instruction calmed me. We started with gun safety, then mechanics. From what looked to me like an arsenal of weapons, Larry chose what he thought was the best fit for each of us. I started with a succession of .22's, from antique to modern. Dick kept me supplied in ammo and quiet encouragement.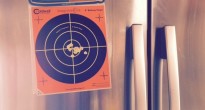 Using my yoga training in mindfulness and breath-work, I discovered I'm a pretty good shot. (I've posted my best target on my refrigerator door.)
I also learned that a .22 is not a deer rifle, nor are all guns the same. If I'm going to pursue this, I'm going to have to make time for target practice and – eventually – try a variety of deer rifles until I find one that suits. This could take years.
LEARNING A NEW LANGUAGE
Maybe I'll just learn to hunt with my camera. So I took Bradley Carleton's class, Critter Calling for Hunters and Photographers. This class was a hoot. (Sorry, the pun was unavoidable.) Bradley is a professional guide with a special interest in guiding boys toward manhood at sacredhunter.org. Bradley's also an avid bird hunter, and a four-time state champion in duck calling. It might help that in a past life, he sang opera.
We started with turkey calls – the cluck, the purr, the gobble and the putt. In the process of learning what turkeys have to say to one another, I learned that for most of my life I've been deaf in the woods. No longer. Now that I know what to listen for, I can imagine sitting still in the woods instead of always just moving through them, on my way to a summit.
I also gained insight into animal behavior: Deer burp, grunt and bleat for good reasons. Turkeys fear owls and hate crows. It is precisely this hunter's knowledge of animal behavior that I want to learn.
Bradley explained what different sounds mean, and he taught us how to imitate them using a variety of calls. He taught us a few of the 105 different vocalizations used by geese, including the basic honk, the moan the rasp, the murmur, whack, chuckle and laugh. At the end, Bradley performed his championship duck call – to our loud, human, applause.
BASIC SKILLS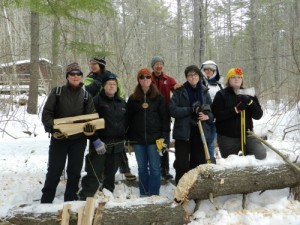 I've been splitting firewood for the thirty years I've been living in Vermont, but I'm more of a homesteader than a woods woman, so I signed up for Traditional Ax Skills Every Woodswoman Should Know. Murphy was again my instructor; she worked on trail crew in California before becoming a hunting guide in Vermont.
First, we learned the parts of the ax. As a writer, I love learning new words. Just as I discovered my previous deafness to animal language in the critter calling class, here I learned how ignorant I was about a tool I handle daily at least six months of the year. Now I know my ax blade has a head, a toe, a cheek and a poll (a polite word for a butt). The handle, also known as the haft, has a belly, a throat, a grip and a knob. The two-and-a-quarter pounder I've been using ever since I received it for Christmas in 1984 is known as a Boy's Ax. All these years, my husband has sharpened it for me; thanks to this class, I now know how to do it myself.
JUST FOR FUN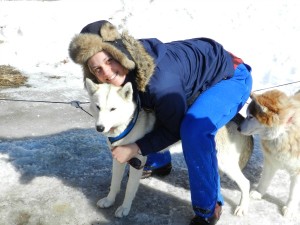 The weekend was not just for serious study. I arrived in time for Dog Sledding with Kathy Bennett of Braeburn Siberians. The course description warned, "Come prepared to fall in love," and I did – not so much with the dogs as with Kathy's passion for them, and her generous sharing of her knowledge.
PASSION AND GENEROSITY
Passion and generosity are the engines of Doe Camp. The instructors, all passionate professionals, donate their time to teach the women who attend. Generous sponsors of Vermont Outdoor Women help keep the cost of the weekend a reasonable. $370 included instruction, equipment, a bunk in a heated cabin with toilets and showers, and really good meals.
Gray Stevens, the executive director of the Vermont Outdoor Guide Association, the umbrella organization for VOW, organizes the event and makes sure everyone is having a good time.
MOTHERS, DAUGHTERS & FRIENDS
Discounts apply for mother-daughter combos, and for girlfriend groups of three or more.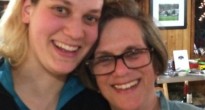 I went with my daughter, and we met a group of six Middlebury schoolteachers who make a habit of attending camp together.
Women came from all over Vermont and from far away. There were women attending from New York, New Hampshire, Massachusetts, Connecticut, Virginia and Washington DC. There were teenaged women, women over sixty, and women of all ages in between. And these women all challenged themselves in new and different ways.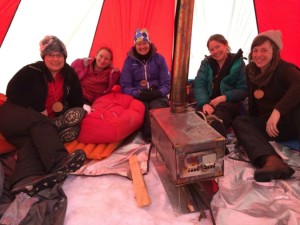 SOMETHING FOR EVERYONE
Pat, from Scarsdale, was one of five who slept in a tent Saturday night – a personal first. This was an option in the Introduction to Lightweight Winter Camping course taught by EasternSlopes.com staffers David Shedd and Tim Jones.
Ruth, my daughter, tried gourmet outdoor cooking and archery. Others went cross-country skiing for the first time; some tried ice fishing; others trekked uphill, learning Advanced Snowshoeing Techniques. There were classes on fire starting, winter survival, planning a winter backpacking trip, and forest management, among others.
While many of the instructors were nature-savvy women, some of the instructors were knowledgeable and gentle men.
VERMONT OUTDOORS WOMEN
It's no secret that women are different from men (Thank goodness!) Doe Camp honors these differences, especially the different ways women learn and experience nature. Personally, the collaborative learning is a real confidence booster, and the women-only classes set me at ease. I'm already mulling over the course possibilities for Fall Doe Camp, scheduled for the weekend of September 18-20, 2015 at Jackson's Lodge in Canaan, Vermont. Will it be log-rolling and birding, or fly-fishing and panning for gold? No matter what courses I take, I'm sure to learn new skills, make new friends, be outdoors and have all kinds of fun.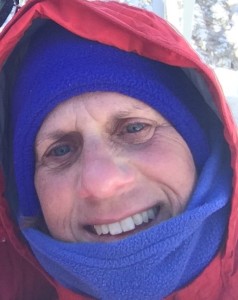 Deborah Lee Luskin is the author of the award-winning novel, Into the Wilderness; a regular commentator at Vermont Public Radio and a blogger about Vermont life at Living in Place, about middle age in The Middle Ages, and writing at Live to Write – Write to Live. She lives in southern Vermont and can be found on the web at www.deborahleeluskin.com, on Facebook and on Twitter.