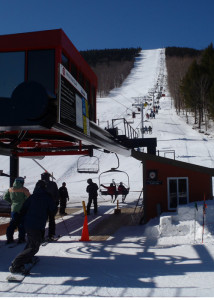 For most skiers, machine groomed corduroy is the meat and potatoes of Eastern Skiing, the main course when the only alternative is icy bumps. Fresh powder is a rare treat that we enjoy when we can. Corn snow, buttery soft and smooth, is a feast you can only enjoy in the spring, knowing that the ski season is coming to an end. And that makes it the sweetest of all New England snow conditions. Some of us wait all year for corn snow, salivating as we anticipate the feast to come.
Sunday River 03-25-15: Corn For Lunch!
Man, do they have A LOT of snow on Sunday River. It's on the trails. It's in the woods. It's everywhere we looked, from White Heat all the way over to Excalibur. Ok, I admit we didn't do Shockwave on the eastern edge of the area (with its VW sized bumps on a steep, off-camber trail) or Lollapalooza, the green-circle parenthesis that closes the resort's western extreme. But everything we tried in between had snow edge to edge with no bare spots, and I assume those two trails did as well.
The sun was shining in a bright blue sky and the temperature was already 23 when we left the Grand Summit Hotel, headed for the lifts. What could possibly be more convenient than ski-in, ski out? Talk about a relaxed way to start the morning. The forecast called for it to cloud up later in the day with rain coming in that evening. It looked like it was going to be a race — could the morning sun soften the snow to creamy corn before the clouds moved in?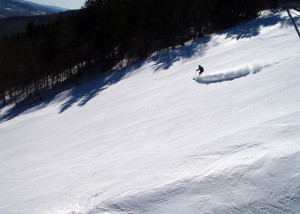 Even in the strong sunshine, the snow was still firm for the early runs. On White Cap, Obsession was nothing short of phenomenal — fast, flawless corduroy. If you drifted off the groomed surfaces, the going got a little rougher. You could still get an edge in anywhere, but the surface had more roughness to it, and you had to stay on your game to keep both of your skis going in the right direction.
Moving west to Barker, it was more pure corduroy cruising on Ecstasy, Lower Upper Cut, Sunday Punch, Monday Mourning and Cascade. Narrow, twisting Southpaw was a particular treat — a spine up the middle let you pop turns back and forth across it almost effortlessly. On Spruce Peak, Risky Business and American Express were a joy. And so it went: Aludra to Northern Lights to Firestar, Rogue Angel and Excalibur.
Heading back east at noon time, the magic started happening. Kansas, the flat trail that's your only route east when the Jordan Mountain Double is closed, was still fast and firm (which is a good thing, it can be a real slog when it's slow and soft). All the trails in Oz looked too choppy to be much fun, so we continued on Lights Out over to Airglow, which was still firm, smooth and fast. Back at the top of Aurora we took Borealis over to Vortex (more of that fast and smooth). But when we turned toward the base of Spruce peak, we started to see the big grains of corn snow forming on the sunny edges of the trail.
To check that out we headed back up to the top of Spruce. The left side of American Express was pure corn from about halfway down all the way to the base of the lift. Ditto for Grand Rapids and Tourist Trap from the top of North Peak. No, these aren't the steepest trails on the mountain, but they all catch the morning sun on that skier's left edge and start warming up earlier. They had that corn-snow magic going.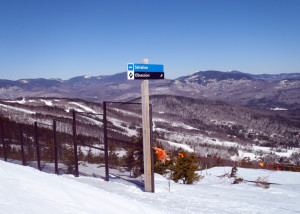 I'm guessing we could have found more corn on Tempest and Heat's On, but we stayed right there and played in the corn for about an hour until hunger and thigh burn forced us to take a break. The gathering high clouds and changing afternoon sun angle meant the snow was starting to firm up again, anyway.
But we'd had our first taste of Spring corn snow and it was enough to know that the conditions at Sunday River are likely to be amazing well into April, probably even into May. There's A LOT of snow at Sunday River, where skiers and riders are in for a corn snow feast!