Ok, imagine this scene: You're 200 miles from home at the start of a multi-day, self-supported, inn-to-inn tour on a tandem bicycle. Your panniers are all packed and on the bike. Your little kit with tools, tire wrenches, and a spare tube is under the seat. Water bottles are filled and in the cages. All that's left to do is put gloves, maps, camera, cell phones, and snacks — stuff you need to keep dry and handy — in the handlebar bag, and you'll be set to ride.
"Uh, Darling, where did you put the handlebar bag?"
"I don't know anything about it; you packed all the bike stuff."
"Ooops. It's sitting on the kitchen counter at home where I can't possibly forget it."
So . . .  you have all this stuff you have to carry, and no easy way to carry it. What do you do? If you're very, very lucky, you can just reach into some nook of your car and drag out the Exped Cloudburst 25
, put what you need into it and pedal off merrily on your multi-day adventure.
This little scene of incompetence and redemption actually happened to EasternSlopes.com's Executive Editor Tim Jones this past summer as he and his wife Marilyn prepared to bike from Waldoboro to Clark's Island to Camden over several days along the Maine Coast. For the record, Tim was the one who forgot to put the handlebar bag in the car. There was rain in the forecast for at least one of the days of the ride, so the fact that the Exped Cloudburst 25 is waterproof was a huge bonus, as is the fact the pack is so small and light, if you don't overload it, you hardly notice that you are wearing it.
Bicycles and backpacks don't usually go together all that well, but in this case the Exped Cloudburst 25 was exactly the right piece of equipment needed to save the day(s).
Exped Cloudburst 25: The Basic Daypack (and More)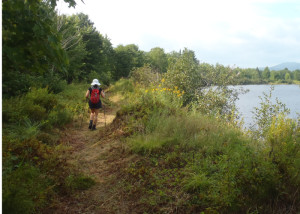 Essentially a seam sealed, lightweight (8.8 oz) coated nylon dry bag with reinforced mesh shoulder straps, a sternum strap, a waist strap, and a bungy cord for lashing clothing to the outside, the Exped Cloudburst 25 is about as simple as a pack can be. But simple, in this case, is very good. There aren't any zippers to fail — the top opening rolls over and snaps like a dry bag. The 25 liter size is perfect for your emergency kit, lunch, and other essentials that won't fit easily in a pocket. The shoulder straps are completely breathable mesh, reinforced, and 2.75″ wide for comfort. The waist belt is a simple 3/4″ nylon webbing trap with a quick release buckle; it's meant to stabilize the load, not to transfer weight to your hips. The nylon webbing sternum strap is a nice touch as it keeps the shoulder straps from slipping. And the bungy cord on the back of the pack is the perfect place to carry your rain gear where you can get it without having to open the pack in a sudden summer downpour.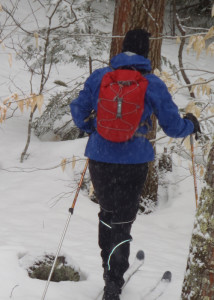 In addition to the bike fiasco mentioned above, our test staff has used it by choice in an amazing array of circumstances:
It's been taken on a number of dayhikes, cross-country ski or snowshoe jaunts, and long mountain bike rides to carry lunch, emergency kit and extra layers.
It's served as a sleeping bag stuff sack on several backpacking trips. When camp was set up, our testers tell us it was much more convenient to grab the now-empty Exped Cloudburst 25  to go for water or a hike to the sunset view with wine and appetizers than it would have been to fully empty their larger pack or detach a top-pocket to serve as a daypack.
It's been on a number of kayak and canoe treks, both as a dry bag and a deck bag. One tester wants to use it this summer for a kayak/hiking exploration of Acadia National Park.
And it has literally gone to town on several urban explorations, serving as a sort of uber-purse that slips easily into airline overhead bins, taxis, buses and subways, handy for carrying a raincoat, umbrella, travel essentials or purchases.
Perhaps its wildest adventure has been as a carry-on for a tester's trip to Puerto Rico. His take: "As a carry-on, it's a little difficult; the roll top is slow to work with going through airport security, and the lack of any pockets for organization means irritation for your seatmates as you spend time rummaging around for what you need. But, once we were there, it was a HUGE help; while sloshing around in the bottom of a scuba boat it kept all of our stuff dry, and it saved us when we found out why they call them 'rainforests.' Bonus: On a beach with sand blowing everywhere, it kept everything clean, too. Next trip, we'll put it IN our regular carry-on!"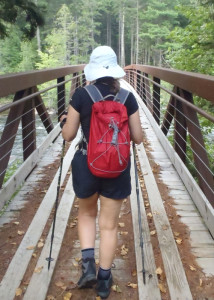 Through all the uses we've given it, our test sample has not leaked in a number of downpours and wave splash-overs. And, it shows no sign of wear.
Now, you aren't going to use the Exped Cloudburst 25 as your main pack for an overnight. It doesn't have that kind of capacity, or the structure needed to transfer weight to your hips and carry heavy loads comfortably (however, the Exped Lightning 60, in house for testing, may well meet that need). That would make it heavier, bulkier, and frankly, less useful for the niche it was designed for. And it probably wouldn't stand up to use as a haul bag for long face climbs (though we admit we haven't tried it for that).
But if you just need a lightweight waterproof daypack that serves as a useful dry bag, folds up to almost nothing and stores anywhere, and is ready to grab and go whenever you need it, this is a first-rate choice. It's one of the most useful and versatile pieces of gear we've ever tested.