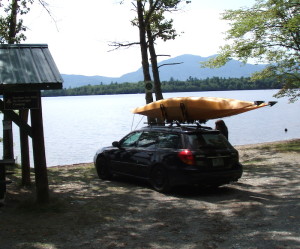 My Sweetheart Marilyn and I are rarely (well, actually, never) disappointed by our outdoor adventures. There's always something to enjoy about everywhere we go. But some trips are even better than you imagine when you plan them. For us our 2014  "big trip," was like that. As we were planning it, we called it the "Great Three Wilderness Lodges in Maine Late Summer Getaway," and great was what it turned out to be!
Maybe you'd like it, too. This is a remote wilderness adventure that almost anyone can do in comfort regardless of physical abilities and experience. It's perfect for families with kids of any age, adults, retirees, or anyone who wants a wilderness experience without having to work too hard for it.
Planning a Summer or Fall Getaway to Three Wilderness Lodges in Maine
Our summer getaway to three wilderness lodges in Maine started, of course, with planning — that's a big part of the fun. Like many folks who traveled extensively before the web and mobile devices came along, I probably do more advanced planning than absolutely necessary. Lots of people these days wait for a weather report and make last-minute decisions about where to go and what to do. Maybe that's how you do it. But I've seen too many cases where people waited a little too long and couldn't do what they wanted.
The first two lodges we had in mind are part of the fabulous Maine Huts and Trails system. For a couple of years now, since we skied into the Stratton Brook Hut in the winter, we've wanted to visit the other huts. Two of the huts, Flagstaff and Grand Falls are on water (Flagstaff Lake and the Dead River, respectively), which makes them particularly appealing in the summer and early fall.
Getting to the Maine Huts is part of the fun. You can't just drive to any of them. In the winter you can ski, snowshoe or ride a Fat Bike to or between any of the four huts. In the summer, you can hike or mountain bike to any hut, or from hut to hut in the chain. But if your destinations are Flagstaff Hut and Grand Falls Hut it's possible, with a little organization and planning, to use a kayak or canoe for most or all of the trek.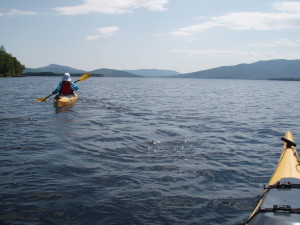 So, we planned (there's that word again) to take both kayaks and hiking gear. That way, if the weather threw us a curve (too much wind or lightning for safe kayaking), we could adapt our plans to the prevailing conditions and still reach both huts. Here's the funny part of this whole scheme: You can drive to within two miles of the Flagstaff Hut, and to within a mile of Grand Falls. If you hike the whole way between the two huts, it's 11.2 miles. But if you drive from one hut to another, it's almost 90 miles! As they say in Maine, "Ya can't get theyah from heyah."
One of the reasons for planning both hiking and paddling options is that you can't kayak directly between huts; you still have to do some hiking, just not as much. There's a big dam in the way at the outlet of Flagstaff Lake and a fairly long portage around it to get to "Big Eddy" where you can put your boat back in the water. From there, you paddle down a quiet section of the Dead River to a takeout about a mile from the Grand Falls Hut, and hike from there. The hike is necessary because Grand Falls is between the takeout and the hut. Trust me, you wouldn't want to try to paddle all the way.
Our plan was to park at a boat launch on Flagstaff Lake near the dam and paddle our sea kayaks to Flagstaff Lake where we would spend two nights. That would give us a full day to explore the lake by kayak. The third day we'd kayak back to our car. From there, depending on prevailing conditions, we'd decide whether to use our car to portage the kayaks around the dam, then paddle and hike, or simply hike eight miles to Grand Falls.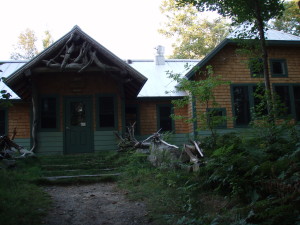 After leaving the Grand Falls, we planned for two more nights in the Maine Woods, this time at the AMC's Gorman Chairback Lodge and Cabins southwest of Moosehead Lake, smack in the middle of the famed 100-mile Wilderness along the Appalachian Trail. We've skied to this amazing place several times in the winter, but had never seen it in summer or fall when you can drive to it.
Here again, the paddling and hiking gear would both come in handy. We were looking forward to paddling on Long Pond, which is several miles long.  It's almost pure wilderness, with a good population of loons. As I recall, there are only one or two other buildings on the entire lake. We also planned to do some hiking, including Gulf Hagas, also known as the "Grand Canyon Of Maine." But the trail is described as "strenuous" so a lot would depend on the weather. There are plenty of easier hiking trails in the neighborhood.
A Summer or Fall Getaway to Three Wilderness Lodges in Maine: Getting to Flagstaff Hut
The drive up to Maine from our location near Concord, NH is long, but not unpleasant. We left early in the morning and took our time, stopping for lunch at The Homestead in Farmington, a proven favorite that we often visit on our way to Sugarloaf or Saddleback. Our Three Wilderness Lodges adventure really started when we turned onto Long Falls Dam Road in North New Portland, not far from Kingfield. This 26-mile paved road dead-ends at Big Eddy on the Dead River at the eastern end of Flagstaff Lake and was our access to the Flagstaff and Grand Falls Huts .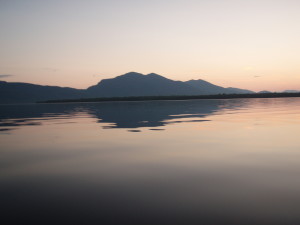 On this warm, sunny summer afternoon, we loaded our kayaks and launched them on Flagstaff Lake for a lovely three-mile paddle to the "hut". The Bigelow Mountains loom in the background, the shores of the lake are undeveloped, and we saw exactly one other boat on the lake–on a sunny, warm Sunday afternoon! This place is paradise.
I put "hut" in quotations, because the Maine Huts are really lovely wilderness lodges with indoor toilets and showers. You bring your clothes, bedding and towels. You sleep in comfortable bunks with good mattresses in rooms with two, four, or eight bunks (the latter perfect for families). They feed you a delicious and hearty dinner, a delicious and hearty breakfast, and supply the makings for a delicious and hearty trail lunch. All you have to do is show up at meal time. They even have a license to serve good wines and an assortment of local craft brews. This is a wonderful family getaway spot, remote without being unreachable or uncomfortable, a perfect introduction to a beautiful place that feels a million miles from civilization.
Flagstaff Hut can comfortably house 44 guests, but there were only seven of us the first night and four the second. Why there weren't more people there on two perfect late-summer days is a mystery I can't even begin to fathom. There's so much to do here: swimming right from the dock where the water is clear and clean and the bottom of the lake is firm and sandy, paddle boarding, canoeing, kayaking (all are free for guests to use), hiking, mountain biking and, of course, the ever-popular relaxing with a book. The sunsets (viewed from a point a quarter-mile from the hut) were amazing spectacles. The sunrises were almost as nice, the stars at night were brilliant and loons serenaded us throughout the night, their haunting calls echoing in the darkness. Two of the other guests had never heard a loon before and were totally enchanted by the evening concert.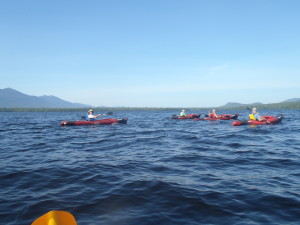 On our second day, Marilyn chose to just relax while I joined a group paddle tour guided by Lani Cochrane, a Registered Maine Guide who works for Maine Huts and Trails. Everyone else used the kayaks that are provided free for guests' use and Lani provided paddling instruction as needed; I paddled my own familiar boat. It was a perfect morning for paddling, warm but not too warm, sunny, with just enough breeze to riffle the lake's surface, but not enough to impede paddling. Over several hours we visited the 45-foot high dam that created the lake (which is more than 20 miles long and covers 20,000 acres). On the way, Lani filled us in on some of the history of the area. After our visit to the dam (and a short walk to stretch our legs), we paddled to a sandy beach for lunch and a swim. We saw not one other boat all day . . .  In fact, we didn't see another person.
I think that's the most amazing part of  a visit to Flagstaff Hut. Marilyn and I saw one lone motorboat while first paddling out to the hut on a warm Sunday afternoon. On the way back to the car on Tuesday, we saw four canoes full of college students on an orientation trip (they arrived at the boat launch at the same time we did and helped us (the old folks) get our kayaks onto our car. So that was a total of five other boats in three days. The week before, on a Monday paddle with friends on Lake Winnipesaukee in NH, Marilyn and I had seen hundreds of boats of every description. The contrast couldn't have been more striking.
A Summer Getaway to Three Wilderness Lodges in Maine: Hike To Grand Falls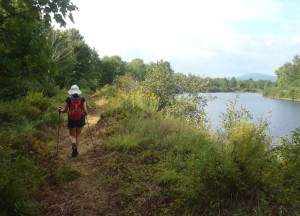 After two wonderful nights at Flagstaff, it was time to head for Grand Falls, another luxury "Hut" in the Maine Huts and Trails system. We'd originally planned to paddle most of the way, but we'd enjoyed some good paddling already and decided to hike. So after we retraced our route to our car by kayak, and had loaded the boats on top, we drove a mile or so to Big Eddy on the Dead River below the dam that forms Flagstaff Lake. There, we donned backpacks and hiking boots and set out on the 7.8-mile trail to Grand Falls Hut. The trail is wide (cut for cross-country skiing), well-maintained, well marked, and very easy to follow.
Because you don't have to carry a tent or food or cooking gear to the huts in summer, we were able to travel light. Marilyn carried a few personal items in an Exped Cloudburst 25
(which weighs almost nothing and doubled as a dry bag for the kayak part of our adventure). I carried two ultralight summer sleeping bags (one of them a Fjall Raven Funas Lite
), spare clothes for both of us, my personal items, and water for the trail in an Osprey Aether 60
with room to spare.
Most real hikes in New England involve steep hills and lots of rocks. Not this one! The first six miles are through woodlands and meadows, generally following the Dead River. It's virtually flat, but the river and surrounding hills provide plenty to catch the eye. A few spindly maples were already in full color, giving a hint that this would be an absolutely spectacular hike in foliage season.
At mile six you cross an elegant footbridge over the Dead River then hike a narrower, slightly hillier trail (the ski trail loops out and away from the river at this point) past Grand Falls (spectacular!), cross another bridge over Spenser Stream, and then hike another three-quarters of a mile to the hut, which is set on a ridge above the river. Let me tell you, there's something wonderful about arriving at a hut after a hike knowing there's a swimming hole (or a hot shower, if you prefer) and a great meal waiting!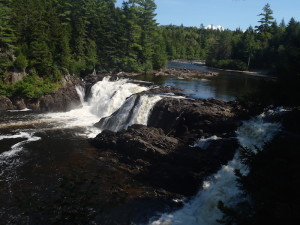 Though Grand Falls can accommodate 32 visitors, we were the only guests that night. Frankly, I don't understand it. This place is gorgeous! It's very comfortable, perfectly peaceful, with a couple of sandy swimming spots in the river nearby, magnificent Grand Falls to contemplate, and a nighttime sky filled with stars . . .
The next morning we were wishing we'd scheduled two nights at Grand Falls, with an easy day between . . . But, after a hearty breakfast we hiked the same trail back out (16 miles in two days with a backpack!). By the end, our legs were crying for mercy—as they should after a good hike.
As already noted, you don't need to hike or paddle very far if you want to visit Grand Falls Hut. In summer, you can drive to within half a mile of the hut. Even that short a distance takes you far away from the everyday world.
A Summer Getaway to Three Wilderness Lodges in Maine: Gorman Chairback Lodge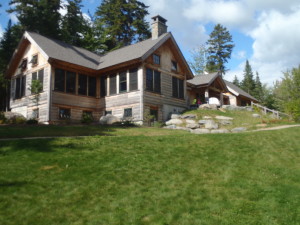 We were, of course, sad to leave Grand Falls Hut, but we had another wonderful destination ahead. Back at the car, we drove on paved roads to Greenville, then out a maze of gravel logging roads to the AMC's Gorman Chairback Lodge. A word to the wise: Once you leave the paved roads in Greenville, make sure you have a map and good directions and pay attention to the signs at intersections: your car GPS won't get you where you want to go!
Gorman Chairback was slightly busier than the Maine "Huts" had been, with a nice mix of guests from families with (polite and friendly!) active children to older folks like us enjoying the last of summer. The accommodations at Gorman Chairback range from a bunkhouse (least expensive) to lakeside cabins (our choice) to guest houses with private bathrooms. The main lodge building contains the dining room, bathrooms (indoor toilets and hot showers) and a sauna for winter. We've cross-country skied to this lodge on several occasions (and will again!) but had never visited in summer. Summer here is wonderful!
We'd just enjoyed four very active outdoors days paddling and hiking at Flagstaff Lake and Grand Falls, so we spent most of our time at Gorman Chairback doing something we rarely do—just relaxing. Oh, there are hiking options galore and we hiked just enough to work the kinks out of our legs. We also paddled a bit on Long Pond with the top-of-the-line kayaks and SUPs that were available for anyone to use, and swam on the warm afternoons.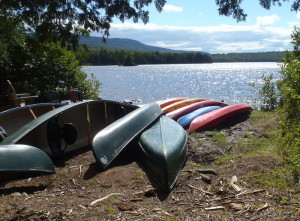 But we spent more time reading on the cabin porch, listening to the loons calling at night, and generally enjoying being away from it all. Late one afternoon, our neighbors in the next cabin were sitting on their porch quietly strumming ukeleles. I pulled out my harmonica and we all spent a happy hour making music together. At least it sounded like music. No one complained, anyway.
The lodge has wifi and some cell service, but very few guests seemed to use it–even the kids. Everyone seemed to be having too much fun in the here and now.
A Summer or Fall Getaway to Three Wilderness Lodges in Maine: The Experience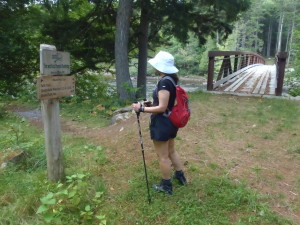 Both the Maine Huts and Trails, and the AMC Maine Lodges are a way to get a full-on wilderness experience without having to "rough it" in any way. You are surrounded by miles and miles of nothing. Yes, you see other people at the huts, but they tend to be like-minded outdoorsy folks and a lot of fun. And for the price of having some other people around you get great food prepared for you, clean indoor plumbing, showers, comfortable bunks, screens to keep out insects . . . You don't need to carry and set up a tent and sleeping pads; if it rains you have a roof over your head and a place to get warm and dry. It's a nice middle ground to explore, especially if you aren't really sure about the whole idea of  a "great outdoors getaway" in a remote setting.
For us, the whole vacation was a total winner start to finish. Luxury accommodations in beautiful wilderness settings and wonderful food , shared with a few really nice people we'd never had the pleasure of meeting before. We can't wait to do it again, summer, fall  or winter.