Supposedly, Mark Twain said that "golf is a good walk spoiled" (yes, we know there's no proof that he actually said it, but it SOUNDS reasonable). But at the same time, golf CAN be fun (or hateful), so what's the solution? Follow it up with a GOOD walk!
Part 1: Sunday River Golf Club
For all of us here at ES, the words "Sunday River" evoke smooth corduroy, White Heat, and ever-increasing glades. But in the summer, their golf course is not only one of the most interesting in New England, it's also one of the most scenic, with wonderful mountain views from elevated tees and greens. "Interesting" comes from some head-scratchingly weird hole layouts, as well as cart paths that seem to belong on a roller coaster. You have to pay attention constantly or you just may find yourself turned turtle (or worse).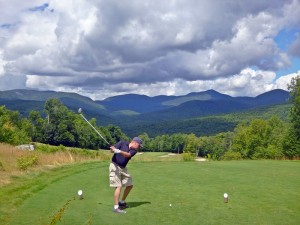 On a lovely August morning, my friend Ted Wright and I teed off just after 9, and as always, our game rapidly spiraled down the rabbit hole). The wonderful/horrible thing about golf is that nobody has ever mastered it; as Tiger Woods' recent slide has shown, all you can do is keep the misery at bay for periods of time. Sooner or later, everything falls apart; in our case, it's on most holes. Sometimes its's "trouble shared is trouble halved" (we both suck at the same time); sometimes it's "equilibrium" (one of us is playing well, so the other is REALLY sucking to maintain the balance). Every once in a while, we actually have a hole where both of us play well, and then it's fist bumping and trying to ignore the fact that it was 2 out of 18.
But no matter how you look at it, it's still a joy to be out in such beautiful surroundings on a lovely summer day. And although we were in a cart (Sunday River has GPS systems in their carts that give you precise measurements to obstacles, bunkers, centers of greens, etc., which make you feel professional while pointing out that even with pro-level information, we still suck), there's plenty of walking; according to my Fitbit, I covered over 5 miles in the 5 hours we were out there. Add in a few hundred swings of a golf club (hey, come on, I'm including PRACTICE swings!), and it's not a bad workout at all. More than enough, certainly, to justify the hot dog and chips after the 9th hole.
End result…by 2:00 we were done, happy, and not-quite-tired; and that, by itself, meant it could go into the books as a good day. But…why be done now?
Part 2: The Bald Mountain Tentsite, Grafton Notch Loop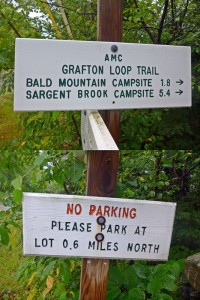 Around the corner from Sunday River, up Route 26 a bit, is the Grafton Notch Loop Trail, an offshoot of the AT that was intended to relieve pressure on an area of the trail that gets heavy use. We've hiked parts of it, although never done the full 4-night loop (note to selves: why not???). The one weakness of the trail has been the remoteness of the campsites. The sites that are actually ON the AT tend to fill up quickly, making them a difficult bet for a quick hike in/out. And, the ones that are farther down the Loop have been long hauls; Stewart is theoretically the closest at 4.9 miles from Rte. 26, but requires a lot of climbing, and Sargent Brook, while less difficult, is 5.4 miles in. Not good options for someone looking to get away when they just have part of a day.
But, a new site was recently added at Bald Mountain (NOT Baldpate), east of Rte. 26 on the way in to Sargent Brook. At 1.8 miles (2.4 from the parking area, with .6 on the road), it's a reasonable hike in/out. And, on a much less used area of the trail, there's a better chance of space being available. I couldn't think of any good reason NOT to try it, so headed there after golf. I was parked and packed by 2:30, and headed down the road.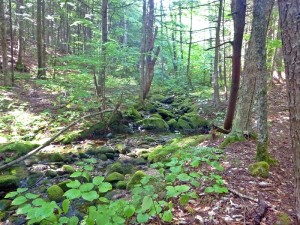 The start of the trail is through fields and along a snowmobile trail; it's pretty enough, but you might get the feeling that you won't get any sense of "remote" at this site. Don't fool yourself…roughly a half mile in, you disappear into classic rooty/rocky New England backcountry trails. And, given the lighter traffic, they're narrower and less beaten down than many; I actually missed turns a couple of times. Pay attention to the blue blazes! The trail is absolutely lovely, meandering along a brook with lots of nice pools for a quick dip. While we generally recommend a SteriPen
 or other water purifier for drinking, it's hard to see where along the watercourse significant pollution could occur.
Roughly an hour after starting, I found the sign pointing to the tentsite. A hundred yards along, there it was; two large tent platforms, a toilet, and a nice large "kitchen" area, with the bonus of a heavy food locker (bear territory, anyone?). It sits up above the brook, giving privacy but not feeling too closed in. And, as I'd hoped, on a Wednesday afternoon there was nobody there. If I'd gone to one of the better known sites, I'm confident that wouldn't have been the case!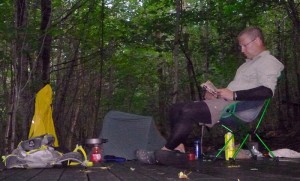 So, I dumped my pack onto one platform, and set up the excellent REI Quarter Dome 1 tent we're testing off to the side a bit (with its semi-freestanding design, it's easier to stake the foot area than to use it on a platform). On the platform itself, I set up my cooking and relaxing area…talk about luxury! Even taking my time and relaxing, by 4:30 I was all set up. With no pack, it meant an easy hike to find the Bald Mountain summit…stretch my legs, burn off some calories so that I could enjoy dinner (and the large whoopie pie I bought at a roadside stand just south of the trailhead).
Here's what you need to know about Bald Mountain; it isn't. I'm guessing that it may have been bald 40, 50, 80 years ago, but it's now grown up with a variety of fir trees; NO views whatsoever. A little disappointing, perhaps, but it was still a fun hike up the twisty trail. On the way back down, I ran into three people and two dogs headed to the Sargent Brook campsite; they hadn't even known about the Bald Mountain one until they saw the sign. I didn't envy them their 5:30-and-3-miles-to-go situation. I headed back to camp, knowing that I'd be back well before dark.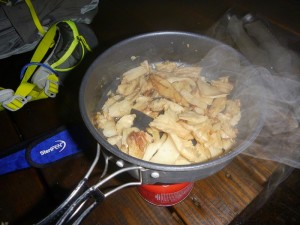 And, huge bonus; about 30 yards off the trail, I spied a patch of white on a tree. Yes, indeed, oyster mushrooms! I cut a bunch, stuffed them in the cargo pockets of my pants, and headed back. In camp, cut them up, a little butter in the pan, sauteed them as I organized the rest of dinner, then sat back (on a TravelChair Joey; full review to come, but the sneak previews is that it packs up small and reasonably light, and is INCREDIBLY comfortable!) with my book, a glass of wine, and a lovely gourmet appetizer. Knowing the safe foods that you can pick up along the trail can add a whole dimension of fun to meals!
That pretty much describes the rest of the evening; a little cooking, a little sipping, a little reading, then settling in to dinner (a typical mishmash based on a Near East couscous mix; they're tasty, and all you have to do is boil water, mix, and let it sit for a few minutes
). It was absolutely silent except for a light breeze; no traffic noise, no anything. Utterly relaxing. Dinner and whoopie pie complete, by 7:30 the light was going and I was ready for bed. Crawled into the sleeping bag, zipped the tent shut, and I was out like a light.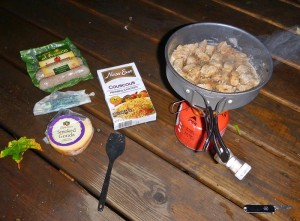 Morning…that first cup of coffee, listening to the world waking up, birds flitting around, sun starting to filter through the trees. Heated up the leftovers from the night before, and then packed up and hit the trail. Downhill all the way; it was a shorter trip out than in. I was back in my car and headed back to "civilization" in time for (ugh) a full day's work ahead. But, I'd had the pleasure of a refreshing overnight, and in the space of well under 24 hours!
The takeaways? One, if you're a golfer, go play Sunday River; it's a great experience. Two, the new Bald Mountain campsite is a winner for someone who wants to get away and either doesn't have the time to get to the other sites, or doesn't have the energy. And three, a little research can turn a "normal" day, golfing with friends, into a soul-refreshing backcountry overnight!