Perhaps you're not jazzed by an amazing variety of slopes, wealth of snow for backcountry skiing. Maybe you aren't into fabulous food and pampering at a luxury hotel near a great ski area. Perhaps you or one of your traveling companions is not a skier or snowboarder at all. If so, what can you do for excitement at Le Massif de Charlevoix? How about a guided sledding adventure? Yes, that's right, guided sledding on a smartly crafted luge framed in clear maple (the wood, this time) with polypropylene runners and a webbed seat.
In our pre-trip planning for our family vacation at Le Massif de Charlevoix, Laura and I discovered a 7.5-kilometers (4.7 miles) winding blue route at the eastern edge of the trail map that was labeled Piste de Luge. We were both immediately intrigued and determined we'd have to give it a try. The trips depart Thursdays through Sundays most of the season ($40 adults, $36 kids 10-17) and helmets are mandatory. Check the website for schedule changes during holiday periods. We immediately made a reservation (as suggested) for our family of four.
Easy Adventure For All: Sledding at Le massif de Charlevoix
On our appointed morning (a perfect blue-sky day!), we found a large wooden shed where all the luges are kept, just a quick walk behind the ski school. Turns out we were part of a group of about 20 new lugers. We were all assigned a sled of appropriate size and then given a brief description (in both French and English) of how to ride it. The sleds were designed for sitting and steered either by dragging an inside foot or leaning to the outside of the turn.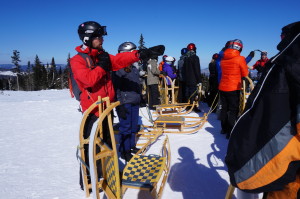 We loaded the sleds on the front of a snow cat and climbed into a roomy cabin where our guides, Guillaume and Pierre, explained the route. After a 15-minute ride, we reached the starting point where we got a final safety message about the first third of the route. Guillaume wanted to make sure we knew of two particularly sharp turns, explaining that he would be waiting for us just before we reached them to indicate whether we were approaching too fast. He explained that at these turns, it was easy to shoot off the plowed trail. Yes, there was netting on the outside of a handful of turns, but if any of us ended up in the netting more than once, we might have to forfeit the rest of the ride. In other words, we would ignore the guide's signals at our own peril!
And then Guillaume took off, pre-running the course, and heading for the first sharp turn. He was out of sight in no time. Pierre would trail us, making sure no one in the group was left behind.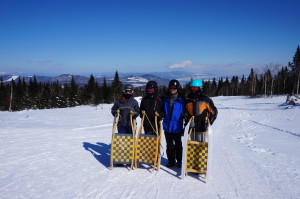 As it turns out, leaning to the outside was less taxing than dragging a foot, but it takes some getting used to. Luckily, with 4.7 miles to get the hang of it, there's plenty of time to just about perfect your turning technique.
It didn't take me long to think I had the hang of it—just before executing an unplanned 360 without (happily) losing my seat. Unfortunately — or perhaps fortunately — no one was around to see my unplanned pirouette. I waited on a straightaway to watch for Laura, and she shortly came up behind me and passed by with a big smile on her face. At around the two-mile mark, after passing the two hairpin turns safely at modest speeds, we all came to a gradual incline and walked to a warming hut where hot chocolate and hot soup were ready to chase away the chill of the morning.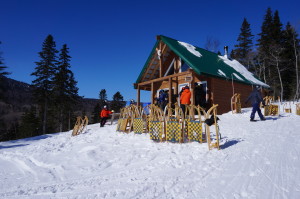 The sleds are fast, make no mistake. And it's easy to really get to the point where both steering and dragging feet to slow down become acts of self-preservation. At the warming hut, Ethan complained of tumbling off the trail and into the edge of the wood, but since he proved intact and unhurt, we kept the incident to ourselves. After an appropriate amount of time warming our bones, we all got back on our sleds for the rest of the journey. At one point we had to get off our sleds and pull them across a bridge over a narrow but deep gorge to reach the the last section of the sledding trail.
Our group then started off one by one, staggering our starts to allow some space between speeding adventurers. We all managed to shoot down the rest of the course and reach the bottom of the hill on a long runout to the gondola safe, smiling, and satisfied. The Piste du Luge promises enough pitch and hairpin turns to guarantee the smile stays plastered to your mug for days, renewed by recounting feats of derring-do on the way back up the mountain in the gondola to return the sleds to their shed.
Sledding at Le Massif de Charlevoix takes about two hours and may be taxing to certain muscles you might not have used in a while,  so be prepared to rest up a bit afterward before getting back out onto the slopes.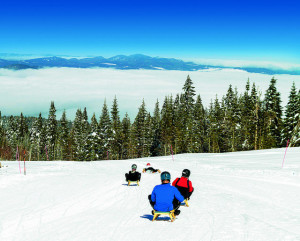 The fabulous skiing both on-piste and off, the sledding, the food, the hotel, the mountain, and the wonderfully accommodating staff all featured in making our stay delightful and memorable. Unfortunately, we had to leave Le Massif and Baie-Saint-Paul all too soon. We're enchanted by this amazing region and stoked for a return trip. We'll be back, soon.
Read About Le Massif de Charlevoix's Ski and Snowboard Experience for all Levels
Read About Le Massif's Off-Piste Playground
Read About Germain Hotel Charlevoix's Amazing Food and Other Amenities