It is with the greatest sadness that we say goodbye to an important and valued member of the EasternSlopes.com family. On Sunday morning, January 24, 2016, EasternSlopes.com Correspondent Pat Lyon-Surrey was doing what she loved doing most, biking with a friend in Tucson, Arizona, when she was struck and killed by a car. She was pronounced dead at the scene.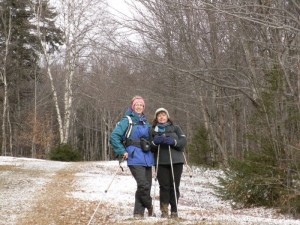 Those of us who had the pleasure of working with Pat knew her as a force of nature: skilled, committed to doing things right. Everyone who knew her couldn't help but be impressed (maybe even a little overwhelmed) by her energy and enthusiasm for life in general and active outdoor sports in particular.
Pat's good friend and sometimes co-author Barbara Thomke sent us this remembrance:
"I'm thinking of the dearest and most compelling aspects of my friend, Pat:
A  loyal and sincere friend.
A loyal and loving wife to Roger Surrey; a giving and respectful mother of three grown sons.
A curious, loving, imaginative human being, one who lived simply and loved deeply.
The oldest daughter of ten siblings – her dear Mother is still living.
She fully enjoyed life and her hobbies – bicycling, kayaking, swimming, hiking, cross-country skiing, adventuring in nature.
She was attracted to beauty in art, theatre, poetry, writing, photography, music, nature.
In the last 10 years or so Pat turned to photography with her life force, taking classes, processing pictures, making collages and books, selling on Etsy, participating in arts groups, exhibiting in local galleries, illustrating a book, and more recently turning to scanography  to combine images of nature and of family. She enjoyed this work immensely and had a keen eye for color and form." You can see more of Pat's remarkable artwork here.
Our deepest condolences  go out to Pat's husband Roger and her three sons.
As a final thought, we'd like you to read this story (just click on the photo below), which Pat and Barbara wrote together. We can't imagine a more fitting tribute to Pat or a better way to honor her passing than to take a hike or bike ride or paddle in her memory.
To Climb Your Way Out Of Grief, Begin With One Step. . . Up A Mountain