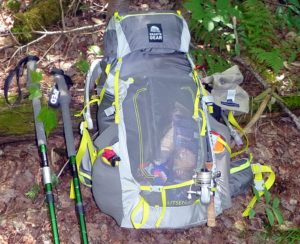 We'd all love to have a pack for every situation, all set up with the gear we want for that purpose…long dayhikes, backcountry ski trips, lightweight overnights, multi-night trips, you name it. And, of course, we'd love to have a garage just to hold all of the gear! But, that's not practical for all but the 1%, most of whom are too busy trying to stay in the 1% to take the time to use all that gear (hmmm…mixed up priorities, perhaps?). For the rest of us, we need to find gear that's flexible enough to meet multiple needs without driving us TOO crazy. Enter the Granite Gear Lutsen 45 Backpack ($199 retail). It's a pack that's designed to hit several of those needs; for the ultralighter, 45L is large enough for an overnight.  Yet, with modern strap arrangements it can be shrunk enough to not flop around on a dayhike where you need just a little gear. The materials used are light enough to bring it in at a modest weight, yet the suspension is solid enough to carry a pretty heavy load comfortably. The frame is stiff enough to support that weight, as well, but flexible enough for rock scrambling. It all SOUNDS good, and in our testing, pretty much lived up to our hopes. Read on!
A Well-Chosen Compromise Of Weight Vs. Features
Since virtually every backpacker obsesses over weight, let's talk about that first. Granite Gear rates the Lutsen 45 at 3 pounds; our sample came in at 3 lbs, 4 oz.  That won't make the ultralighters happy, but this isn't intended for that; it's a full-featured pack with pockets and panels, all of which add weight. It's also a tradeoff that we're willing to make 9 times out of 10; we almost always find that a little extra weight is worth it for more convenience and comfort.
And convenience the Lutsen has in spades. Starting at the top, it's got a good sized top pocket for all of the little stuff that gets lost in an ultralight backsack. The lid even has a map pocket, adding to its utility. Since the pack material is all DWR treated, that top lid sheds water in unexpected storms; one tester spent an hour in a later-afternoon White Mountain drencher, and his gear remained almost entirely dry (the seams aren't sealed, so it's water resistant, not waterproof). If you're in a mood to go closer to ultralight, the lid removes, saving you 3 ounces, but water resistance isn't compromised, thanks to the main bag having a roll-top closure.
A Solid But Flexible Suspension System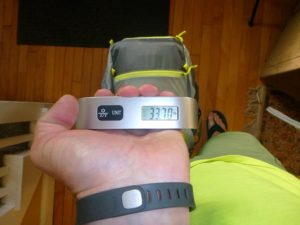 Working our way down the pack, we come to the frame/suspension. Granite Gear's Re-Fit system uses a firm but somewhat flexible plastic frame with a separate channeled  foam backsheet adding comfort and ventilation along your back. The combination gives a solid structure, but allows a lot more flexibility than a single frame element would. The shoulder straps and hip belt attach at the frame, enhancing both the solidity and the comfort from the floating backsheet. The Re-Fit uses a hook and loop attachment for the shoulder straps, giving you quick and easy adjustment for torso length. We found that in a matter of seconds, it can be adjusted for the next user. Shoulder straps and hip belt are of two layers of foam; one firmer where it attaches to the suspension, the other softer where it contacts your body. It all works, and well; with a light load, the system is almost as flexible as a much lighter daypack would be, but with a heavier load it settles nicely onto your body without any hard edges that bite you at pressure points. We loaded it to a ridiculous level for one overnight, and the tester couldn't believe how easily the load carried; small packs and 30+ pound loads don't usually marry well. In perhaps a bigger surprise, the Re-Fit adjustable hipbelt is a HUGE advantage. Our testers are all over the place for hip size, from slim-hipped men to wide-hipped women and everything in between, and all found that they could get a comfortable fit. If we were going to run a rental fleet of packs, we'd put the Lutsen in there for that reason alone.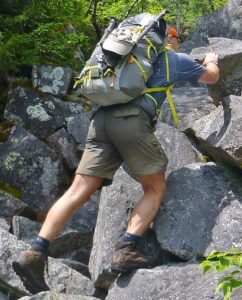 The features don't end there. The Lutsen 45 also is set up for a hydration bladder, which we're huge fans of. It's got the stretchy side pockets that you can stow liter bottles in, as well, but we generally prefer not only being able to drink on the fly, but also getting the weight of water close to our backs.  When the weight is the sides, it can throw the pack out of balance. We're a little unbalanced at the best of times, so any help we can get from the pack is great! Also, along with the usual complement of compression straps, there are hook and loop straps to take your trekking poles. A nice feature on any pack, they're really valuable on a pack that is a natural for rock scrambling. The Lutsen's flexible suspension makes it ideal for twisting our bodies around, over, and under boulders in places like New Hampshire's Ice Gulch. Having a quick, easy, and solid way to store the poles makes it feel that much more confident for covering broken ground quickly. And, along the same lines, there's a large stretchy back pocket for quick clothing changes, lunch, or whatever else you need easy access for.
Finally, there's the hipbelt pockets. Granite Gear is ahead of the curve on this one in two ways. First, the pockets are larger than average, particularly for a midsized pack, and the left one is a stretchy mesh, allowing a larger camera or phone to fit without causing it to reduce the flexibility of the hipbelt. The right pouch is a very water resistant effort with a water resistant zipper; it just might save that expensive smartphone when you get caught in that unexpected downpour.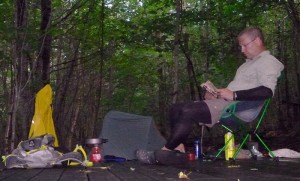 We abused the Lutsen 45 throughout an entire year, using it to carry blankets, chairs, and lunch for picnics to the aforementioned rock scrambling and ridiculous overnight weights. Without exception, testers came back happy with the ease of use and nearly effortless load carrying; oh, we probably could have intentionally added some rocks and gotten the weight to a point where the suspension failed, but that's beyond even our desire to abuse gear. We figure that water, extra food, and wine, in addition to "normal" gear, is abusive enough.
Winter testers appreciated the adjustable hipbelt, too; as one said "Sure, I can always open the belt more at the buckle to make up for all the layers I'm wearing, but on a cold backcountry ski day, it sat better on my hips when I increased the waist dimension. It felt like the weight sat more forward, rather than pulling back on me, too." (It's worth noting that, with lots of layers, you also may want to adjust the torso length of ANY pack a bit longer…from the pack's perspective, you just got taller.)
Perfect? Well, Close, But Not Quite…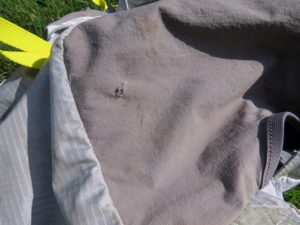 Of course, nothing's perfect, and the Lutsen 45 has a couple of Achilles' heels, one real and one subject to our own tastes. The "real" one is that we found that the abrasion resistance of the stretch panels wasn't great; we didn't use it that much in abusive conditions, but still managed to get some visible abrasions and one cut in a panel. It's not the end of the world, but if you're someone who is regularly ripping holes in packs, you may have an issue here. The other is, as we said, our personal taste; on any backpack that has overnight potential, we like to see straps at the bottom of the pack that can accomodate a Z-Rest or other foam pad. They can also be handy for reducing volume and pulling the load at the bottom of the pack more toward your center of gravity. The Granite Gear pack worked great without them, but…yeah, we want it all, and would love to see them added into the next generation.
Ultimately, though, we'll put up with that omission, and maybe with a little less cushy sleeping arrangements, for the other bits of goodness that the Lutsen 45 provides. The overall combination of size, weight, comfort, and features puts it in a sweet spot for a WHOLE lot of what we do. Too often, we have to carry bigger packs because we're carrying gear for testing…but when we have the chance to get out for a quick overnight for the sheer joy of it (and to escape noise/pollution/people/politics, whatever), it's fun to pack a light-but-still-luxurious camp up and get going. The Granite Gear Lutsen 45 was able to easily swallow some of our favorites like the REI Quarter Dome 1 and the Fjall Raven Funas Light, with plenty of room for books, wine, lights, even a TravelChair Joey, and then make it comfortable to drag it all to wherever we were headed. Get rid of the tent and the lights, throw in another chair, a blanket, and some food, and it made a climb for a picnic easy, too. Final analysis: Granite Gear, which has been more known to us for good quality at moderate prices, has hit a homerun with a light, well-thought out, well-made backpack that doesn't have to take a backseat to more cutting edge products from the better known manufacturers. We're happy to have found it!