There's always a balance to be found in backpacking between comfort and weight. Car camping comfort = crushing backpacking loads; at the same time, trying to ultralight TOO much leads to a miserable trip. And nowhere is comfort more important than in your sleeping gear. Everything can go right on your trip, but if you aren't sleeping at night, you won't even notice; it's hard to see a beautiful sunrise when you're yawning. Our favorite system is a closed cell foam pad with an inflatable mattress on top, as it protects the air mattress from whatever's below, and still allows you a nice "squish" to sink into. The problem is that the inflatable part tends to be heavy. While a closed cell pad will weigh in at something like 12-13 ounces, an inflatable can come in at twice that…ouch.
The Kelty PDa: Minimalist…Or Not?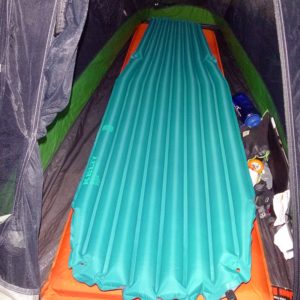 Enter the Kelty PDa Air Chamber Sleeping Pad
($75 retail). Part of Kelty's innovative, and sometimes weird, TrailLogic Collection, it's a minimalist version of a fairly classic design, weighing in at only 14.5 ounces. Shaped like a mummy bag to reduce weight, it uses longitudinal air chambers and no insulation to give the "puff" you want. But, unlike most pads we've tried, it's relatively flat, with an inflated thickness of only 2 inches. We've suffered through plenty of nights on thin "self inflating" air mattresses, where we either had so much pressure in that we bounced off, or our hips made way-too-solid contact with the inevitable rock underneath. Would a pad this thin work?
Let's talk about some of the design choices Kelty made. Obviously, they went thin and narrow, and yet still "luxe." One of our all-time favorite pads is the long deceased Insul-Mat; 71″ long, 18 1/2″ wide across the body, 10 1/2″ wide at the feet, 8 1/2″ wide at the head. For the Kelty, those same numbers are 73″, 18 1/2″, 13 1/2″ and 14 1/2. Those head and foot differences make a BIG difference in comfort; you aren't feeling yourself falling off even when your body is centered on the pad. Plus, your pillow actually stays put remarkably well.
But, that only tells part of the story. The Insul-Mat had 6 chambers with a 3/8″ gap between them; Kelty uses 8 narrower chambers, with a 1/2″ gap. One of the keys to using a longitudinal chamber air mattress is to NOT blow it up hard. When it's a little softer, your weight sinks down into the center, and the outer chambers fill, holding you in place, sort of like being in a bathtub (the main reason we prefer longitudinal chambers). More chambers = more width for your body without giving that up, and wider gaps gives more room for the inner chambers to squish down. It works, and it works well. Night after night, we've found ourselves staying nicely centered on our pad, with fewer middle-of-the-night wiggle adjustments. In other words, longer, better periods of sleep.
Design Details = Wider Temperature Range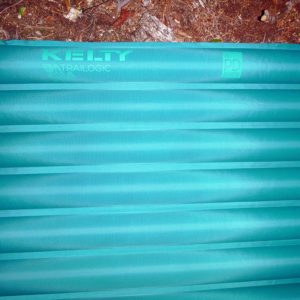 There's another bonus to the wider gaps between the chambers, and that's for when the temperatures are either extremely high or low. Since the Kelty PDa Air Chamber Sleeping Pad isn't insulated, those gaps mean better airflow under you. When it's hot and steamy out and you have a thin sleeping bag that doesn't fill the gaps, it reduces clamminess and lets the bag breathe better. That's perfect for a summer inflatable pad. But when the mercury drops and you have a puffy bag on a typical flat mattress, your body weight compresses all the loft under you; you have to totally rely on mattress below to provide insulation. With the Kelty, your bag expands into the gaps, blocking airflow and providing insulation. It's not as warm as an insulated air mattress, but we've found it to be shockingly comfortable at sub-freezing temperatures. Ideally, pair it with a down bag, as down conforms better to small spaces, and you'll have a broader comfortable temperature range than you'd ever expect (particularly if you use DriDown or another hydrophobic down product due to their expanded comfort ranges).
Setting Up The Kelty PDa For Best Performance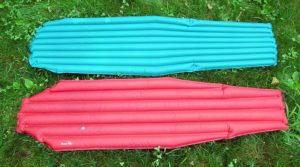 One of the biggest keys to using the Kelty PDa effectively is counterintuitive, though. With a thin pad like this, it's logical to want to pump it full to get the most cushioning, and that's NOT a good choice. You lose the comfort and you lose the "bathtub effect," making it act more like a flat self-inflating mattress. Instead, follow this procedure.
Blow it up, then wait for the air inside it to come to the ambient temperature (your breath is probably warmer than the air around you, so the mattress will soften some for a little while).
Then, lie down on it on your side and without a sleeping bag, and let the air out slowly until you feel your hipbone just start to touch, then get off and add a t-i-n-y bit of air. When you put your sleeping bag on top and relax, you'll have just enough cushioning for your hip, and the maximum overall cushiness and support from rolling.
You may need to add a little air or take a little more out to adjust for your own personal preference and weight distribution, and it's common to need to add a little at the midnight "pee break" to compensate for the dropping air temperature. But, this will get you very close to a perfect pressure!
But Wait, Is There More?
So, it's light, it's comfortable, it's reasonably priced…anything else? Yes. Beyond the weight advantage, having a thinner pad means you're carrying less bulk in your pack; the Kelty PDa packs down smaller than ANY air mattress we've ever carried (although we wish Kelty would give up on the TrailLogic flat bags, and just put it in a standard stuffsack!). If you're trying to use a smaller, lighter backpack, that can make a BIG difference.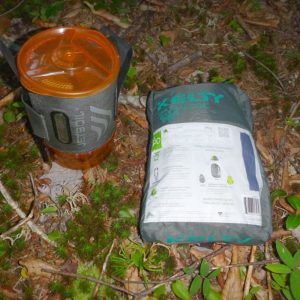 There are a lot of great inflatable pads out there, and we all have our preferences, so we're not going to try to tell you that the Kelty PDa Air Chamber Sleeping Pad
is the only choice or even the best one for you. That said…for us, it's a regular companion on our 3-season trips, and it's not unusual for testers on other pads to ask "hey, wanna trade pads?" at that midnight break. We love our sleep, so can recommend this Kelty highly!