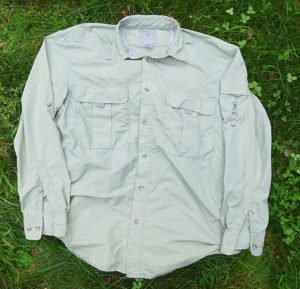 With Zika virus in the news, we're reminded more than ever that avoiding bug bites is more than just a comfort issue. Sure, your typical blackfly bite is just irritating, but mosquitoes and ticks can be deadly. For years, clothing with Insect Shield built into it has been part of our arsenal against the little suckers (or biters); we've found it to be very effective, and don't often venture out in the summer without it.
However, where most of the clothing we've used has come from other manufacturers who treat their fabric with Insect Shield's process, the Insect Shield Men's Technical Field Shirt($58) is their own product. While they've made their own gear for a number of years, it's mainly been aimed at the construction/business market. The Technical Field Shirt is the first product we've seen from them, other than their incredibly effective bandana, that is aimed right at the heart of what we do. It's NOT made of cotton, it's light, it breathes, has the right pockets in the right places, all those things. One look, and we had to find out how it would compare with its non-IS brethren that we've lived in for years.
Cutting to the chase, the Technical Field Shirt (TFS) is simply a great shirt at a great price. For under $60, it would be an excellent value WITHOUT Insect Shield protection; with it, it's a steal. Let's talk details.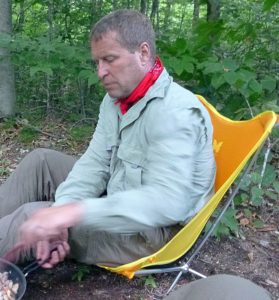 Fit
We found the TFS to have a great cut. There's enough room to move, yet not so much that it swims on you. Tucked in, it didn't leave great gathers around our waist that created uncomfortable bunching. Our most apelike testers wished for a little longer arms, and the biggest boned (literally) would like to see another 1/4″ -1/2″ around the cuffs. Still…it worked well for a broad range of people, including our women testers (they'd love to see one that's designed for them, though).
Features
Let's see. Velcro pleated chest pockets for our junk. Another on the left arm for fishing licenses, credit cards, whatever. Button-up rollup sleeves. Vented back. Lightweight, very breathable, quick-drying fabric. 30+ UPF sun protection. A long rear hem so that it doesn't come untucked every time you sit down. Oh, and it looks good! You can wear it in the backcountry, or to an evening concert at the village green, smiling happily as everyone around you swats gnats, and nobody will think you're the hick from hell.
The Big Deal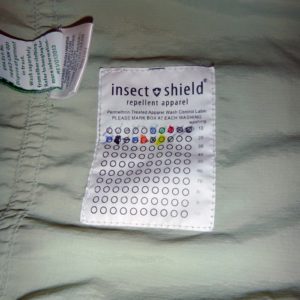 Here's where the rubber really meets the road. Yeah, it's a great shirt, and that's awesome; but that Insect Shield protection. That's what we're REALLY looking for here, and it works. Perfect? No. In really buggy environments, we'll still add some DEET around the edges, and it doesn't create a "field" around it like, say, a ThermaCELL device. We're often seen using it in conjunction with the aforementioned bandana. But, none of us can remember being bitten through it in any circumstances; that's certainly not the case with lightweight non-IS shirts.
Bottom Line
At this price, there's no reason not to own an Insect Shield Men's Technical Field Shirt. Or a couple of them (hey, they've got two colors!). You might even use one just for the backcountry, so you won't mind if it gets get all stained and ugly. Then, keep the other one for more civilized uses (fireworks, evening band concert, sunset viewing party, high-end fishing lodge) until Buffy in the next bag chair  spills her Merlot on you. Then you've got two for the backcountry. Heck, you can tell Buffy that it was twice as expensive as it actually was, and she'll believe you, and might just pay you enough to buy you another two. Depending on where you go, it could save you a lot of hassle and discomfort from the vermin…or just might save your life. Not bad for a "fashion" item!