There's nothing better than taking your kids fishing, and seeing the delight on their face as they pull in that first scrawny, undersized yellow perch/pickerel/bluegill/pick your favorite. Unfortunately, it's almost balanced on the negative side by the look they give you when you tell them "Honey, it's just too small to eat; we have to throw it back." Defeat snatched from the jaws of victory. And, the fact is, keeping the big fish and throwing the small ones back helps create an overpopulation of junk fish. It's enough to make a saint weep because he can't swear.
Pressure Cooking: The Solution To Small Bones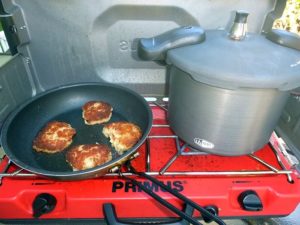 But, finally, we have a good solution to the problem! Some time back, a press release crossed our desks about the GSI Outdoors Halulite 5.7-Liter Pressure Cooker
. And our first reaction was…"Seriously? A pressure cooker in the woods?" But, once we stepped back from the edge, we realized that this isn't about backpacking, it's about car camping, and pressure cookers DO have a lot of advantages. But still…does anyone really want to mess around with that kind of meal while out camping? Let's face it, camping is supposed to be fun…burgers and dogs are the more popular choice.
It took a backpacking trip "Eureka!" moment to realize the potential of the pressure cooker. We were having one of our common "cat food" meals; sardines, crackers, hummus, gorp for dessert, and the conversation turned to how sardines are cooked. They're put into the cans raw, with whatever seasonings, then sent through a steam bath which cooks the fish and the bones to the point that they're safe to eat. Wait…fish, small bones, safe to eat…AHA! Could this be the solution to the long faces of the kids when the fish get thrown back???
Of course, this had to happen at the beginning of the winter from hell. As in, no snow, lots of warm spells, and no ability to go ice fishing to catch anything that we could test it with. The best we could do was pick up some ocean perch at Hannaford; it's cheap, has moderate scales on the skin, and lots of irritating little bones. After a couple of test runs, we found that 20 minutes of cooking caused the skin and bones to virtually disappear…success! The fish had a slightly odd, dryish/rubberyish texture, and sometimes had a whiff of ammonia, but it was eminently edible and totally safe. Still, it didn't seem like it would appeal to kids all that much; we definitely needed to do something with it.
The Taste Solution: Seasonings And Instant Mashed Potatoes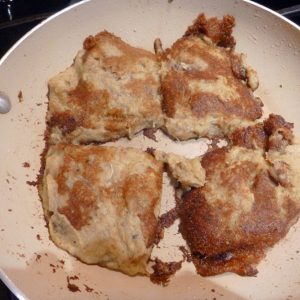 A few iterations later, we had what appeared to be a good solution. We'd added a couple of chicken bouillon cubes to the cooking liquid, and put the fish into the GSI Halulite in layers, with Old Bay seasoning on each layer. That dramatically improved the flavor, but the texture was still not what we wanted it to be. We played around with more water, less water…more definitely made it better, but then the fish was somewhat watery (duh).
And then came the next "Eureka!" moment; Publisher David Shedd had grown up on fishcakes; they'd been made with salt cod, but the idea was the same, fish and mashed potatoes smushed into tasty fried cakes.  Boiling potatoes and mashing them while out camping sounds like no fun, but instant mashed potatoes are truly that, instant. Pour them into boiling water, and it's just rehydrating them, not actually cooking them. So, we poured them into the fish/bouillon/Old Bay mess, mushed it around until it was a thick, formable mass, then patted balls of it into cakes and put them into a frypan with some olive oil until crispy and brown on both sides…and then passed them around. And got a resounding "YES!" Some liked them just the way they are, some liked them with tartar sauce, but all liked them. A lot. And came back for seconds.
But, that's a salt water fish; how would it work with the kind of basic pond/lake fish that are dumb enough to grab onto every worm or lure that comes their way? After a busy spring, we finally got a chance to go out, and caught a bunch of perch, pickerel, and a bass that absolutely would NOT be used for fishcakes. In particular, though, we caught a bunch of 6″-8″ pickerel. Those little buggers are incredibly aggressive, going after anything that's near them even if the lure is half their size; in other words, perfect for kids to target. When we headed back in, we had a good mess of fish, and were ready to test.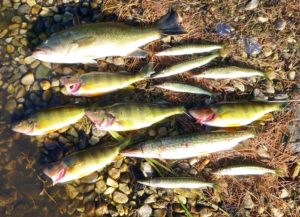 Since the perch were actually quite large (we'd normally have cooked them and eaten the meat off the bones), we figured they'd be the ultimate test of this technique. Yellow perch are about as close to armored dinosaurs as it gets; thick skins, heavy scales, strong, thick bones and very sharp fins. We decided that the skins were too much for us, so peeled those off, and cut off the sharp fin bones with a pair of heavy scissors, just to be sure.
Then, we put them and the pickerel in the GSI pressure cooker with the usual seasonings, gave them 20 minutes and opened it up. The pickerel were clearly soft and ready, but the heaviest perch bones were still a little firmer than we'd have liked, so we started it back up and gave them another 5 minutes. End result; the perch bones were still clearly visible, but aside from a little "crunch" and a slightly chalky texture, were perfectly safe to eat. And, they tasted good! Testers felt they needed a little more salt than the ocean perch had, but it was close, and other than that, they were perfectly happy with them.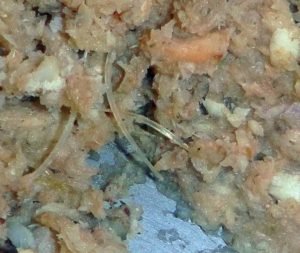 Best of all, this made family camping dinners EASY. First, the food came in nice and fresh; second, cooking up the fish and making the batter could be done anytime. No more firing up the grill, waiting for it to be ready, then watching the burgers and dogs constantly; parents were able to play with the kids, then quickly make up the cakes and fry them when everyone was ready for dinner. And, the kids were excited to get to eat what they had caught! It was a win all around.
What You Need To Know To Make Your Own
So, what do YOU need to know to make this work? Well, first, you'll need a pressure cooker. There are any number on the market, but we can highly recommend the GSI Halulite; there are two versions, the 5.7 liter we tried (huge) and a 2.7 liter that's easier to pack and would be plenty big enough for a smaller family. They're well built, work perfectly, and are a lot less expensive than some of the cookers designed for the home market. The worst thing we can say is that food has a tendency to stick to the bottom, but it's not a big deal. Second, the smaller the fish, the better; the bones are smaller. That's the exact OPPOSITE of typical fishing…a real bonus!
Third, try your own spices if you'd like, but Old Bay goes well with fish and makes your life easy. Fourth, bouillon cubes; you don't have to use chicken. You can use fish, or some of the other seasoned cubes out there, but definitely use something; the fish has a lot more taste if you do. Fourth, be prepared to play with the time you need to cook the fish; it'll depend on how heavy the bones are and how full the pot is. Overcooking is fine, as long as it doesn't get ridiculous; at 30 minutes, we definitely found the fish to be drier and tougher. And fifth, bring sauces that may appeal to different palates…mayo, tartar, remoulade (you can make those; see below), or whatever your family likes. Finally, we tried various potato flakes (Hungry Man, Idahoan, whatever else was in the supermarket), and noticed NO difference; they all tasted great. DO add plenty, though; you want your fishcake batter to be VERY firm. If it isn't, the cakes get very soft while cooking and are a pain in the neck to flip.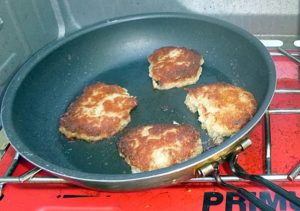 Tartar or Remoulade Sauce
Mayo
Sweet pickle (hot dog) relish
Mustard- Guldens, Nathan's, or equivalent (brown is better than yellow)
Mix mayo and relish to taste; that's tartar sauce. Add mustard to taste; that's remoulade.
Difficult, huh?
Armed with these few items, and this knowledge, you may find your family car camping trips to a lake are a LOT more fun, with healthier, lower cost food, and your kids just may find they love fishing more than you'd ever dreamed!