Rollerblade Maxxum 90: A Serious Downhill Skiing Off-Season Trainer?
Every year, it's the same thing. December snow, and snowmaking, arrives, and our legs…hurt. Those first few sessions, it's the same areas, year after year; inner thighs aren't used to dragging around heavy boots and skis and pulling them back into line, shin muscles aren't used to holding us balanced on a knife edge. And, of course, there's quad burn; all of the running and cycling just doesn't seem to matter when you're in that slightly crouched position for long downhill runs. December skiing isn't about fun…it's about getting your legs into shape so you can enjoy the deeper snow and better conditions as the winter wears on. Right?
Enter New Generation Rollerblades–These Ain't Your Dadddy's Skates!
We've always drooled over trainers like the Skier's Edge…and not had the funds to buy one, or at least to justify it. But, there really haven't been a lot of options out there. And then came a press release about the new Rollerblade Maxxum 90, describing them as "a great pre-ski season training tool." Hmmm. Our experience with Rollerblades, capital letters, and rollerblades, generic equivalent, has been mostly "Heeelllllpppp…!" There's a coordination to them that we're not all that good at, and something about flying down slight slopes with little control, tiny wheels throwing us in the air at every bump, that induces extreme pucker. And that's not great for training the legs to actually DO something, other than achieve rictus.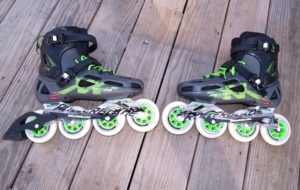 Still…that Rollerblade Maxxum 90 had some, to us, cool new tricks. First, MUCH larger wheels than we'd been used to. Like a 29er mountain bike, those should ride over small imperfections, twigs, whatever much better than smaller wheels. And, a new, very rigid boot (they claimed) should give us a more positive, controlled feel; almost like the way a top quality downhill boot gives us control of our edge in tough conditions. Beyond that, they feature a 45 degree buckle across the instep which pulls your heel down into the pocket, really locking you to the boot. This is like the design of Dalbello Krypton or Full Tilt downhill boots (and others, now); we've known it to work, and work well. Scared we were, but…sign us up!
On arrival, it became clear immediately that these weren't our fathers' Rollerblades. The boot structure looked like an XC skating boot, except heavier and stiffer; yes, they mimic downhill boots well! Fit was…downhill racer tight. You'll want to be careful about sizing, as they're pretty low-volume; if you have a larger volume foot, you may need to go up a size. The wheel carrier, the direct connection from the wheels to your foot, is made from heavy-gauge shaped extruded aluminum; it's fantastically rigid. Which is important, because the large 90mm wheels can put a LOT of torque on the carrier and boot to cause them to flex; that's the weakness of large wheels. The wheels also have large diameter, very stiff, very smooth bearings; the entire system is rugged and smooth, from the top of your ankle to contact with the ground.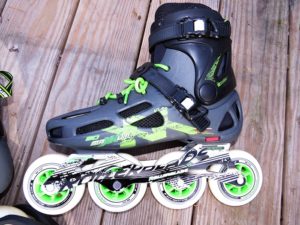 A New Design Creates A New Feel, And A New Sense Of Security
And the differences were obvious from the second we stood up on them. Even our resident balance wimps felt solid on them; there's no play, no wobbling, and the larger wheels give a larger, more stable contact surface. Sidestepping up and down stairs didn't give a panic feeling in the slightest; even before starting to skate, we felt better about the whole affair.
And skating is where the Rollerblade Maxxum 90 excels. Beginners immediately started moving easily, well, and FAST. In fact, we were a little concerned that it was too easy to get going too fast, as the braking system isn't up to stopping us quickly. The single heel brake DOES work, though, at least to slow you significantly, which gave us more confidence to push the limits. As long as we were on truly flat roads, we found that we could stop reasonably quickly and feel in reasonable control, and really let 'em rip!
And it was letting go and getting speed where we started to see how they worked as pre-season ski trainers. First, the position mimics downhill skiing; to push the edge out and get speed, your other leg has to be bent and supporting you. Quad burn, baby! Second, the motion of pulling the skate back to the center after each power stroke mimics the control movements of downhill, working the adductors of the inner thighs hard. And, all of the balancing meant screaming shins and muscles all along the outside of the calves…clearly different than anything we'd been doing in the summertime. Certainly, all indications were that they were doing exactly what we'd hoped, in working the muscles that we DON'T use at other sports and DO use in downhill skiing. A great start…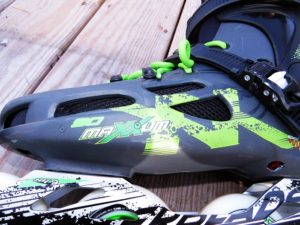 But, as we used them, we noticed something else. Get them up to speed, and the large wheels and smooth bearings would HOLD speed for a longer time than we were used to, even on a flat. And on a slight downhill, they'd run forever. That led us to breatkthrough #2: You can use them to practice "tip and turn" technique. At speed, you can do very nice S-turns using the same form you use for downhill skiing and rebuild that muscle memory. Plus, they pretty naturally mimic the turn profile of a typical shape ski these days; their natural turning radius is reasonably long and gentle, but you can push them hard into much tighter radius turns. A handful of runs doing that, and we felt like we'd been getting "real" ski training!
But…Does Flat Ground Work Translate To The Slopes? Oh, YES!
But, as much fun as they are on their own, the proof of them as ski trainers can only be found on the slopes…and snow finally came. December snow is notorious for being difficult; lumps on top of ice, "death cookies," thin cover that you have to make fast moves around to keep the edges on your skis. And, of course, those difficult conditions come when your legs are weak, your technique stinks, and by the third run you want to throw your skis in the icemaking pond. I became the guinea pig for this one, using the Rollerblades in the weeks leading up to the season (not as much as I should have, unfortunately, due to travel schedule and late fall rains, but more on that later!). And then the snows came…and out I went.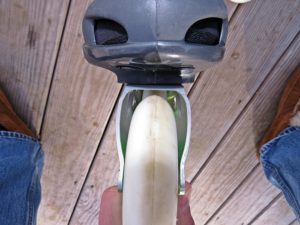 And without question, my early season skiing is the best it's ever been! Immediately noticed differences included being ON my edges in the first run; no, I wasn't at my best, but there was much less of the retraining my body as to what to do. Nine runs the first day, and no residual pain the next day in my quads or inner thighs…normally, I'd expect to be walking sidesaddle for a couple of days. Day two, 13 runs, including 5 top-to-bottom runs on Sunday River's "Right Stuff," which is a nice, steep, fast black, in hard and fast conditions that left my legs quivering a bit at the bottom. I normally wouldn't have tried more than one or two of those, and was certain that I'd pay the price the next day, but…again, no pain. A feeling of tiredness, yes, but not bad, and no soreness. Remember, too, that I didn't get the chance to use the Rollerblade Maxxum 90s as much as I wanted to, and should have, before the season started…I can only wonder how I'd have been if I'd gotten in the extra time!
Should YOU Create A Rollerblade Ski Training Program?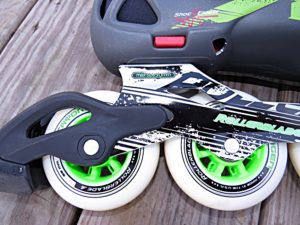 Ultimately, the single most important part of ANY pre-season workout program is to actually get out there and do it; repetition breeds success. And, by that standard, I was somewhat of a failure; I wasn't able to get the time to build up long sessions on the Rollerblades. Yet, that may have actually been a GOOD thing. Since I didn't have a lot of time, I had a number of 5-10 minute sessions where I went out and beat myself as hard as I could, coming back with burning quads and aching calves and shins. That's not a great recipe for prepping for a 50k XC skating race…but a typical downhill run might run 3-4 minutes. Hard, 5-10 minute efforts are actually better training for that (although BOTH would be ideal). And, working the harder, tight-radius turns helps build power for steep fall-line runs.
Next year, my plan will be to try to get semi-regular long sessions in during the summer, and then as fall arrives start kicking in with the short, hard efforts. If I'm right, that'll give me the power for the hard, fast runs, plus the stamina for a long day. And THAT, in December, would be skiing Nirvana. In the meantime, though, we can heartily recommend the Rollerblade Maxxum 90s as a way to get yourself ready for YOUR best start of the season, ever!