Seriously, how often do we get a blizzard? And more importantly, how often does a press release come into my inbox from Sunday River that says "We got 23″ of snow yesterday?" Let's just say that it's rare…and it's my duty to go confirm their data, right? A Sunday River powder day after the Blizzard of 2017…yeah, it needed to be checked out.
It took some finagling early to reorganize my schedule, so between that and the usual slow driving after a storm, the lifts were just starting to turn when I pulled into the parking lot. Rats. But, on a Tuesday, parking was still easy that early, so I didn't feel too bad. Headed into the South Ridge Lodge, got into my boots, and headed out.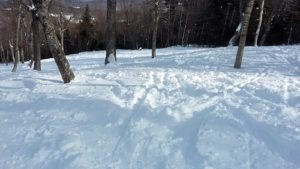 I had a very specific goal; I've got new backcountry skis that haven't had any experience in glades in deep powder. I'd rather learn how they handle in-bounds, before I go out and find something too narrow and steep to handle in the backcountry. It seemed likely that Blind Ambition, an open, twisty, LONG glade area off the Jordan lift would be perfect to really learn them; there's a lot of room for error and to push the skis in there, compared to the much narrower lines in some of the other glades. So, I did the fastest Chondola-to Aurora-to Jordan run I could make.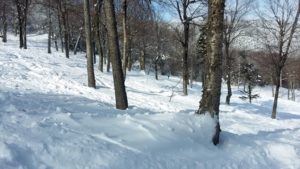 I'd love to say that I was the first person there and that it was pristine, but…nah. There had been plenty of people through already, but it just didn't matter. All they did was move that 2 feet of powder around; Blind Ambition is low angle enough that it takes a long time to ski off. There were plenty of pristine stashes to move through, but in between them was still beautiful, creamy powder. This was some of the most outstanding tree skiing I've had, and from the whoops and laughter of other skiers, I wasn't the only one!
5 runs later, quivering thighs and all, I headed in for lunch. The conditions in Blind Ambition hadn't deteriorated, though; if I'd had the stamina, I believe I could have had great skiing out there all day. And, there's no reason to believe it wouldn't continue to ski well for the next few days; there's THAT much powder in there!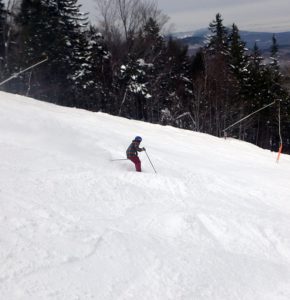 After lunch, I didn't have the energy to head back across, but figured I'd get a few runs in off the Chondola before I had to head out. I really wasn't sure what trails I wanted to hit, but on the first run I made a discovery; take Downdraft to American Express, ski all the way across to skier's right, and there were fresh, deep, SOFT moguls all the way down to Lazy River! Now, that's not a long section, but it was a blast…just a silly soft playground. And this was at 2 in the afternoon! I'd normally expect scratchiness by then (and my 54 year old knees HATE hard moguls), but this was just plain outstanding.
The powder had enough heft to it to not just blow away or get pushed off the hill; yet it was still light enough to make it just plain fun to play in that area. Over and over…I did 5 more runs there. Again, I wasn't the only one; I stopped a couple of times to watch other skiers and take photos, and everyone was having a blast. I watched a couple of different pairs in the field, with one experienced mogul skier showing a beginner how to ski them; the conditions were just plain ideal.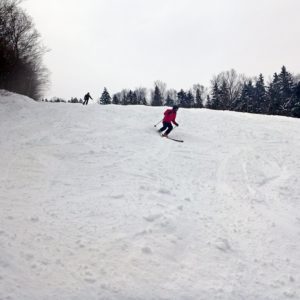 I made one big mistake, though. With another storm coming in Wednesday night, I should have gone back up, gotten a room at the Grand Summit, and been waiting there when the Thursday morning email came in, this time saying they'd gotten TWENTY-FOUR INCHES in the past 24 hours! That means, yes, FOUR FEET in a 3 day period. And I was stuck in Portland. Note to self…next time there's that kind of powder day coming up, get to the mountain the night before and get a room!!!