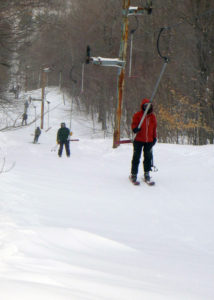 OK, skiers and riders, how long has it been since you were towed up a hill by a "standing surface lift"? That would be a device with an overhead cable that pulls you up the hill while your skis remain on the snow. Usually the term is applied to T-bar, J-bar, or platter lifts. Rope tows, handle tows and carpet lifts are different beasts, these days usually only seen on beginner slopes.
For skiers of a certain age, rope tows and standing surface lifts were what we learned on. J-bars and platters were great, but a T-bar, which could take two skiers at once (snowboards hadn't been invented yet) was a huge upgrade . . . The beauty of a standing surface lift for beginners was that you had to learn to keep control of your skis going up the mountain as well as down.
I know, I know . . .dinosaurs once roamed the earth. . . .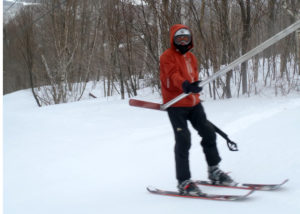 Anyway, there's still one situation where this supposedly  "old-fashioned" technology can handily outperform anything modern, and that's an extremely windy day. The term "wind hold" never entered the skiing lexicon until the chairlift was invented. A high wind can prevent even a gondola or bubble chair from running safely, but "standing surface lifts" and rope tows aren't affected by wind at all.
I'm reminded of all this because EasternSlopes.com's Publisher David Shedd and I were at Mount Abram in Greenwood, Maine on a very windy, cold day after one of the many recent powder storms. Mount Abram, for those of you who don't know it, is a wonderful family-friendly area that hides in the shadow of nearby Sunday River. Well worth a visit if you like smaller, old-fashioned ski hills.
As soon as we opened the car doors in the parking lot, we looked at each other and said "wind hold." Sure enough, the chairlift wasn't running, but the T-bar was just starting to turn. By the time we got our lift tickets and were suited and booted (in l-o-t-s of layers, it was very cold), they were loading the T-bars and sending the first skiers and riders up the hill.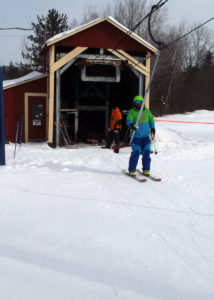 Riding the T-bar was almost a magical experience. It's quiet enough that you can hear your skis sliding on snow, even on a windy day. Though the wind had pummeled us across the open base area, and was dancing the tops of the trees, as soon as we started up the hill, the wind at ground level dropped to nothing. We didn't feel it again until almost the top of the hill where it howled across a cat track carrying a drift of powder with it.
The "Maine" T-bar at Mount Abram is no beginner baby lift. It is 3,350 feet long, rising 935 vertical feet, and accesses almost as much of the mountain as the primary chair lift. Riding it was fun, a blast from the past. But, as I said earlier, T-bars were designed for skiers; they are significantly more challenging for snowboarders who, of course, stand sidewise on their boards. A couple of the snowboarders on the mountain that day had mastered the art of riding a T-bar. Others hadn't, which was sort of fun to watch in that painful, "I'm glad that's not me . . ." way.
The same wind that had shut down the chairlift had also scoured most of the powder from the open trails. Even the woods had places where the powder had disappeared. But on skier's left of all the trails, the trees had acted like a snow fence and piled up deep drifts of what would be called "Champagne powder" out west. We spent most of the morning skiing along the tree edges in snow anywhere from a few inches to knee deep. Fun!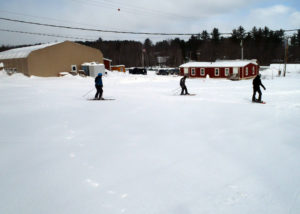 Mount Abram is only a few miles from Sunday River and attracts an entirely different crew (the word "crowd really didn't apply on this cold morning). Check it out sometime. It's only open Thursday-Sunday and all week Christmas and President's week. Even if the chairlift is running, take a ride on the T-bar if it's turning. It's a hoot!
If you want to find other working T-bars worth exploring on windy days, go to New England Ski History and check out their complete list of J-bars, T-bars and Platters. There are a lot around, you just have to look for them.