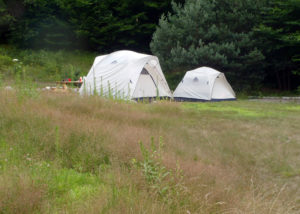 One hundred yards makes all the difference between roadside car camping and the start of a backcountry camping experience.
A few hundred feet is all it takes to turn a car camping expedition into something more like a wilderness adventure. As soon as you park your car and walk away from it, you are cutting the direct cord to civilization. Once your car is out of sight, the whole experience changes. You have to plan a little more, decide what you really need and really don't, learn to be a tiny bit more self-sufficient, a bit more situationally aware. It's the first step on a path that might eventually take you into backcountry camping—or not, if that's not what you want to do.
Paradoxically, it's almost easier to find places to camp miles from the road than it is to find somewhere that's close but not too close. Still, we've managed to find some places worth sharing. Even if you don't have lightweight backpacking gear, these have campsites close enough that you can use your familiar car-camping equipment without having to haul it long distances.
If you are looking for something that feels very out of the ordinary, try a not-quite-car-camping adventure this summer or fall.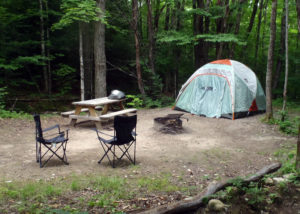 Hidden in the woods surrounding the AMC Cardigan Lodge are the Cardigan Campsites, 28 "primitive" sites that hold two tents each, plus two group campsites which will accommodate dozens of people (perfect for a family-reunion!). To get your gear from your car to the tent sites, you load it all into a garden cart and wheel it in. You can, basically, take everything you want, but you'll quickly learn that you don't need everything you thought you needed.
Each campsite has nice, flat, smooth spots in lovely settings to pitch your tents. Some of the sites are in a sunny field, others are in the shade and still others are in the pine woods. They all have a picnic table and a firepit—with firewood provided. Most have a bench to sit on. A tap nearby provides potable water for drinking, cooking and washing up. There aren't any showers but there is a wonderfully cool, spring-fed swimming hole near the Lodge. And, as always, the AMC builds 5-star outhouses.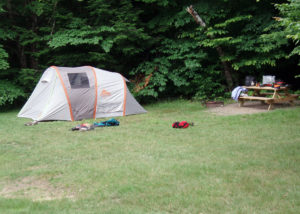 The most remote site is about  300 yards from the parking area at the Lodge. That's less than a fifth of a mile. Some of the other sites at Cardigan are closer—only 100 yards or so, but the point is, you can't drive to any of them. That's what makes the experience of camping at Cardigan so different from most campsites. A lot of folks just won't leave the amenities of civilization even that far behind.
The AMC's Cardigan Reservation is 1200 acres with over 50 miles of trails to explore, including several that lead to spectacular views from the top of Cardigan Mountain (3,155 feet) and Firescrew, a second peak along the same ridgeline named for the 1855 conflagration that left the granite tops mostly bare to this day. Lovely little Welton Falls cascade is just an easy 1.2-mile hike from the Lodge.
If you don't feel like cooking, you can even have dinner and an outstanding breakfast in the Lodge with prior reservations. What more could you ask for? The Cardigan Campsites are the perfect place for trying your first camping adventure "away" from the road. They are also the perfect place new equipment before you take it to the backcountry, for introducing someone to camping away from roads, or just for a quick getaway from the real world.
Located in Rupert, Vermont, right on the New York border not far from Manchester, Merck Forest and Farm Center is much like Cardigan Reservation, except that most of the campsites are farther from roads. While some are close enough to be able to wheel your gear in, many will be easier to reach if you backpack your equipment.
Merck Forest has seven remote cabins if you want four walls and a roof for your adventure, but  they also have three lean-to shelters with tent sites around them. Both cabins and shelters have outhouses. Merck also allows "Dispersed Camping" almost any place you'd like to pitch a tent that's away from and out of sight of any of their cabins and shelters.
However you choose to go, Merck Forest is another wonderful "first step" away from your car on your way to becoming a seasoned wilderness camper.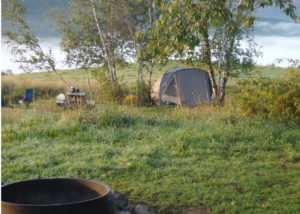 Just a couple of miles from the Vermont border near Sutton, Quebec, is Au Diable Vert, one of the quirkiest outdoor destinations in the northeast. "Au Diable Vert" translates literally as "the Green Devil" but has a colloquial meaning something like "away from everything." Trust us, if you stay there you will never forget it!
Au Diable Vert has a number of private campsites where you can pitch your own tent. Some are in a field area with minimal shade, others are tucked away in the woods. If you don't want to take a tent, they offer rustic cabins, cliff cabins with spectacular views, pod cabins ideal for two people, classic Airsteam trailers and even tree houses (yes, real houses in trees!) for overnight adventures.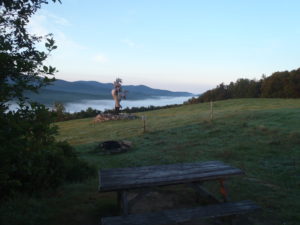 Au Diable Vert has hiking trails and snowshoeing and cross-country skiing galore. The nearby Missisquoi River is perfect for an afternoon paddle. And, for another truly unique experience, pedal (yes, pedal) a "Velo Volant" on a cable through the treetops.
If you like the idea of sleeping in a tent but aren't quite ready to pitch your own and still want to get away from your car, Huttopia Sutton may be your answer. They have wooden cabins, canvas cabins, "Canadian Tents (Huttopias), and smaller, 2-person  Bonaventure Tents. Of course they also have campsites with and without electricity where  you can pitch your own tent. All are away from cars; they provide wheeled carts to move your gear and supplies.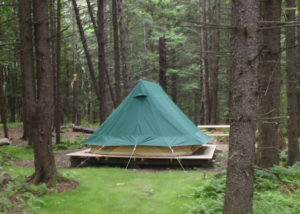 Since this is right near the Mont Sutton Ski Area and the town of Sutton, you have access to shops, great restaurants and lots of outdoor adventures.
The Heartt LakeCampground, located at the end of a l-o-n-g dead-end road outside Lake Placid, has 32 tent campsites, 16 lean-to shelters and six canvas cabins, all a short walk from parking. Beautiful spot.