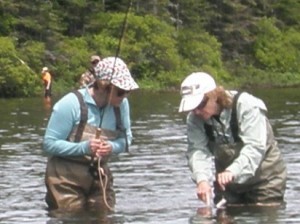 When EasternSlopes.com correspondent Deborah Lee Luskin proposed a story on learning to fly fish at a weekend clinic offered by the New Hampshire Fish and Game Department , she asked if anyone had tackle she could borrow. Not surprisingly, we did. Better yet, we had no problem choosing what equipment to lend her for her outing. We'd been testing the  L. L. Bean Spin/Fly Fishing Combo Outfit for backcountry fishing. The 8'6″ fly rod, reel and 5-weight line that comes in this outfit is perfectly suited to learning to fly fish. And the whole compact kit fit nicely into her fuel-efficient Prius along with camping gear and anything else she's need for the weekend. It's just one more use we've found for this versatile, high-quality, compact fishing kit.
Here are three simple truths we've discovered about fishing while exploring outdoor opportunities across the northeast: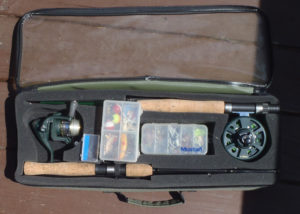 1) Almost everywhere we travel has water nearby: a tiny trickle brook, a mighty river, a pond, a lake, or the ocean. Most water has fish, and fish mean the opportunity to go fishing. Whether trying to catch dinner or just whiling away a pleasant hour, fishing is another wonderful excuse to get outdoors and have fun. And if you're already outdoors and having fun—backpacking, camping, kayaking—well, fishing is just a bonus if you have the tackle you need on hand. Sometimes, a spinning rod is just what you need, but at other times, a fly rod can be more fun and effective. Having both in the L. L. Bean Spin/Fly Fishing Combo Outfit exponentially increases your ability to fish anywhere effectively.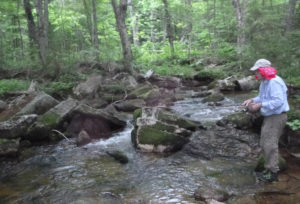 2) Fishing, like most human endeavors, can be as complex as you want to make it. But it can also be simple. You are infinitely more likely to catch fish when you have a hook in the water than when you don't. And having both a quality spinning rod and a fly rod on hand at all times makes it much easier to have a hook in the water whenever you have a free moment and water nearby. 
3) There are always more small fish in any given body of water than big ones. Choosing to fish with lightweight spinning or fly tackle and targeting smaller fish means you are more likely to catch fish and have more fun. Using light tackle also means a guaranteed adrenaline rush if you happen to hook a big one, even if it eventually gets away.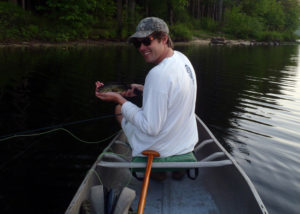 Unlike box-store bargain fishing outfits, the L. L. Bean Spin/Fly Fishing Combo Outfit ($169) is a surprisingly sophisticated, compact, versatile go-anywhere kit. It doesn't take up a lot of space at home, and, when you're ready to go somewhere, it easily stows in your car, kayak or canoe, or straps to a backpack  (more on this in a moment), and gives you what you need to catch fish (or, at least, attempt to catch fish) in almost any situation you are likely to encounter. One of our correspondents even bungied it onto a Stand-Up Paddleboard to reach some otherwise-inaccessible spots!
The outfit contains two complete rod/reel setups with graphite rods and good quality reels. The reel seats and guides are good quality, the wrappings are nicely done and the handles are comfortable cork. The 6′, 4-piece, medium/light spin rod is perfectly matched to the skirted-spool reel, which is pre-loaded with 60 yards of 6 lb. monofilament. This will toss lures up to about 3/8 oz., but is still light enough to cast a tiny spinner into a trout pond. The drag on the reel is smooth and the handle is easily switched to left or right-hand retrieve. The kit comes with a small tackle box big enough for an assortment of the small spinners,  spoons and jigs that will catch almost anything that swims.

The 5-piece fly rod is 8'6″ long, medium fast action, and fishes well with the 5-weight floating line that comes pre-loaded on the reel. This is about as close as you can get to an all-around fly fishing setup for most of the freshwater fishing in the northeast and about perfect for streams and ponds. The reel is lightweight, good quality (actually better than it needs to be for most freshwater fly fishing situations), and comes preloaded with backing, floating fly line, and leader. The copy says "just tie on a fly and you're ready to go" which is pretty accurate. The kit includes a fly box big enough to hold a few dries, streamers and nymphs. You'll want to arm yourself with spare leaders and tippet but that's about all you'll need to effectively fish most streams and ponds.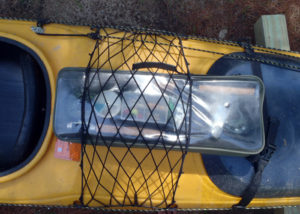 If there's a weak spot in this whole outfit, it's that spare spools aren't available for either reel. Spare spools loaded with different lines would make both outfits even more versatile. And while the case it comes in is perfect for keeping the kit together and protected in a boat, car, or closet, it's just a bit too bulky for easy backpacking (and likely won't stand up to a lot of abuse; that's not what it's designed for. It's more aimed at people who want something at their summer camp that anyone can use). If you want to backpack with either (or both!) of these rods, you can easily make a tube from lightweight PVC that will take up less space, and protect them better.
And, finally, this tackle is suited for only limited saltwater use–though the sea kayakers on the team tell us they'd be perfectly happy to find themselves among a school of mackerel, harbor pollock, snapper blues or schoolie stripers with either of these rods in hand!
But the fact is that these are good-quality compact travel rods with well-balanced reels. They fish effectively and the price of the whole combo is less than you could pay for a top-quality travel rod alone (Bean's top-of-the-line "Double L" travel flyrods, for example, currently start at $250 for just the rod). Together, they give you an easy way to ensure that you can drop a line in the water whenever the mood strikes you. Whether the fish choose to cooperate is another question entirely.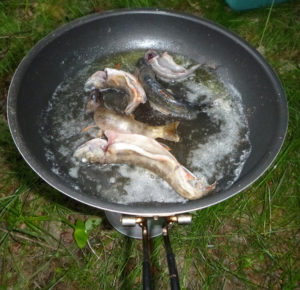 One thing you have to admire about L.L. Bean is their service. Keeping an eye on the weather in early May, EasternSlopes.com Publisher David Shedd and Executive Editor Tim Jones  saw a window of opportunity and planned a getaway to the northern edges of New Hampshire's White Mountain National Forest. They had been eyeing the L. L. Bean Spin/Fly Combo Outfit for some time, and this was just the excuse needed. A click of the mouse completed the order, a little more than 24 hours later the package arrived, and they literally headed north without having even opened the box. The area they were camping in has a river in a valley with several small streams flowing into it from the surrounding mountains. Early in the season, the river was high and cold but the streams were running clear.
They were traveling with light overnight packs but strapped the whole kit (bulky case included) to the outside of a pack as they left the road behind. With this one kit, plus a few lures and flies, they had all the tackle they needed for both to fish effectively. David took the spinning rod and tied on a tiny Mepps spinner; Tim lengthened the leader on the fly rod and put on a bead-head nymph below a strike indicator. The first small stream looked very fishy but didn't produce a single strike, so they stowed the rods, hiked over a ridge to the next stream, and immediately began catching small, beautifully colored native brook trout. They released most of them but kept enough for appetizers before dinner. That is the highest and best use of a backpack fishing rod!
A week later, the same duo was paddling kayaks to the river island where they pick fiddlehead ferns every spring. This time, Tim left the fly rod at home and stowed the spinning rig in a cloth case safely inside one of the hatches of his Prijon Seayak. David used his own spinning rod, which had to be carried more precariously in the bungees on the deck of his Pungo 14. The purpose of this trip wasn't really fishing, but, using small spinners, they managed to catch a number of smallmouth bass, all of which were released as the law required. Great fun! But they also found a school of yellow perch holding in a big eddy. Perch, taken from cold water, are one of the best tasting fish you can catch; they ate well that night.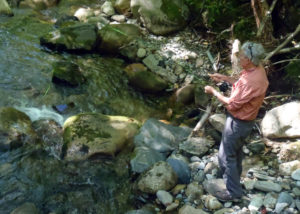 There are fishing opportunities everywhere in the northeast. The L. L. Bean Spin/Fly Fishing Combo Outfit is high quality, bargain priced tackle that allows you to keep handy almost anything you need to enjoy fishing wherever you happen to be, whatever else you may be doing. We're much in favor of anything that makes it easier to get outdoors and have fun and this compact kit does just that.