If there's anything that gets the juices flowing, it's knowing that a powder dump is coming in, and that it's going to end around midnight; that means roads will be (mostly) cleared and we'll be able to head out early to take advantage of it!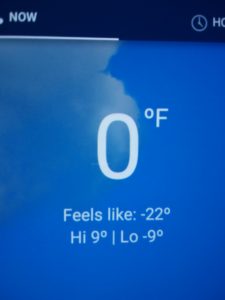 Add to that the following: Black Mountain of Maine (BMOM) is closed Monday-Thursday, and this storm was coming in Thursday…that means slopes and glades that hadn't been abused in days. And, Fridays are $20 lift tickets. And, they've got new glades for 2018. It's a perfect storm; sort of like the conditions that created the bombogenesis that delivered the snow. I called partner Tim Jones and suggested that we head up early and find out if what we'd been hearing about the new glades was accurate. Research, don't you know.
Well…ALMOST a perfect storm. The bombogenesis was followed immediately by a polar vortex (think the meteorologists have been having fun?). Translation: Bitter cold and high winds, with the former going down and the latter going up as the day went on. For the youngest and most intrepid riders, no biggie; for us older folks, it meant a run or two, then a run into the lodge for tea or cocoa.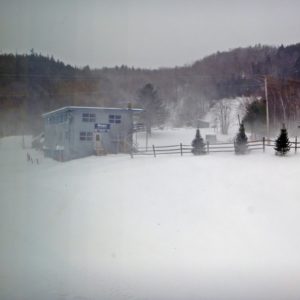 That wasn't entirely a bad thing, though. We'd been told to check out the East Branch and The Wild glades, so we immediately headed in there. It's an easy transition from the top of the lift into the glades; the Angry Beavers trail crew who built them did a wonderful job of making them accessible. And, making them fun. They're not wide open Western glades, but they're more open than a lot of Eastern glades, with great flow; it was easy to link turns and wander from side to side through both of them. Well, "easy" being a relative term…they're both plenty steep, with plenty of thigh burning available.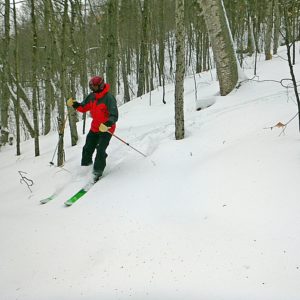 We didn't make first chair due to the driving being a little less wonderful than we'd hoped. That howling wind kept the roads messy and slippery, so between our own natural caution and following plows at 15mph, we didn't hit the chair until a little after 10. The negative? No first tracks in the glades. The positive? We were much better able to find our way into them and get a feel for the lines, thanks to the skiers before us who clearly knew the area. And, it wasn't exactly a major tragedy; there was plenty of snow, and plenty of fresh lines for us. The snow was lovely, midweight powder that was easy to move through but allowed us plenty of "bite" to maneuver around trees and rocks. It's still early season, so the base depth isn't covering up every rough spot, but we enjoyed run after run without a single gouge to our bases.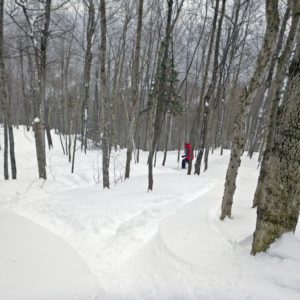 Now, admittedly, the weather likely kept a whole bunch of people away that might have otherwise been stealing those lines from us. But, each run we found new places in each glade where we could glide through that lovely powder, feeling like heroes. We did move out of them and try some of the other glades; Middle Beaver and Sunday Ledges both boasted unskied lines even into the early afternoon, and were a ton of fun (watch the edges of the Ledges, though!)
We gave it a valiant half dozen runs, then decided that a warm lunch might be a better idea than going back out in the consistently worsening conditions. But that's the magic of BMOM's $20 Fridays…we got more skiing in for our dollar, even making a (very short) half day of it than we would have with most ski areas' normal lift ticket prices and a long day. Black Mountain continues to be one of the great bargains of Eastern skiing, and based on what we found this time around only continues to get better. Maybe we'll see you next Friday!