There's been a distinct divide in the backcountry skiing world for as long as we've known it. There are the ultralight skis with a focus on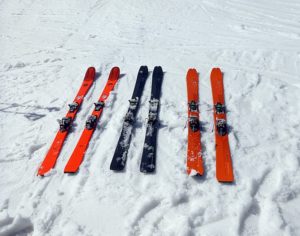 climbing with skins from companies like Dynafit, G3, Black Diamond, Hagan, etc. And, there are skis that are meant for burlier pursuits, whether lift serviced with hikes up into snowfields, or heli skiing and booting to a run from the landing area; Blizzard, Salomon, DPS, and more. The bindings have matched up, too; climbers go for ultralight "tech" bindings like the Dynafit TLT Speed, while the huckers have used Fritschi frame bindings or Marker Barons or Dukes…much heavier options, but with higher DIN settings and more abusability.
But, the boundaries have started to blur over the past few years. Tech bindings have evolved dramatically and are no longer for "wussy little climbers." Dynafit's TLT Radical bindings go up to a 12 DIN and will handle a much heavier, harder charging skier than their previous offerings; Fritschi's new Tecton 12 offers a tech toepiece for easy climbing with a DIN-style heel clamp. Oh, and almost everything can be purchased with or without brakes, allowing you to tune them to your own style (brakeless is lighter, brakes make your life easier). Overall, the bindings are stronger, easier to use, and give a lot more edge control on a wide ski.
On the ski side, however, the inroads have come from the specialty side. We have people skiing lift-serviced terrain regularly on Dynafit and Black Diamond skis; the tradeoff of having a much lighter ski/boot combination versus better edging on icy terrain means that on many days, we can ski longer and have more fun with "backcountry" gear. And when we've taken traditional brands up backcountry mountains, we've had the exact opposite reaction; all of that extra weight means our legs are more tired before we get to the top, limiting the quality of our runs down. Score one for the specialty backcountry manufacturers!
In 2016, though, we saw the first seriously light offerings from "mainstream" manufacturers. Elan's Ibex skis use carbon to bring the weight down into the same category as the specialty skis; for instance, their Carbon 94 comes in at 1400 grams in the 170cm model. Our Dynafit Manaslu 2.0s in 174cm weigh 1390 grams, and they're somewhat narrower…and the 94 ISN'T the lightest version! There's the 94 XLT, which we didn't test, which weighs in at a whopping 200 grams per ski less than the Manaslu. That's scary light. And, Rossignol's SEEK 7 Tour, at 86 underfoot, comes in at 1250 grams/ski for the 176cm. In other words, utterly competitive with the best of the "alternative" ski world.
So, they've got the weight, but do they have the moves? We tested the above skis, plus the Elan Carbon 84 XLT, to see how the giants would do when they put out a diet ski…here goes.
Elan Carbon 94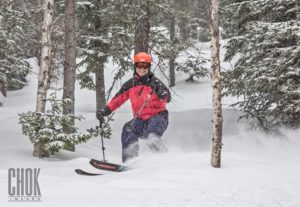 We took the Elan Ibex 94 Carbon to Quebec's Gaspe Peninsula to Auberge du Chic-Chac for cat skiing in deep powder. They were the only lightweight backcountry skis in the entire crew of skiers; names like Armada, Blizzard, Line were the prevailing choices. And, they absolutely held their own in deep powder, allowing good flotation yet carving confidently around tree wells. Speed in those conditions didn't seem to affect them; they felt solid and controlled, and we hated to return them. On groomed frontside trails it was a slightly different story, though. Lighter testers thought they felt "dead," heavier testers, over 180 pounds, liked them a lot better. It's unusual for a lightweight ski to be TOO stiff, but these pulled it off for the flyweights. Even the little guys were able to control them and get an edge in on the hard stuff, though. For a powder ski where we had to do the work climbing to find it, these would absolutely be on out list.
Elan Carbon 84 XLT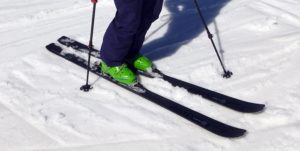 These were if anything the exact opposite of the Carbon 94. At a weight of 1180 grams/ski, these are REAL ultralights, and in some ways acted like it. The ultralight testers loved them, even finding them to be decent in powder. Heavier testers, though, reported that they felt like full rocker skis; it seemed like the camber underfoot wasn't strong enough to keep the edge working farther up and down the ski when pushed in more solid conditions, and didn't think they provided enough flotation when the snow got deeper. From our perspective, a great alternative for a 150 lb or lighter skier who wants to get to the top fast but still have fun in all conditions on the way down. With a little more or stiffer camber, they could be a contender for a heavier skier, as well.
Rossignol SEEK 7 Tour
Okay, we hate to admit that we love a pretty face, but…yeah, the Rossignol Seek 7s were sexy, by our weird standards. Rossi's see-thru Air Tips are just plain cool, and are actually functional at the same time as they reduce overall weight and swing weight at the same time; overall weight is 1250gm/ski, and you can fling them around when the tree is TOO DAMNED CLOSE. And at 87mm underfoot, they're a functional compromise between a powder ski and a groomer ripper. With camber underfoot and a gentle rocker on the tip, they're sort of a Venn diagram champion (you DO remember those from high school math, right?)…damned close to the ultimate Eastern one-ski quiver on paper.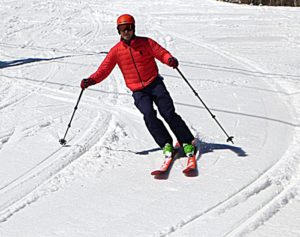 And in practice…that isn't THAT far from reality, at least for lighter skiers. We definitely noticed a loss of torsional stiffness when we pushed them really hard; this isn't science, but it felt like the tails wanted to wash out downhill a little ahead of the tips (which surprised us, given the Air Tips). There wasn't a tester who hated them, and there was one who drooled over them, and in general…hell, it's just plain a good ski. Our gut says that if Rossi gets them under the feet of a broader range of testers in a broader range of conditions, and makes a few relatively minor changes, this one could be one of the best all-around backcountry skis we've been on. As it is, it's not QUITE "planted" enough feeling when the conditions get difficult…but there isn't a one of us who would be afraid to take them out onto the tight trails of Mt. Marcy. Powder? Well, they're 87 underfoot, so come on, there's a limit to what they can do, but within that limit, the soft tip did a nice job of riding up over things. Yup, we liked them.
Legitimate Contenders, Or Pretenders?
When it comes right down to it, all three of these skis thrilled some testers, and all three are legitimate products that the right skier can make sing, and they can all handle Eastern variable backcountry conditions. And, they're all wicked light to make it easy to get up to where the fun conditions are. When compared to the Dynafit Manslu 2.0, which is right in the middle of all of them in size and weight, we found that there's a certain sense of poise to the Dynafit that the others can't quite match; our gut says that  years of making things even lighter, and allowing a little more weight to this ski, is easier than working the other direction. But, it's CLOSE, and each of the contenders had some things we liked better. It's an auspicious start, and if the trend continues we're going to see some amazing skis from a lot of the big-name maufacturers; and, of course, that'll push the backcountry specialists to make even better skis. As consumers, we just can't lose!