Winter boots are a dime a dozen; no matter where you go, you can find them. Winter HIKING boots, on the other hand, are a bit more rare. Winter BACKCOUNTRY SNOWSHOE boots, though, are the proverbial grain of wheat in a bushel of chaff; the very best can change a trip from an unpleasant slog to a crisp, fun walk in the woods. The bad news is that in addition to being rare, they tend to  be expensive. Then appeared the Treksta Cape Mid GTX; at $160, can they be a category killer?
How Are Backcountry Snowshoe Boots Different?
Let's back up and discuss what makes a great backcountry snowshow boot…and what doesn't. Let's go with "doesn't" first, since you already own at least one pair. Most winter boots have nice, thick insulation, and are soft and cozy and cushiony. Perfect for driving around, standing at bus stops, maybe even ice fishing. But those characteristics make for rotten winter hiking boots.
Start simple…insulation. A lot is cozy and nice when you're standing around. Do significant hiking, though, and they'll make your feet sweat like crazy, and then when you stop moving you'll get COLD. Fast. So, you need moderate insulation and excellent breathability to keep your feet dry.
Summer hiking boots need to fit well and not slide around on your feet for you to have good traction over things like wet roots and rocks; winter hikers need that characteristic in spades. When you're on a snowy side hill, if you can't SET THAT EDGE into the snow and have it hold firmly, you aren't just going to fall down, you're likely to slide…10 yards, 50 yards, or over that cliff. That can happen in softer snow conditions when wonderful traction aids won't help you. A good winter hiker, then, has a stiff sole, with stiff lugs on the edges, and enough structure that when you plant it hard, the upper supports your ankle and keeps you firmly planted in the snow. Make sense?
Now, think about backcountry snowshoes. Nice, big things that help you and that 80 pound pack float in deep snow. Take the Tubbs Mountaineer
, which is a classic backcountry shoe for carrying heavy loads. The 36″ version is 10″ wide under the center of your foot…or, 5″ from the center to the uphill edge. A typical winter hiking boot will be more like 4-4 1/2″ across, or a little over 2″ to that edge. Which means that when you're on snowshoes, there will be more than twice the leverage twisting your boot sole, shaft, and then your ankle. If the boot can't support you fully, you're either going to hurt a LOT, or you won't be able to hold on and…back to sliding down the hill.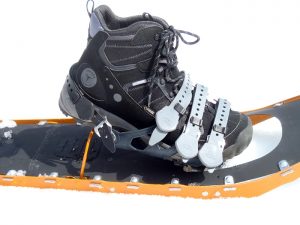 But, that's not all that a backcountry snowshoe boot needs. A stiff toe cap is mandatory so that when you tighten your bindings down, it doesn't collapse, reducing the insulation value to nothing, and putting pressure on your toes so that after a while the blood flow is reduced, making them painful and COLD. And, they need to have a "bump" on the heel counter to hold the binding heel strap in place without having to pull it so tight that it creates the same effect, crushing your foot in the boot. It's a tall order to put a boot together that has all of those features, and it typically comes with a hefty price tag.
For years, our favorite "entry level" backcountry snowshoe boot has been the Columbia Bugaboot
. For a reasonable price, they do the job well; they aren't as stiff in the sole or the shaft as we'd like, but we aren't afraid to carry a heavy load with them, either. At the upper end of the spectrum, our all-time favorite is the discontinued and long-lamented  Lowa Baikal GTX. It's as nearly perfect a compromise as we've ever found; all of the stiffness and features that we need, but without the weight and discomfort of a full-on mountaineering boot. While it wasn't as expensive as a top mountaineering boot, it wasn't cheap, at around $275.
How Does The Treksta Mid Cape GTX Work As A Winter Hiker?
So, the easy part…winter hiking. The very nature of any boot that's capable of backcountry snowshoeing is that it's going to be stiff, so unless you're planning on having two pairs of winter hikers, you have to accept that. And, in our opinion, it's generally an advantage anyway. The same thing that is so important when you have snowshoes on, which is setting the uphill edge, is as important in a hiker. When you're clambering on a slope with a little snow or ice and wet leaves underneath, you can be DOWN in a microsecond. Those firm lugs and sole help you avoid that dramatic exit from your intended path.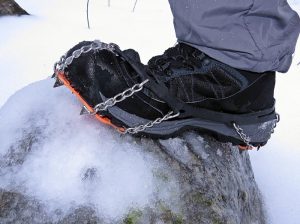 The other situation that you run into with winter hiking boots is using traction aids; Microspikes, instep crampons, etc. And there again, a stiff structure on the boot and sole allow them to work at their very best. With a comfy, twisty sole, some of the spikes might not even be in contact with the ice, and others will functionally be shorter because they compress up into the sole, limiting their effectiveness. Not an issue with the Trekstas; overall, they're as competent a "normal" winter hiking boot as any.
How Does The Treksta Cape Mid GTX Work As A Snowshoe Boot?
So, along comes the Treksta Cape Mid GTX. A little more expensive than the Bugaboot, but still reasonable. And our immediate reaction is…stiff. As in the sole, AND the upper. Serious potential.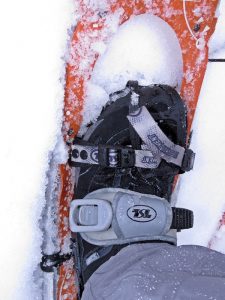 And the cut to the chase is yes, they ARE an excellent backcountry snowshoeing boot. Treksta comes as close to nailing it as any boot since the Lowa that we've put our feet into…with one caveat. Read on, and you'll find the good and the…well, not bad, just odd.
Let's start with the good. Construction quality is flat-out excellent; very even stitching, quality lace eyelets (plastic, which we prefer in snow and ice over metal). We couldn't find anything to complain about there, period. While the heel bump wasn't as pronounced as we'd really like, it did hold bindings well; no strap slippage, no extra cranking required.
Features, too, are very good. Treksta chose to use Gore-Tex XCR for waterproofing. XCR breathes better than regular Gore-Tex, so it'll help you keep your feet dry from the inside. It's not quite as waterproof as the regular version, but that's less of an issue in winter; we'd rather have our sweat escape as quickly as possible. If you're going to be in a lot of sopping wet conditions, gaiters are an excellent idea (generally, they are anyway, as it sucks when you get a dump of snow down the collar and then you're soaking wet regardless of the waterproofing) to keep the outer boot dry and let the XCR do its thing.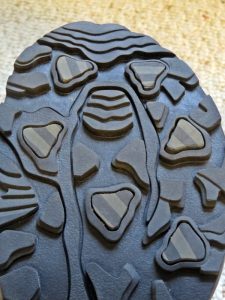 Treksta also uses a proprietary traction component in their soles called IceLock. Special lugs in the normally grippy Hypergrip rubber have glass microfilaments embedded in them vertically. Functionally, they operate much like sipes on your snow tires; they break up surface tension of water on ice as you put pressure on it. Put a different way…ice skates actually DON'T skate on ice. The pressure creates a melt zone along the blade, giving fantastic glide. Which is exactly what you don't want in your boots. How well does it work? We didn't do tests, but the grip on icy surfaces, even going downhill, was impressive; we'd rate it as certainly in the league of the best we've used. Very nice.
The sole is also cupped somewhat, which allows for better pressure along the edges, digging them in a little deeper than at the center of sole. That's a significant improvement when trying to compress snow on a sidehill for the best grip.
So, that's the good. Now the odd…let's go with the minor one first. There's no D ring for attaching gaiters, and the laces have a fancy loop holding them in place down by your toes so it's hard to attach the gaiter hook. It's not the end of the world, but it's a shame; one small change would make our lives a lot easier.
Does Treksta's NestFit System Help, Or Hurt, The Boot? You Decide…
And now the "big odd;" Treksta's NestFit system. Conceptually, it's fantastic; they measured a whole bunch of feet (they say around 20,000), and came up with a set of parameters to come as close to fitting them all as they could. Which leads to a different shape than most of what is out there (although the last, to us, looks fairly similar to Keen's). But, they go way beyond basic shape with it. All parts of the boot are designed to work together and support that shaping.
And in the real world, is that better? Yes and no; it depends on your foot. Testers were somewhat perplexed when they first put the boots on, as the fit IS definitely different; this isn't just PR babble. The first thing we noticed is that they felt HUGE; we all wanted to go down a half size. That may be a natural effect of the wider, shaped toe box; without the forefoot pushing our foot back into the heel pocket, the boot would feel larger. However it happens, though, once we dropped the half size we were a lot happier.
The next odd thing was related; testers universally said something like "it feels like I'm rolling off the sole to the inside." As you take each step, until you get used to it, it feels like you land on the outside edge of the boot and then as your weight moves forward you transition to the inside edge. It's almost as if the boot has a thicker sole on the outside edge, thinner on the inside. Oh, wait…it DOES! Put the boot on a flat surface and rock the sole from back to front; it goes both forward and in. Geeks that we are, we put a level inside the boot and watched the bubble…when the heel was down, the boot was neutral, but when the sole was on the forefoot, the outside edge was substantially higher. With time, it felt more "normal," but it's definitely an odd feeling that you'll want to pay attention to, and give time to. If you don't, you'll likely put them on, think "WTH?", and take them back off, which could be a pretty bad mistake.
It's hard for us to come to a consensus about NestFit as a general rule; our gut says that it might feel very different in a boot/shoe that was more flexible. And, we'd like to try it more, as it's definitely different from anything else out there that we've put our feet into. Ultimately, though, in this application it's a matter of how it fits YOU; we didn't end up deciding that it was inherently better or worse than other systems that we have used.
Skinny Calves Need Not Apply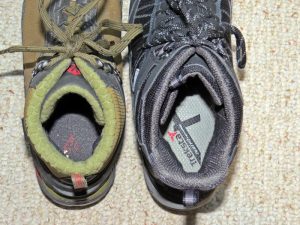 And then the final oddness…the boot shaft. The Treksta Cape Mid GTX has a pretty large calf opening that simply won't tighten down around someone with skinny shanks. For about 3/4 of us, that wasn't a problem, but a couple of the small boned guys just couldn't get a solid connection, which made the excellent shaft stiffness of the boot useless. Even testers with thicker calves often had them tightened down all the way, and would have liked a little more adjustability. So, be aware of that when you're trying these boots out and make sure they'll fit snugly with the socks you plan on using.
Ultimately, this comes down to a fit/no fit situation. If they DO fit, they're a solid bargain that outperforms anything else we know of for the price, for the specific purpose of sidehilling with or without snowshoes. For just plain hiking, there are plenty of options that you might like better or worse, but if you're going to be carrying weight on snowy hillsides where setting the edge of boot or snowshoe makes the difference between a nice trip and a long , potentially dangerous slide, these things are the bomb. With the qualifiers above, we can highly recommend them!