Longtime readers know that we've been a fan of Insect Shield clothing since we first started testing it. We've found it to be very effective against mosquitoes and blackflies, and as ticks have moved north and cases of Lyme disease, anaplasmosis, babesiosis and other diseases continue to rise, we're wearing it more and more even when there aren't flying insects driving us nuts. Bandanas, shirts, pants…whatever we can find, we wear.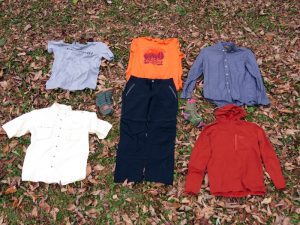 But, there's been a significant problem, and that's the range of clothing available. In particular, there have been no socks of any quality; some cotton ones, which are designed more for construction workers, but nothing that we want to hike in. Given that ticks often enter through the cuffs of your pants and climb up your legs, it's one of the most important clothing options…but without that option, we've been stuck with tucking our pants legs into our socks. That has its own problems in some areas…it allows stuff into the cuff which can be uncomfortable, and when you're someplace other than the backcountry, it can look REALLY stupid. And, of course, you have to spray everything well with DEET, as well, which can be unpleasant. Insect Shield has made some of their own clothing, Ex Officio has made some, as have a few other companies, but the range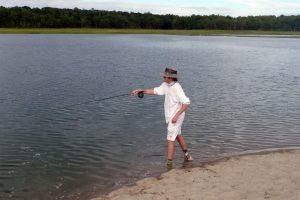 hasn't been great for active outdoors types.
And then came the Insect Shield Your Own Clothing (ISYOC) program. Pick your favorite clothes, send them in, and for a moderate fee ($7-10 per item, depending on how many you send in at a time), you get back fully treated clothing. You choose what you like, what fits you, what works for what YOU do, from hundreds of companies, rather than what one or two manufacturers feel like making for their particular customer base. We were thrilled, and immediately started sending some of our favorite clothing in, and life was good.
But, of course, it can be hard to decide whether something is ACTUALLY working or whether we're just HOPING it's working; Google "confirmation bias" for more information about how we all tend to look at things. After some thought, we realized that the best way to test it was to have identical pieces of clothing, some treated, some not, and see how insects reacted. And, we felt it needed to be new clothing; while we'd been sending in our favorite pieces, those had been contaminated many times with sweat, DEET, whatever else we'd been testing. We reached out to some of our favorite companies…Columbia, Darn Tough, and Atayne…and they all generously agreed to send us matched pairs of some items so that we could have one treated, one untreated, and compare them in the field.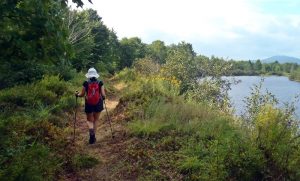 As testers went out and reports came in, we heard nothing but positives. We sent pairs of people out with one wearing an Atayne shirt, Columbia pants, and Darn Tough socks that had gone through the ISYOC treatment, the other wearing identical clothes without treatment, and ended up with some REALLY irritated testers…the ones wearing the untreated clothes, that is. They were stuck swatting flies, constantly looking for ticks and pulling them off their pants and shirts, while the ISYOC testers were smugly relaxed. However, the swatters got revenge when they swapped clothes (yes, sweat and all); in order to make sure that the effect wasn't caused by the PEOPLE being different (we all have that friend who is swarmed by mosquitoes while nobody else is being bothered in the slightest, and if you're unlucky, you're that friend), we had them swap so that they'd be able to compare the effect in the same conditions at the same time. There was no question; it didn't matter who was wearing it, the tester with the ISYOC clothing noticed a significant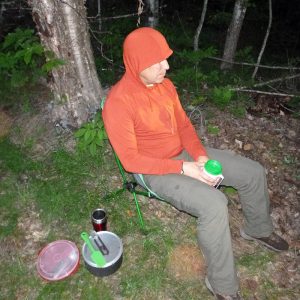 decrease in irritation from flying insects.
As for the ticks; well, that was if anything a more obvious comparison. When flying insects are swarming an area, they're still going to be in your face to some extent, making it necessary to actually pay attention to whether you have more or fewer of them around, whether they're landing or not, whether they're biting when they're landing. Ticks? They're there, or they aren't. When two testers get back to the car and do the clothing check, and one has 8 ticks on his pants and the other has none, it's pretty clear. When it happens over and over, it's more clear. And when two testers are sitting around a campsite and one notices three ticks on his pants, and the other ISYOC-equipped tester has none…well, you start to get the picture.
In fact, if we were to offer an entirely anecdotal, non-scientific opinion, we'd say that Insect Shield clothing is more effective against ticks than against flying insects. Why? Flying insects can land where they want, so can exploit gaps in your clothing; face and back of hands being the place they most commonly land. Ticks, on the other hand, have to grab hold of whatever goes by them and then crawl to the juicy spots…and crawling along a large stretch of noxious treated fabric doesn't appeal to them and the drop off and look for a  more pleasant host. Sure, they can manage to land right at the edge of your shirt collar or something of the sort, but in fact we've never found a tick on our skin at the end of the day when we were wearing full IS clothing.
Since we started the testing, the greatest proof of how effective testers have found it is in the number of "normal" clothing pieces they've sent in for treatment. One tester sent in all 8 pairs of his favorite well-used SmartWool crew socks; now he knows that if he grabs a pair of those green socks, they're definitely treated. Hiking, backpacking, kayaking, working on the lawn, he uses them for everything. Another, known for being a world-class cheapskate who spends a lot of time out with surveyors and clients, scoured Goodwill stores for shirts that he could wear for day-to-day "decent" applications and sent them in; for under $15 each, he has decent looking treated shirts. If they get messed up by wandering through brambles or the like, he can retire to his "beater" wardrobe and not feel bad about it.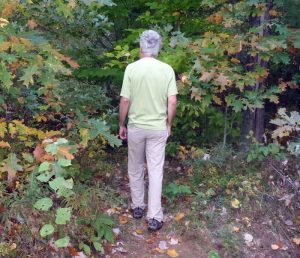 We did run into one interesting effect, though. With certain shirts, in particular one of the Atayne t-shirts, we had a couple of times when particularly rapacious mosquitoes would actually land and bite through the fabric…that was totally outside of our prior experience with Insect Shield. The t-shirt in particular was very thin, and an "athletic" cut, meaning that it fit closely to our bodies, with no looseness. After much discussion, we came to the conclusion that it was caused by one of two factors, or a combination of them:
1. The thinness of the fabric caused it to have a limited amount of permethrin that was being released at a time, causing the effectiveness to be limited, and
2. Having thin fabric that tight to the body allowed the natural scent of skin and blood to overcome the effectiveness of the permethrin so that particularly hungry mosquitoes would zero in on the good stuff and ignore the bad.
We have NO idea whether we're right or not, but we'd recommend not having ultralight, ultratight fabrics treated and expect them to work really well. Note, though, that those t-shirts DID still help; they just weren't as effective as other options.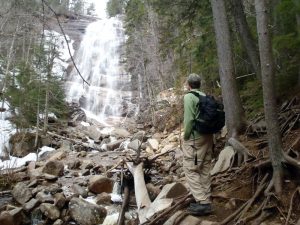 One other interesting experience was when two testers were sitting around in the evening, both with ISYOC pants on, and one was getting his ankles attacked by no-see-ums. The difference? One had ISYOC socks on, as well. Apparently, the little biters could ignore the permethrin and fly up into the cuff and have a meal…but not when they had to get by socks, as well. Score another for ISYOCks! (Yes, we just coined that term, and yes, we think we're funny.)
Something else to think about. One of our testers the other day said "well, time to put the ISYOC stuff away for the year…no more mosquitoes." We all sort of looked at him sideways and waited for him to figure it out…didn't take him long. Yeah, the ticks are still around and are going to be for a LONG time to come. We're keeping our Insect Shield gear out; and in fact, somebody said "hey, why don't we send our longies in? That way we can keep the ticks out for the rest of the year!" Good idea…we can wear whatever we want on top, and have "invisible armor" keeping the ticks off. Given that at least one of us has gotten an embedded tick in January, in Maine, it makes a LOT of sense.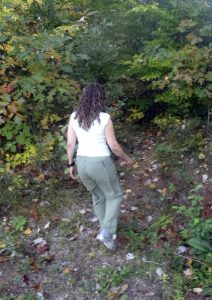 The takeaway? We wish we could afford to send everything we own in for treatment. After getting used to having treated clothing of various sorts on, it actually became irritating to have to figure out what was treated and what wasn't, and we found that a lot of our favorite clothing was just sitting around and not being used because it wasn't treated. There's no greater confirmation of how effective the ISYOC treatment is than that; when you actively choose something that's not quite as comfortable for the conditions because it isn't as bugproof, you know that at a very deep level, you REALLY believe in the treated fabrics. Our recommendation? Send in socks, bandanas, scarves, anything that goes around your ankles or neck, for greatest effect…those are the most common entry points for ticks, and they'll keep other biters out as well. After that, shirts, with pants being the last choice as those tend to be thicker and harder for anything to bite through if it decides to land. And then, as you have a few extra dollars, keep sending more and more of your wardrobe in…you'll use it all more!