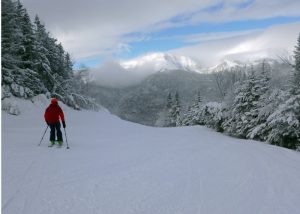 If you watched the snow totals piling up across northern New England on Tuesday, November 27, 2018, it became pretty clear pretty quickly that Wildcat Mountain in Pinkham Notch would be the best place in New Hampshire to go looking for powder. Elevation and proximity to the coast both made a real difference with this early-season storm and Wildcat is about as high as it gets. By Wednesday morning, they had 17 inches of fresh, light snow, while some other areas were getting pasted with a foot or so of cement.
The EasternSlopes.com team got organized early on Wednesday morning and headed up for a powder morning at Wildcat. We weren't on the first chair, but there weren't many tracks to be seen on our first ride up. It being early in the season, we decided we should warm up on a groomer and headed off down Polecat.
That burst of common sense lasted exactly as long as it took us to reach Lynx Lair. We stood at the top, looked at the ungroomed, essentially untracked fluff, looked at the fat AT skis we'd chosen for the day, said, "might as well go for it . . ." and dropped in.
Playtime!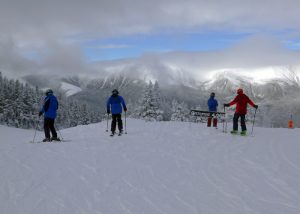 Lynx Lair to Lynx, and from then on we just followed our instincts, seeking out the ungroomed edges of groomed trails and pockets of untouched powder on the ungroomed. Lynx, Wildcat, Catapult, Bobcat–great snow everywhere. We skied the corduroy only when we had to to get from one powder playground to the next.
To save our ski bases for later in the season, we (mostly) stayed out of the woods. The next storm will have everything on the mountain in prime condition
The light was good, temperatures were moderate and the snow was simply phenomenal. It didn't look or feel like November. In fact, if you'd suddenly woken up from a long sleep and someone had told you this was mid-February, you wouldn't have questioned them. The only downside was that our November legs didn't allow us to take as many runs as we would have in February. We skied until our thighs made us stop, and literally limped into the base lodge. You know the feeling . . .
But still, a powder morning at Wildcat is a near-perfect way to end November and get you pumped for the rest of winter!