In Quebec, they call it a "convexity." You're skiing down a steep slope, and you see a lip ahead of you, so you come to a stop, look down and see…nothing. The earth just seems to disappear, and reappear far below you. It doesn't, of course; move (carefully) a few feet forward, and you can see that it simply goes from very steep to INSANELY steep. With trees. Serious pucker time.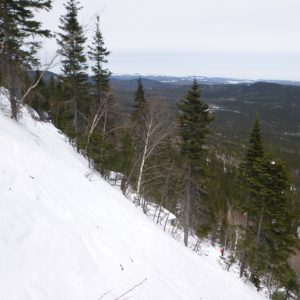 Welcome to Murdochville, Quebec, the home of Auberge Chic-Chac. An old copper mining town that was effectively shuttered in 1999 when mining ceased, it's the home of a lovely lift serviced mountain by the name of Mont Miller…and a growing cat skiing operation that leads to scenarios such as the above. It's all part of a homegrown effort to pull the community back together and make it viable again, and while that's absolutely a laudable goal, we're selfish enough to admit that what we found skiing there made us forget about the community effort entirely. In fact, we often weren't thinking about anything beyond the next turn, the next jump, or the next TREE!
A little background. I had skied in the Chic-Chocs (notice the difference in spelling of the actual mountains vs. the ski operation) a few years back, had waxed eloquent about the unbelievable snow and terrain to my EasternSlopes.com partner Tim Jones, and we'd been looking for an opportunity to get up there and learn more. When we learned that there was a nascent cat skiing operation farther up the Gaspe peninsula, we simply had to go. The stars aligned, and we both had an opening in late March when we could head north and take advantage of prime skiing time. Down in the lower 48, late March signals thinning cover in much of the backcountry, but up there, snow is still piling up as Arctic winds whip across the St. Lawrence Seaway, bringing "lake effect" snow in sometimes absurd quantities. We also were in the process of testing some Elan Ibex 94 Carbon  skis that clearly begged for powder (spoiler alert: they loved it, and we loved them in it); heck, we HAD to go, just to find the powder we needed, right?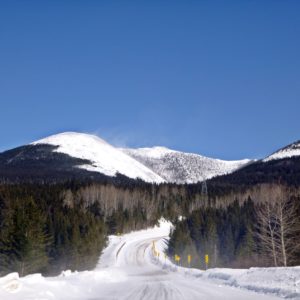 It's a long haul to get to that part of the world, as in a 12 hour drive from Portland. On the way back, starting early, that's not a bad bet for a long day of driving with stops as needed, but going north where there are NO hotels or services for several hours at the end of the ride, not so much. We chose to head up a day early and stay in Mars Hill, ME, taking advantage of Bigrock Mountain to give our legs a nice warmup for the upcoming long days of skiing. That left us with less than 8 hours of driving; an early start, stops for breakfast and lunch, and we arrived by 2, plenty early to get settled in and take a nap before dinner.
A Dying Mining Town…Or Not?
As mentioned above, Murdochville is a town that time, and traffic, forgot. Created in 1950 to take advantage of the copper ore found in the area in the 20s, it began to fall into decay when the mines closed in 1999. As one of the very few inland communities on the Gaspe peninsula, it could be expected to become a near ghost town; the nearest significant community, Gaspe (the city), is well over an hour away. The population dropped from a high of 1,689 in 1991 to 764 in 2011, barely enough to keep basic services alive.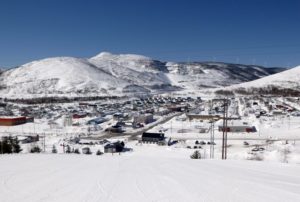 But, Murdochville had four things going for it that most ghost towns don't. The first is really excellent roads because of the mining operation, making it (relatively) easy for tourists to get there. Second is a lovely mid-sized ski area named Mont Miller. With around 900 feet of vertical and 32 trails, plus an abundance of natural snow blowing in from every angle, it's enough to bring skiers in from Gaspe and other surrounding towns on the weekends. With a ticket price of $30CAN, it's affordable for families and a great place for kids to learn the sport and train for ski racing, if they decide to opt out of the national sport of hockey. We took our first day up there to relax and loosen our legs up by skiing the "easy stuff." Don't kid yourself, though; just because it's only 900 feet of vertical doesn't mean you can't get some nice thigh burn. Even though there had been no natural snow in the prior week, and they have no snowmaking, we found powder areas to play in, groomers to relax on, and some wicked tight, fun, and swoopy trails to play on. Score one for Murdochville!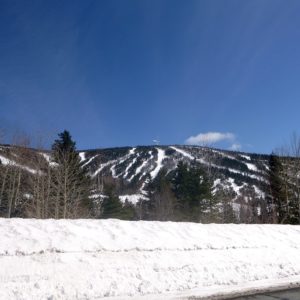 The third thing, and the raison d'etre for the Auberge Chic-Chac operation, is the combination of steep mountains and a legacy of mining roads that climb them, which allows for the snow cats to get to places you normally wouldn't expect.  We were primed for great conditions and great runs, and then met some skiers who were on the way out when we were arriving who had a significant amount of experience cat skiing out West. We asked, and they told us that Mont York was as "epic" as anything they had ever done, and was a great value for the skiing dollar. Not the worst thing to hear knowing that we'd be skiing the same slopes in a couple of days!
Fourth, and perhaps most important, is the driving force behind the operation, a seemingly relaxed but clearly intense visionary by the name of Guillaume Molaison. A young man, with a young family, Guillaume is from Murdochville, and envisions a 4-season playground. He's created an investor group that is allowing for the growth of the ski operation, as well as opening up mountain biking and hiking areas, and offering whitewater rafting. He's put together a team on the ground that is young, hip, and dedicated to the slightly wild character of the operation. And with typical Canadian style, they're as friendly, helpful, and enthusiastic a crew as we've ever enjoyed. Their efforts coupled with Guillaume's visions (he's arranged helicopter transport for guests coming in from Gaspe, for instance) make a compelling case for Murdochville becoming a force in Northern outdoor recreation. Certainly, after trying the skiing, we want to go back and try the summer options…
And Then There's The Skiing!
But, let's face it, nobody is going to make a 10 hour or more drive to ski a nice little ski area. For those of us from outside the area, Mont Miller is a wonderful place to ski before and after the main event, which is snow, snow, snow, all around trees and steeps. Places where you can pick your line and get fresh snow, run after run. And where the steeps are…steep. Remember that word "convexity"? We promise, you'll never forget it once you've skied Mont York.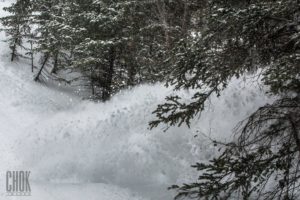 At press time, Chic-Chac is skiing on three mountains. Mont Porphyre, which is visible from the lodgings, is a moderate and more open backcountry area, accessed by cat or helicopter. It's a great place for beginners to learn the ropes, or for more experienced skiers to play in the trees and deep snow. Mont York, on the other hand, isn't for the faint of heart; tree runs, steep slopes, "convexities" make it an adrenaline rush rivaling anything the East has to offer…and maybe the West, as well, based on our conversations. Finally, there's Mount Lyall, which is about a 45 minute drive from Murdochville, and is pure backcountry; they say it's about a 45 minute climb for each run.
With our limited time, we decided to focus on Mont York. First, it's the experience that most nutcases reading this are likely to want, and to head up there for. Second, we were looking to push our limits and learn to ski areas as steep as the Tuckerman's Ravine headwall, but with trees and without a few thousand of your best friends fighting with you for the lines (and no monster ice chunks chasing you down). And third…well, why not? We were looking at conditions that we potentially have never seen down here, so might as well experience them, right?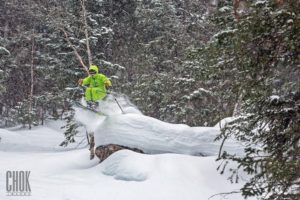 And in a nutshell…wow, what a ride! The natural terrain is spectacular; bowls, chutes, and spines that create micro-climates with their own conditions. One run would be fast and firm, and the next, just a matter of yards away, would be waist-deep in lovely, creamy powder. Every run was distinctive and special, with features that ranged from trees and cliffs to jumps of various sizes built by the Chic-Chac elves. Our guide, Alexi, took the time to describe each run in detail at the top, including whether we should ski to a spot and meet up, or go all the way down. He also did a wonderful job of assessing our skill levels and recommending lines that would allow us to push our limits without making it likely that we'd head out on a backboard. All of us saw improvement over the days skiing there, skiing runs at higher speeds with more control and more fun than we'd ever had before. That's a real bonus over just going skiing somewhere, and it's included in the package.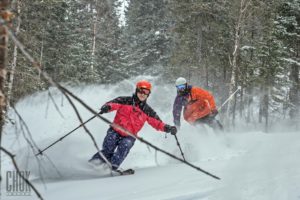 We were joined at the beginning of our first day by a group from around Quebec City who flew into Gaspe, then helicoptered up to Mont York. These guys were GOOD; they literally had skied all over the world (one had just come back from skiing in Japan and brought a bottle of high-end Japanese whisky on our second day, which enlivened the trip back to the Presbytere), and we were afraid that we would hold them back. But thanks to Alexi's advice, we were able to take lines that allowed us to (mostly) keep up without taking insane levels of risk. In fact, we were even at times able to get AHEAD of them, which gave us the fun of watching these guys negotiate some of the terrain that seemed beyond us. There's no better way to figure out lines than to watch someone coming through an area at you, and we definitely improved over the two days with their help!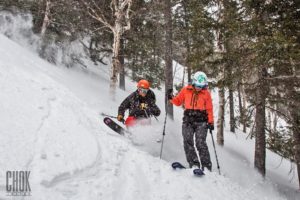 The Quebec City group were able to confirm what we'd heard from the outgoing skiers; these mountains and trails rival the best you'll find anywhere. There wasn't a trace of cynicism to be found; they were having as much fun as we were. Of course, they were taking advantage of features we avoided…well, at least at first. Particularly on the second day, we were able to enjoy more jumps, deeper turns in the trees, and the general sense of being able to do more than ever before; the conditions were so spectacular that confidence came with the package.
Great Skiing + Great Attitudes = Great Joy
Of course, even skiing isn't only about skiing, no matter how good the conditions. The camaraderie that builds with the shared joy of wonderful run after run adds to the memories, and with everyone from middle range skiers and boarders to the very best skiers there having huge grins at the bottom of each run, the mood became infectious, and stayed with everyone long after the days ended. The Chic-Chac employees were instrumental in keeping everyone in the right moods; they were unfailingly helpful, fun, and ready to answer even our most inane questions. It didn't matter whether someone worked in the office, the bar, the restaurant, or was a driver or guide, everyone made sure that we were happy, and were genuinely interested in finding out how our skiing went. Of course, they're all skiers themselves, and the conversations often centered around "I'm going out tomorrow; which runs did you think were the best?"
Lodging & Food At Chic-Chac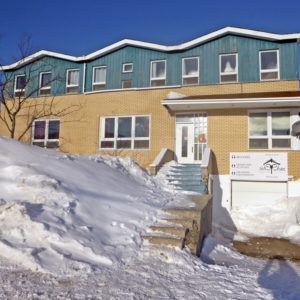 Lodging arrangements for Ski Chic-Chac are a touch unusual. They're working on increasing capacity and quality, but don't go there expecting a 4 star hotel. Or a 3, or a 2. At press time, they had three lodging options; first, the original Auberge du Chic-Chac, which is pretty much a ski hostel. It's clean, there's a few shared bathrooms, and there's a kitchen and a big dining room and a big living room…and that's about it. It's within walking distance of Mont Miller (EVERYTHING in Murdochville is within walking range) and the local supermarket (which isn't bad at all). Bedrooms are "stuff all you can"…double beds, bunk beds, throw a sleeping bag down. Currently, lodging price there is $40CAN +tax/night, a ridiculous bargain by US standards.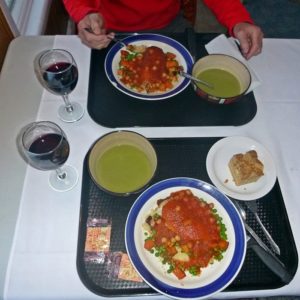 For a bit more, though, you can stay at the Presbytère, which is the main office for the cat skiing operation as well. There, you have nicer rooms, fewer people sharing a bathroom, a nicer sitting area with a pool table, and it's a shorter walking distance to Mont Miller with your skis. Plus, the Mont Miller base lodge is where the dining hall is, so it's a quicker run to get your food, and a shorter walk back after a few glasses of beer or wine. Better still, if you're going cat skiing, you dump your gear down in the basement for the duration, and you can wander up and down whenever you want to. It's nice to come back in from a long day of skiing and just head up to your room and a warm shower. No kitchen facilities, though, so you have to be planning on buying meals. Price? A not-whopping $60CAN +tax/night. It's still a bargain, and unless you're going up on an absolutely strict budget, we'd recommend it.
Finally, one thing about shuttered mining towns; they tend to have a lot of vacant houses. The Chic-Chac elves have arranged to rent some of them, which gives you an option if you're coming up in a larger group. Contact them directly to get an idea of what is available and what the pricing will be, but at press time it was the same as for the Presbytere, $60/night/person. Compare that to renting a ski chalet pretty much anywhere else on the planet, and it's clear that the bargains aren't just on the skiing!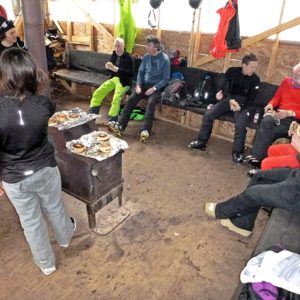 As for the food; it's good, and there's plenty of it. Choice? Not so much. There's a meal board up daily that tells you what they're cooking. You DO have some room to move around in it, and they're very accommodating of things like gluten free or vegetarian. When you see the kitchen facilities, you'll understand; at this point, they simply don't have room to offer a huge range of dishes. And, of course, as a new, smaller operation, they don't have hundreds of people every night who want wildly different "foodie" items. It's a bit more of a Wild West feel; people come in from skiing hard all day, hungry, and having something hearty and wine or beer to go with it is a whole lot more important than whether they had truffle dust on the fries. Put a different way…in our 3 nights there, we didn't see a single person who was unhappy in the slightest with the food choice or quality. In fact, we didn't see anybody who was unhappy with anything, period! Breakfast, there were some choices, from breads and fruit and bagels and cereals to oatmeal and eggs cooked the way you liked. And lunch…well, if you're cat skiing, it's what they bring. Might be bagel sandwiches with brie and ham (hey, you ARE in Quebec!) and fruit and drinks. Trust us, it'll be good, and you frankly won't care; relaxing and getting ready for the next incredible run are pretty much the order of the day.
So, What Does It All Mean For You?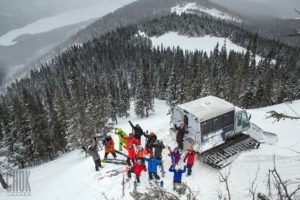 Here's the thing; serious cat skiing has always meant an expensive trip to the West, or to Europe or Chile or something of the sort. A lot of work, a lot of time, and a lot of money. Finally, there's something available to us in the East that rivals the best, for a bargain price (A bonus: Benoit Bisson, owner of CHOK Images, loves to ski, so you'll find him out there getting great shots of you for a very reasonable price. Our thanks to him for the images in this article!). Yeah, it's a long drive, but we didn't find it onerous; good roads (part of the legacy of the mining operation) and not a lot of traffic, and VERY well maintained. No, you can't bring your best duds and preen like an Aspen socialite (unless you want to get laughed at and buy rounds for everyone in sight). If you've got the funds and the travel time, there's certainly nothing wrong with heading out to Glamour City and doing that. But if you want backcountry skiing with top-notch guides, steeps, bowls, jumps, cliffs, trees, and SNOW, you can save a ton of money and get more days in for your skiing dollar. Put it this way…ditch the airline ticket and extra travel time, and you can likely get two more days of skiing for your vacation time/money. And isn't that what it's all about???