Foliage Season In Quebec: Brilliant Colors and French Cuisine!
Instead of visiting your usual (and often bustling) foliage haunts, may I suggest driving a little farther and exploring the less-well-known Eastern Townships of Quebec in autumn? Think New England charm with French language (don't worry, everyone speaks English, too), French flair and French cuisine.
Just over the border (don't forget your passport or passport card!), the Eastern Townships share the same rolling topography with Vermont and New Hampshire: the proper mix of looming mountains, rolling hills and wide valleys. Quebec is the world's largest producer of maple syrup, so abundant sugar maples color those hillsides with brilliant reds, yellows and oranges.
Quebec is also crisscrossed with hiking and biking trails galore. The "Route Verte" is a 4,300 kilometer bike path that connects the entire Province and is now complete through the Eastern Townships. And where there are no designated bike paths the gravel back roads are perfect for quiet rides on a fat-tire hybrid, cross, or mountain bike
My sweetheart Marilyn and I just spent three days of exploring in the Eastern Townships, which included two days of biking inn to inn, and, of course simply fabulous food to fuel it all.
We began our trek in Sherbrooke, at the Delta Hotel, a large "business hotel," convenient to downtown, which becomes a quiet getaway on weekends. Usually the restaurants in business hotels are overpriced and short on quality. Not here! When the dinner buffet includes a superb rabbit in wine sauce, you know you've taken a step up in the world.
Sherbrooke is the a great town for exploring on a bike. There are bike paths everywhere, around quiet lakes, past beautiful parks, through quiet neighborhoods of beautifully kept older homes. It's all just a treat to ride. We pedaled away a good share of the morning and only saw a fraction of the town. But our next destination was still 15 miles away, so we headed generally southwest along La Route Verte to North Hatley and the Manoir Hovey. The path was very scenic, mostly flat, smooth, covered mainly with stone dust where it wasn't paved. Great ride!
In Quebec they take their bike routes seriously. All bike lanes on paved roads are wide and clearly marked. The bike paths are displayed on excellent maps, readily available, and are clearly marked and signed so they are easy to follow even if you can't function in French. Good thing, because there are so many routes to choose from, it would be easy to get confused.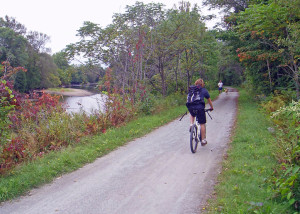 Manoir Hovey, on the shores of Lake Massawippi was more elegant than what we are generally accustomed to, but it's very, very nice to be spoiled like this once in awhile. I highly recommend the experience. They coordinated moving our car and luggage from Inn to Inn as part of their package.
Our third destination was the comfortable Auberge Ripplecove in Ayers Cliff at the lower end of Massawippi. They have a variety of  rooms from the elegant Inn (with spa) to lakeside cottages. We opted for a 100-year-old log cabin set just back from the lake. Perfect. And the food, as usual, was orders of magnitude better than you'd expect—even if you expected a lot.
It would be easily possible to paddle a canoe or a kayak from Hovey to Ripplecove (or vice versa) but we biked. Following excellent directions, we pedaled a network of gravel roads over rolling hills (great workout!) past farms and through villages. No traffic, great scenery and a stop on the church steps in a lovely village for a picnic lunch.
Whether you choose to bike from inn to inn as we did, or park yourself at one place and daytrip out from there, the Eastern Townships is a great place to explore on a bike. We were too early for a real foliage experience, but all of the places we visited still had openings for later in September and early October. So if you are looking for a different experience this fall, check out a foliage getaway in French.
Foliage Season In Quebec: Restaurant To Restaurant Biking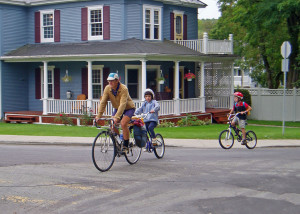 OK, here's the real truth: Quebec has wonderful people, quaint villages, intriguing shops, museums and culture, fabulous scenery, and lots of wonderful things to do. But the real reason we go is for the food. We bike from place to place because it allows us to eat more without guilt.
The food in the Eastern Townships of Quebec is always better than you expect and frequently stunning. Here's an example: we arrived in time for lunch on our first day, but had no plans for anywhere specific. We stopped in nondescript little roadside spot (didn't even have a name, just a sign that said "restaurant"), and had salads with absolutely fresh local greens, grilled chicken that was delicately spiced and perfectly cooked, shreds of a vibrant local cheese and a perfect homemade dressing. The price: $8 Canadian.
Another day we stopped at the Café Massawippi along the bike trail and enjoyed a leisurely bistro lunch. Yet another day we picnicked with gourmet sandwiches, cheese, fruit and fresh vegetables packed for us by the folks at the Manoir Hovey.
Normally we have one hard and fast rule in traveling—never eat dinner in a  business hotel restaurant. Let's just say that, after a day of adventuring, we were happy to break that rule at the Delta in Sherbrooke. The food and wine were orders of magnitude above what you'd expect in a similar setup stateside (try the rabbit in wine sauce with wild mushrooms . . .)
Both Manoir Hovey and Ripplecove are noted for their dining (one reason we chose them) and neither disappointed. You bike in, then feast on seafood, locally raised meats, and local produce, all prepared and served with true flair in portion sizes that satisfy without overstuffing you.
Talk about perfect: all those opportunities for biking, paddling or hiking so you can justify eating—what more could you ask for?
Foliage Season In Quebec: French Lessons
You see an awful lot of very fit people enjoying life in Quebec. As we pedaled, we saw other folks out on their bikes, in-line skating along park paths, or simply out walking with the clear intent of getting somewhere and enjoying the experience.
Then, when it's time to eat, they sit down to a carefully considered meal that's an experience to be savored. How different from just grabbing something and eating it on the go.
Try it. We find we actually eat less and enjoy it more. Not a bad way to live.