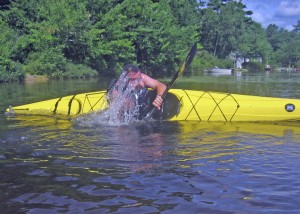 Learning to Roll A Kayak: A Personal Quest
Have you ever tried to learn something new, failed utterly, and then tried again? I highly recommend it. Especially if you are over 40. If you are over 50, it ought to be required by law.
The worse you fail the first time (and the second, third, fourth, etc), the more excited you'll be when (if . . . ) you succeed.
I'm trying to learn how roll a kayak. I could be trying equally hard to learn to surf, sailboard, or rock climb. None of those things come naturally to me. But rolling a kayak is my personal challenge.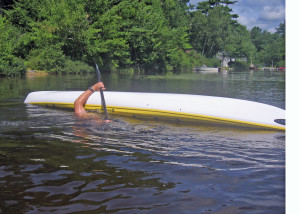 Why Learn To Roll A Kayak?
If you flip over in a closed-cockpit kayak (easy to do in some boats, much harder in others), you have two options . . . well, three if you include drowning.
Option 1 (and your only option if you aren't wearing a spray skirt) is a "wet exit." That's where you separate yourself from the upside-down boat, then either swim it to shore or learn how to turn it over and get back in (a skill in itself.)
Option 2: learning to roll a kayak back upright after you've flipped is much more efficient and looks way cooler.
A couple of years ago, I was out paddling on the chilly ocean on a hot day. Because we were wearing dry suits for safety, my paddling partner and I got really warm in the sun. Whenever I overheated, I had to stop paddling, wet my hair and dip my wrists into the cold water to try to cool off. He, on the other hand just did a quick roll and came up refreshed. See what i mean about "cooler?"
Learning To Roll A Kayak: Take a Lesson!
The best way to learn to roll a kayak is to take a lesson from someone who knows how to teach. There are lots and lost of places to learn whitewater kayaking skills and most will teach rolling. Of course rolling a kayak is a useful skill to have in sea kayaks as well as whitewater boats.
Theoretically, rolling isn't that difficult. When you find yourself upside-down, you simply twist your body to one side, thrust both hands up through the surface of the water holding your paddle. Then you sweep the flat blade of the paddle against the water as you snap your hips under you and (theoretically) flow back into the now-upright boat like a Slinky toy.
Sadly, it's not that easy. It's a little like golf, where you have to get into exactly the right position, then do about 50 different things in a millisecond to all have it come together.
I first tried to learn to roll a kayak a couple of years ago in an early-spring kayak clinic with Zoar Outdoor in Charlemont, Mass. But, every time I turned upside-down in the cold, muddy water, I promptly forgot everything I was supposed to do and had to resort to a wet exit (which I have practiced enough to be really good at.
Then I tried a lesson in mid-summer and warm water with a kayak junkie who promised that, for $30, he could teach anyone how to roll a kayak. We met at a little beach on Island Pond in Stoddard, NH on a warm summer morning. At my request, he got in his own boat, showed me how to do it. He made it look easy. Then we began training me. . . . It was much easier watching him.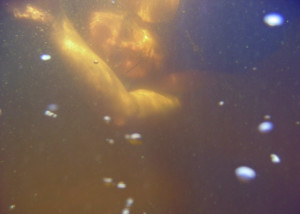 First thing we practiced was "the hip snap" which might be easier for someone with actual hips and a more flexible backbone than my creaky, semi-obsolete model. After a few tries I remembered the move from my earlier attempts. The hard part for me is remembering that your head has to come out of the water last, not first! That's hard to remember when you are upside down under water.
Next I had to get over my trepidations about hanging out upside down underwater. Hint: nose clips make it easier! So does warm, clear water (which is why many people learn to roll a kayak in a swimming pool).Then I began putting it together using my instructor's s hands instead of the paddle. Several times, I managed to do it exactly right. Hooray!!
By the time we got around to adding the paddle, all of the muscles in my torso and shoulders were too tired to respond any more, so we postponed that phase for another day. Despite his best efforts, I still hadn't  learned how to roll a kayak.
Then I took another whitewater kayaking clinic at Zoar. My Instructor, Ben Nautch, broke the process down into even smaller increments and I learned them one by one. Then, on the last afternoon session, I put them all together and actually rolled my kayak three tries out of four. Success! Jubilation!
Of course I wasn't smart enough to go out and practice on my own, and the next time found myself upside-down in a river, I had to wet exit and swim. I still haven't learned how to reliably roll a kayak, but I'm getting closer.
My next attempt to roll a kayak is going to be in a summer pool clinic offered by Contoocook River Canoe Company. That clear, warm water is going to make all the difference, I know it is! And once I have the skill dialed in, practicing will be  a good excuse to get out on the water on these warm summer evenings.
What's your challenge? Rolling a kayak is mine, and it's a good one!