There are some product categories that are just plain more useful than others. You may only use a "monster pack" once or twice a year…but a good sized hydration daypack might get used weekly. By the same measure, there's probably no item of winter outerwear that we use more than our "puffies."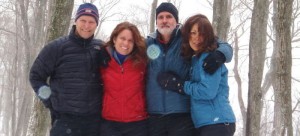 What IS a puffy sweater? Simply put, it's a lightweight, relatively form-fitting jacket that can be used as either an outer layer on its own or worn under a shell. Typically, it's a lightweight nylon shell filled with high fill-power waterfowl down or an advanced synthetic fiberfill. It has a standup collar, sometimes a hood, zippered pockets, and a drawstring at the bottom. Those features turn what might look like a "city coat" into a truly useful piece of outdoor gear. The standup collar or hood provides warmth, and also allows it to layer well under the shell. The pockets…well, that's obvious. When you're out in the woods, you want your GPS or your flashlight well zippered in! And the drawstring both helps with fit under a shell and with keeping stray winds from chilling your kidneys, dramatically upping the warmth value of the puffy sweater.
Okay, so…a lot of these factors can be found in fleece, too. Why doesn't that work the same way? There's several very good reasons why we use puffy sweaters instead of fleece. First, plain fleece has virtually NO wind resistance. That dramatically limits its value as an outer garment. Second, windblocking fleeces tend to have a stiffer feel…not as nice under a shell. Third, something puffy tends to fill gaps between the shell and the underlayer reduces drafts yet again. I actually use my puffy under my motorcycle jacket…it's an absolutely snug fit, and blocks everything, adding warmth beyond its pure insulating power. And fourth…there's just something cozy and comforting about a fluffy, puffy jacket when you're cold. Irrational, but true.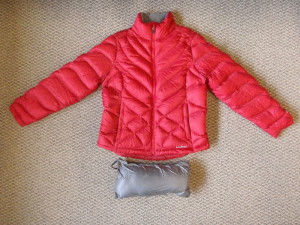 So…how did we choose our jackets? Tim and Marilyn have one perspective, Susan and I have another. Let's start with us…leave them for later. I love down, for several reasons. One, it's silly light. The higher quality downs available (think "650 fill power" or better; the number equates to the number of cubic inches filled by an ounce of uncompressed down) allow for a lot of insulation with very little weight. My jacket is a North Face 900 fill power that's no longer made;  it's a great jacket, although a little boxy in fit. The closest to it that I could find was an 850 fill power from L.L. Bean, which is actually a nicer jacket, due to being a little less boxy (makes it slightly lighter, too). So when I was looking to get one for Susan for Christmas, here's what I went for. Hers has prettier details than the men's jackets, of course, but the function is the same. Hand in hand with the low weight comes extreme compressibility; her jacket stuffs neatly into its own inside pocket and ends up being about the size of a football. All that warmth, and it takes up almost no room in a pack!
Tim's a fiberfill guy, so he has a Primaloft jacket from Eastern Mountain Sports. And, true to form, Marilyn's jacket is almost the same as his, although better looking (so is she, of course). Primaloft is one of the new generation of synthetic fiberfills that are much lighter than the old guard, and allow moisture to pass through better. Their jackets have some cool features; they're designed to match with specific EMS shells as a system, and they have underarm zippers to keep you cool during aerobic sports. Tradeoff…they don't have the internal pocket/stuff sack, so they don't pack as well. Also, they don't pack down as small as ours, either…and they weigh a few ounces more.
Then why didn't they get down, too? Simple reason: down's pretty much useless if it gets wet. Tim's a "worst case scenario" person, and would rather have something that provides SOME insulation if it gets wet. I'm a "prepare for the worst" person, so I plan for wet weather, make sure my jacket's in the drybag with my clothes when it's packed, and have a waterproof shell so I don't have to worry if somehow rain's coming down at a temperature when I would be wearing the puffy. In return for my efforts, I have room in my pack for something else…perhaps extra handwarmers, another set of long underwear, maybe even a couple of brownies for a late-night splurge. And, of course, if I use that extra room for food, I'm only carrying the weight one-way!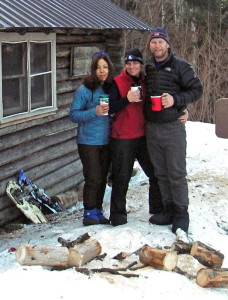 Now, Tim will argue that he doesn't have to worry about a drybag…the puffy can be right out in his pack ready for use at any time. He's right; that's an advantage. He'll also argue that I don't really need the brownies…he's right there, too, darn it. And he'll argue that the difference in weight between the two jackets has reached near-microscopic levels…and he's right there, too (mine runs just under a pound; his is just 4.5 ounces heavier). On the other hand, I'll argue that the shell on my down puffy is water resistant enough that it would take a fair amount of moisture to penetrate, unlike earlier versions of nylon, and 4 ounces isn't entirely insignificant when you're trying to lower your pack weight in every way.
The fact is that 20 years ago, both versions of the puffy were much less functional. Earlier down jackets "bled" feathers at an alarming rate and weren't very wind resistant; earlier synthetic fiberfills were heavier, less compressible, and didn't breathe well, making them clammy. Now, the two are converging rapidly. I'd be very happy with Tim's jacket…and while it might be tough to get him to admit it, I've seen him steal mine once in a while. And with newer versions of Primaloft, Climashield, and other synthetics on the horizon, the differences may become even smaller.
In the final analysis, our opinion is: If you value light weight and compressibility over anything else, get down. If you value ease-of-washing and not worrying if your jacket gets wet, get synthetic. Either way, get a puffy if you don't have one…you won't regret it. The longer you own one, the more you'll find yourself using it, in tents, cabins, woods, cities…everywhere!