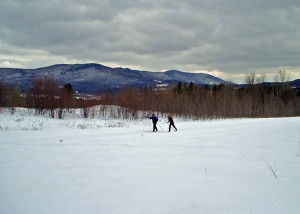 A winter day: there's snow on the ground, sun in the sky, and this is the perfect time  to get out on cross-country skis. If you aren't a cross-country skier already, what are you waiting for? It's safe, easy to learn, and great exercise for folks of all fitness levels. Take up cross-country skiing now and, instead of grumping around feeling trapped indoors, you'll be sorry to see the snow melt in spring.
Cross-country skiing doesn't require nearly as much snow (or as much money) as alpine. What follows is not a comprehensive list, but rather some personal favorites where I've actually skied. Try any of them this winter: good times guaranteed:
Tim's Favorite Places To XC Ski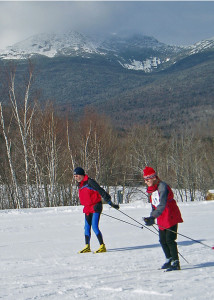 The Great Glen Trails Outdoor Center in Gorham, N.H. is one of my all-time favorites with phenomenal views, an extensive network of trails ranging from super-easy to "Oh-My-God" challenging.  They've got the unique "Snow Coach" service which takes you 4.5 miles up the Mount Washington Auto Road to tree line, and lets you ski back down.
If you want to stay overnight and ski the next day, I recommend the AMC's Joe Dodge Lodge where they feed you a great family-style breakfast and dinner in the company of other active outdoors enthusiasts. If you must have a private bath, head back down to Jackson where they've got   lodging and dining options galore.
Jackson is also home to the fabulous Jackson Ski Touring Foundation which offers more trail choices and diversity than anywhere else in New England.
Another personal favorite in New Hampshire is the Waterville Valley Nordic Center in Waterville Valley. Great trails, lots of lodging and dining options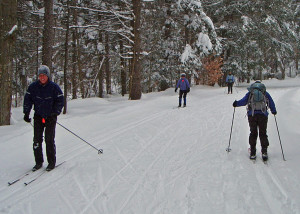 Vermont has many, many cross country options and I haven't skied all of them. But my personal favorite is the Trapp Family Lodge in Stowe, Vermont. It's not surprising that their cross-country network is among my favorites. Trapp's was the first true cross-country ski resort in the U. S. , starting in 1968 (the year I first cross-country skied!). Currently, they groom about 45 km for both tracks and skate skiing, make snow on seven or eight km (more than any other resort in New England, I believe) and mark another 100 km of backcountry ski and snowshoe trails. . . .
If you're skiing Trapp's for the first time, make the Slayton Pasture Cabin your goal. It's about 5km from the main lodge via the very steep Cabin Trail or almost 6 km by the route along Sugar Road,  then up (and up, and more up) the not-so-steep Parizo Trail and across the mountain's shoulder on the far end of Cabin Trail.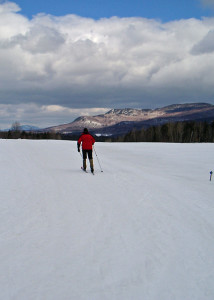 My other favorites in Vermont are the lovely Mountain Top Inn in Chittenden, Vermont, which is about 11 miles and lightyears in attitude away from Killington, and  a perfect romantic weekend getaway spot with wonderful trails and a world-class sledding hill.  Ole's Cross Country Ski Center in Warren, Vermont, which has its core trails on what is an airport in the summer–wide open spaces with wonderful views of Sugarbush.
Two more of my cross-county favorites are over in New York. Garnet Hill Lodge XC Center in North River NY  has a wonderful rustic lodge, good food, and miles of trails—including one you can ski down from the top of Gore Mountain.
Then, up in Lake Placid the Olympic Sports Complex at Mt. Van Hoevenberg is truly world-class. Olympic quality racers ski there all the time. It's also the only spot where ordinary citizens get to try out the fiendishly tough sport of biathlon. When we are in Lake Placid, my sweetheart Marilyn and I usually luxuriate at  the Mirror Lake Inn or the  very-comfortable Crowne Plaza . . .
There are so many places to cross country ski. So go, try it. Take a lesson if you need to. Start on an easy trail but start somewhere. Life isn't a spectator sport. Get out and enjoy!
I Love Golf (Courses, That is!)
Some of the very best places to XC ski are golf courses. As far as I'm concerned, they could skip the golf . . . (though I suppose it's something to do in the summer . . .). Cross-country ski centers on golf courses (almost) always have very gentle, rolling hills and smooth trails –perfect for learning.
Cross country skiing near Boston? You better believe it! Weston Ski Track in Weston, Mass. gets more snow in some years than some northern areas, and has snowmaking when Mother nature doesn't cooperate.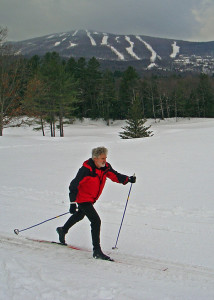 In Maine, try the Bethel Inn for a lovely setting, on the edge of a charming New England village with views across the Androscoggin River valley to the mountains of Western Maine! (Nice place to stay, too!)
If you are in the Sunapee or Upper Valley regions of New Hampshire, check out the golf-course trails at Eastman Cross Country Center in Grantham, NH. Not as flat as most golf courses!
Okemo Nordic Center in Ludlow, Vermont is a wonderful golf-course-based cross county ski center and a great escape from Okemo.
Another of my golf-course-plus  favorites  is the Bretton Woods Nordic Center in Bretton Woods, N.H. The new owners are hoping to have people refer to this historic landmark as  "The Omni Mount Washington Resort," but it'll likely always be "The Mount Washington" to most people. Anyway, they haven't changed the Nordic Center's huge trails system, beautifully groomed, which stretches up into the hills. You can even ski down from the top of Bretton Woods on your cross country gear via Mountain Road, which makes a wonderful excuse for a picnic on a warm spring day.
And The Winner Is . . .
My personal favorite place to cross-country ski?  That's easy! Wherever there's snow. Try it. You'll like it!