Kayaks and islands . . .  sounds like a good combination, doesn't it? It is.
Many of my best adventures in a kayak have involved islands. Most of the rest have involved rivers. So an outing involving a kayak, a river, and an island would almost have to be memorable. And if you add in an overnight camp out, it gets even better . . .
Through a quirk of fate, my trail buddy and business partner, EasternSlopes Publisher and Senior editor David Shedd has inherited part ownership of an uninhabited 5-acre island in one of the major rivers of New England. Though we'd talked of it often, I'd never been there and he hadn't for many years. As David told it, the island was an easy paddle to reach and, since it completely flooded each year, there were no blackflies, ticks or mosquitoes. Supposedly, the island was covered with ostrich ferns (Matteuccia struthiopteris) more commonly known (and eaten!) as  fiddlehead ferns.
As it turned out, some of what he remembered was actually true.
We loaded our gear in the kayaks at the closest launch ramp about two miles upstream of the island and set off in a fairly swift current.  A stiff upstream wind meant we still had to paddle, and there were, at times, waves that bordered on ominous in our heavily-loaded kayaks. In retrospect, with cold water, winds and waves, we should have had on wetsuits and spray skirts in addition to the PFDs we each wore.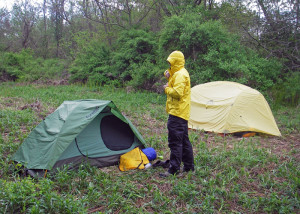 The plan was to paddle back upstream the following day. Paddling upstream is generally  not that hard if you stick to slower side currents as much as possible.
We arrived at the island quickly, beached the kayaks and pulled them well above any recent high-water marks. David has a story of beaching a canoe here and his father having to swim for it when the water rose unexpectedly.
It only took a few moments to unload the boats and pitch the tents in a clearing beside the river. The clearing was covered with the stalks of last year's high weeds and new weeds sprouting among them. We had to stomp out places to pitch the tents.
David's memory of no bugs on the island was flawed. While there were indeed no blackflies or mosquitoes, there were lots of ticks and they quickly made their presence known–perhaps because we were on high lookout for them given the number of ticks we've encountered in other places this year. We took immediate preventative measures—long pants and shirts with sealed cuffs and DEET based insect repellent at cuffs and collar. For more on tick protection, go here.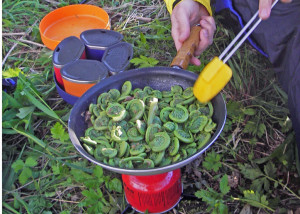 Camp life is camp life always relaxing. We passed the afternoon fishing from the kayaks (no luck), exploring the island, reading, taking a nap when it rained, and picking fiddleheads which were growing in abundance. We had some for dinner with venison stew.
The evening's entertainment at our island campsite was one of the most amazing, stunning, beautiful displays I've ever seen in a lifetime of roaming the wilds.
Our tents were pitched on high ground above a half- acre or so of Phragmites reeds growing on the water's edge. As we ate dinner we could hear a few male redwing blackbirds calling from them. And a few females answered from the trees above out heads.
As the sun lowered, more and more male blackbirds dropped into this patch of reeds. At one point we could see 50 or so flitting about and hear many more besides. We estimate at least 150 to 200 males congregating in that one small patch of reeds. The noise was amazing, just a few decibels below deafening. At the same time, an approximately equal number of females in pairs and small groups arrived to perch in the trees around us. They, too, were calling but more quietly.  We felt like chaperones at a junior high dance watching the girls and boys display for each other but not quite know how to get together.
Then the actual dance began. First solo females, then pairs and eventually small flocks would drop into the reeds and the males' calling would get even louder. A few females would fly out but more always would drop in. Eventually, several hundred (300? 400? Maybe many more!) redwings were all congregating and singing in that one patch or reeds. A blackbird orgy? It lasted until the last light faded from the sky and peepers and toads took over serenading duties.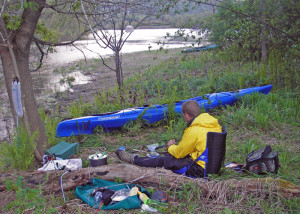 I doubt I'll ever forget the sight and sound of that spectacle. I hope I get to see it again sometime.
The next morning we picked more fiddleheads to take home—well over 50 pounds between the two of us—packed up the kayaks and paddled back upstream. It wasn't easy, but it wasn't impossible, either.
Planning a kayak camping trip isn't all that hard if you have the kayak  and the camping gear. I haven't found a one-stop resource for river and lakeside campsites,. Oddly enough, the comprehensive AMC Whitewater and Quiet Water Paddle Guides don't  include campsites. But the guidebooks for the Northern Forest Canoe Trail (www.northernforestcanoetrail.org) and the Maine Island Trail (www.mita.org) are good places to start and any paddle shop near the water you want to explore should be able to point you in a direction. There are also lots of campsites scattered across New York's Adirondack Park, many listed at www.dec.ny.gov/outdoor/camping.html. If you know of a good resource for finding canoe and kayak campsites, please let me know. And if you have questions, don't hesitate to write.
Life isn't a spectator sport. Get out and enjoy!
Gear Notes:
Kayaks make wonderful backpacks. Weight isn't quite as significant with kayak camping as it is with backpacking because the water caries the weight and all you have to do is propel it along..
Don't try to put everything in one bag– a mix of larger and smaller bags lets you pack more efficiently.
Just make sure you secure everything. If you ever tipped over, the last thing you'd want is to watch your heavy gear sinking to the bottom while your lighter gear floated away.
Kayaks:  David and I both used Pungo kayaks from Wilderness Systems , his a Pungo 120 12-footer, mine a Pungo 140 14-footer. The 14o is definitely a much better vehicle for camping with more space and more weight capacity. It's also easier and faster to paddle
Dry Bags: We packed most of our gear in an assortment of dry bags. Most of mine are  from  Sea to Summit — they have a new one tapered to fit into the bow of a kayak. We each also happen to have a big, heavy duty dry bag duffels from Cascade Designs/Sea Line , both decades old and still functioning flawlessly.
Tents: With rain in the forecast, I had brought a three-person tent, an MSR Carbon Reflex 3 to give us both a spot to sit, talk and eat if the monsoon set in. David also brought a new  Backcountry 1 solo tent from  Eureka. Both tents performed flawlessly.
Sleeping bags/pads: I was testing a  lightweight , inexpensive 30-degree synthetic called the "Silver City" from Eureka. Initial impression entirely positive, more testing needed. David was using a Klickitat X 40 mummy from Coleman, which, since the temperature dropped to the low 30s was a bit challenged
Stoves/cookware: Continuing our tests on canister stoves, we used the F1 Powerboost stove from Coleman and it performed flawlessly in wind and rain. Stay tuned for a full report. Our cook/campware was the new Flex 4 system from MSR. Stay tuned for a comparison with similar all-in-one systems/