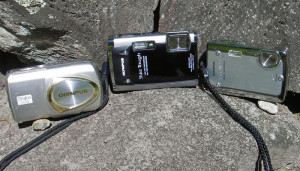 Why would anyone list a simple point-and-shoot camera as a "favorite thing?"  It's simple: about 90 percent of the Active Outdoors photos you see on this website or with my newspaper columns were taken with one Olympus Stylus camera or another. They are rugged, waterproof, almost foolproof, and they work in all conditions from summer heat and humidity to winter cold.
I use two models day in, day out.  One is a Stylus 6020 "Tough" 14 megapixel camera;  the other, an older Stylus 720 SW (the SW stands for Shockproof/ Waterproof) 7 megapixel camera. I have a dive housing for the 7020 and it goes with me whenever I'm playing in or on the water. David Shedd, the publisher and Senior Editor of EasternSlopes.com has a Stylus 1050 which is a 10-megapixel version of the same camera. Most of the time, we shoot at 5 megapixels, saving card space. That's plenty for web and newspaper use, and we have the capability to go to higher resolution when we need it.
All three of these cameras are supposed to be waterproof to 16 feet and shock proof enough to withstand a fall from 5 feet. We haven't tested them to these limits. But I like not having to worry about the normal bumps of use, or having to hide the camera when it rains.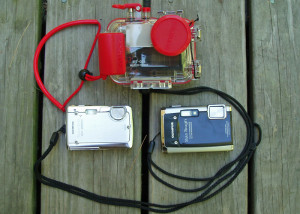 Before these cameras my "everyday camera" was an Olympus Stylus 410 Digital which wasn't shockproof and was only rated as "splashproof." It survived five years of hard use (including the biking accident that broke my collarbone). Winter and summer, spring and fall, it shot thousands upon thousands of photos. My son has taken it for his outdoor adventures and still works fine. The computer in it did malfunction once. I returned it, and had a replacement in days. It's worked perfectly in the years since. In my experience, Olympus has great customer service.
Please understand: every time I leave the house one or more of these cameras goes with me. They've ridden in cars, planes, trains, gliders, helicopters and boats large and small,  on bikes, snowmobiles,  snowcats and horses, been canoeing, kayaking, windsurfing, surfing, fishing, skiing, snowshoeing and on dozens of summer hikes. And they always work. If I do my part, they always work well and get great photos.
No wonder the Olympus Stylus cameras are one of my favorite things.