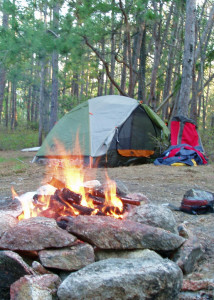 Have you gone camping yet this year?
If your answer was "yes," hooray for you! I'll bet you can't wait to go again. If you've already been, then you already know how much fun you can have just setting up a tent, sleeping in it and using it as your base for day and nighttime outdoor explorations.
I've spent close to a dozen nights in tents since January 1. I wish it was a lot more. I've also done a couple of wilderness cabin treks, which are fun, but when I say "camping" I really mean in a tent with a pad and a sleeping bag. The more portable it is, the more you are camping.  (Sorry to all you RVers out there, I know you are having a great time and I'm glad for you, but as far as I'm concerned, you aren't camping.)
If your answer is "no," then I'll have to ask a second question: why not?
Let's see if I can guess some of the common answers to that question and maybe get you to at least consider getting out and sleeping in a tent sometime soon.
1) "I don't have time." I'll absolutely concede that modern life is too busy. None of us have the free time we want. But you have to sleep and eat sometime whether you are camping or not, and I'll bet there's a place to camp close enough to your home that you could get there and set up a tent and a rudimentary camp kitchen in less time than you'll spend watching TV or sitting at the computer in a typical evening.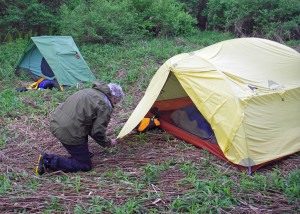 2) "I don't have all the gear I need." And the corollary: "Camping gear is too expensive." If you don't have the gear or the money to buy it, try borrowing, renting or buying used. That's how most of us got started. Ask anyone you know who has camped, or everyone you know if they know anyone who has camped. There's lots of perfectly good stuff sitting unused in attics and closets. Eastern Mountain Sports rents good gear and applies the rental fee to later purchase. Some on-line companies like Lower Gear and GITTO rent gear and deliver it to your door, but that requires more pre-planning
3) "I don't know how." This is the real crux of the issue. Look at my earlier story  on Incremental Camping which outlines step by step how to get started.
4) "My idea of camping is a three-star hotel." My sweetheart Marilyn felt this way when I first met her. When I first told her how much fun it is to camp out, I know she didn't believe me; I could see her thinking about bugs and mud and sleeping on rocks. So I started her easy in the AMC huts, then took her roadside tenting, finally got her to go backpacking. She still isn't real enthusiastic about camping when there are blackflies and mosquitoes about (I must admit they aren't my favorites, either.) But generally she loves it. And if she can learn to love it, so can you.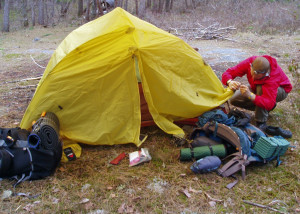 Something to keep in mind: The first trip, whether it's the first of the year or of your life, is always the toughest. But once you've gotten your gear sorted and organized and know how to use it, you are good to go for the whole summer.
Life isn't a spectator sport. Get out and enjoy some camping!
The Great American Backyard Campout!
In an effort to get people outdoors and having fun more often (great concept!) the National Wildlife Federation is promoting an event on a Saturday in June ( June 26, 2010) called the "Great American Backyard Campout. Yes, it's partly a fundraiser for that great organization's efforts to get more kids involved in the outdoors, but it's also just another excuse to go camping.
They are asking people tyo spend that night out "under the stars" though most of us here in the northeast at least will want mosquito netting between us and the stars at that time of year.
Great American Backyard Campout will take you right to a page where you can, after you register, get camping tips, find places to camp, even connect with other folks in your area who are camping out that night.
Campfire Caution
For many people, the heart and soul of a camping trip is the evening camp fire. That's all well and good in established fire pits and when conditions are safe.
As I write this, the air is thick with smoke from wildfires burning over 300 miles away in Quebec. There's no reason to believe these fires were accidentally started by campers, but there's also no reason not to. If things are dry, be extra cautious with your campfire or, better yet, go without. The stars shine brighter when there's no other light around.