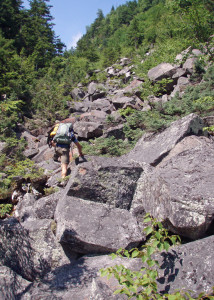 If you are looking for an usual hiking adventure for a hot summer day, the Ice Gulch in Randolph, NH, is perfect!
It was a bright, hot, sticky summer morning when EasternSlopes.com publisher  David and I struck off from Randolph Hill Road in Randolph, New Hampshire. Persistent thundershowers had dropped several inches of rain in the previous 24 hours, and it felt like a we were walking through a tropical ran forest with hot sun above, water dripping from the trees and every step squishing in water-soaked moss. In places, the trail was a running brook.
Our plan was to hike the Ice Gulch Path, then bushwhack through Hunters Pass over the ridge into the Kilkenny area of the White Mountain National Forest and camp, then return the next day and hike out Cooks Path from the top of Ice Gulch back to the road. So we were carrying light overnight packs. The plan sounded good when we made it . . .
The Ice Gulch path is maintained by the Randolph Mountain Club, a 100-year-old, all-volunteer organization which maintains over 100 miles (102.65 miles, to be precise) of trails in the northern White Mountains. Go to their website, and click on "The RMC Trail System" for a list of their trails. You can download an Ice Gulch PDF which details the Ice Gulch path. Better yet, buy their guidebook and maps (under "Stuff We Sell") and help support the organization.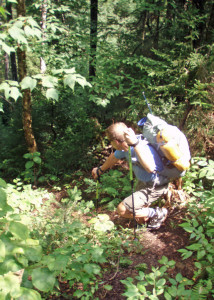 The PDF describing the Ice Gulch carries this warning: "This is a difficult hike, involving careful climbing over wet, slippery rocks. Only visitors comfortable with travel in challenging terrain should attempt this trip.."
Believe it . . .
The first couple of miles of the trail are an unremarkable stroll through mostly second-growth woods over a series of small finger ridges, crossing a couple of brooks. When you reach a spot called "The Marked Birch," the trail forks. I'd recommend taking the right-hand path which brings you on a half-mile loop by Pebomauk Falls. Part of this path is a v-e-r-y, steep decent to the brook. Be careful if it's at all muddy—you will slip.
Eventually, whichever fork you take brings you to the base of Ice Gulch itself. That's where the real fun starts.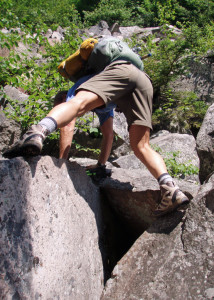 By the time we started the blazing sun had dried the rocks in the lower part of the gulch so footing was good. Still, this was tough scrambling over uneven boulders—you are going to need both hands. Our larger, heavier overnight packs didn't help matters any.
About a third of the way up the gulch, you enter a different world. Even on this August day when it was over 90 degrees everywhere else, the middle sections were cool and refreshing. It was exactly like walking from a scorching parking lot into an air-conditioned building and we lingered in the pockets of cool air. The vegetation is very different here (it's described in the PDF) and the rocks are probably always damp and slippery from the mists. Looking down into crevices among rocks, you could see flows of gleaming ice running back into the darkness. The upper part of the gulch was steep, moss covered, and often treacherous—especially where recently-fallen trees blocked the marked trail. Unless you are Iron-Man fit, you are going to be tired when you get here and more likely to make mistakes.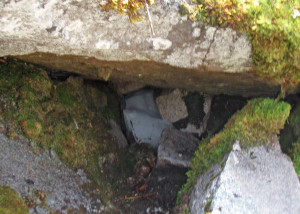 Obviously, it isn't for everyone, but for a strong, experienced hiker, the Ice Gulch Loop is a challenging day hike. Better still it's an adventure into a magical world where everything is just a little different.
If this were close to a road, there'd be a tourist trap with elevated boardwalks. Thankfully, it's two miles from the road and the only people who see it have to earn the privilege.
It Ain't Always The Mileage
If you only look at the miles you have to walk, climbing up the Ice Gulch path (3.9 miles with the Pebomauk Falls loop and about 1100 feet of vertical gain) and down Cooks Path (2.5 miles loosing 900 feet of altitude) looks like an easy morning's hike. Don't be fooled.
It took us only a little over an hour of easy walking on a very hot day to reach the Marked Birch, and another half-hour or so to reach the base of Ice Gulch proper. The mile or so up through the Gulch, carrying light overnight packs, took three and a half hours with a short stop for lunch. Given how steep, uneven and slippery it was, we just didn't dare try to move any faster.
By the time we made the top of the Gulch, it was mid-afternoon and we were tired, so we bailed on our original plan. Rather than bushwhacking onto National Forest Land where we could camp, we hiked out and drove to another backcountry campsite that's an easy hike from the road.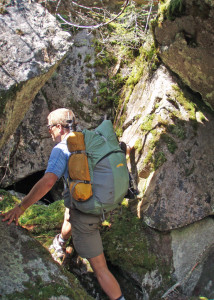 If you are going to do Ice Gulch , wear boots with lots of traction. Bring a lunch and water and your hiking essentials in a daypack. Plan on spending the day and enjoying this amazing place.
By the way, I wouldn't recommend hiking this trail alone. It's also not a hike for little kids and dogs. That's just asking for trouble. Take the warnings seriously—this is as challenging a trail as I've ever seen in the Whites.
And don't count on making a cell phone call for help if you get into trouble. You may get cell service near the top, but you won't down in the heart of the Gulch. Do yourself a favor: Be smart and don't get into trouble in the first place.
More RMC
In all the Randolph Mountain club lists 70 trails on its roster—though, sadly, one of them, the trail up Owl's Head mountain has been closed by a private landowner. Some of these are short and easy strolls, some of them are major challenges.
The Randolph Mountain Club is 100 years old this year. If you hike all of their trails and record it in an official logbook you can download from their website or pick up at the Randolph Public Library. Everyone who completes all the trails will get recognized on the website.
Sounds like fun to me—and late summer and fall are the best times to hike in the Whites.