"Love beareth all things, believeth all things, hopeth all things, endureth all things." -1 Corinthians
"Fools rush in where angels fear to tread."  -Alexander Pope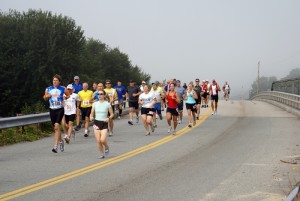 There has to be a good reason why two nominally sane people would decide to do a one-day race that includes a 10k run, a 22.4 mile bike leg which climbs up Pinkham Notch to the Wildcat Mountain parking lot…and then requires someone to run up Wildcat to the finish line at the summit!  But, as a newly engaged couple, Susan and I thought it would be a good way to commemorate our commitment; why not do something that qualifies us for being committed to an insane asylum?
Let's take a step back for a minute.  A couple of months ago, a press release hit my email about Sunday River's "Tough Mountain Challenge." Somehow, Susan challenged me to race against her in it, on the assumption that her better balance and coordination would overcome my greater strength and uphill speed.  Fair enough.  But, just thinking about that race made me wonder what other versions of insanity are out there…which led me to the Wildman Biathlon.  In its 22nd year, it's billed as "New England's toughest single-day multi-sport event."  Gee, how enticing.  Pay money to hurt yourself more than you can in any other event!
But, as the quote says, "fools rush in"…and yes, we're those fools.  Being the hopeless romantics that we are (with the emphasis on "hopeless", or perhaps "clueless"), we thought that supporting each other through the race would enhance our commitment.  And, of course, we LIKE testing ourselves.  So, in went the registration forms for us as a 2-person team.
Now, once we had made the plunge, reality set in.  We had 2 weeks to prepare, neither of us had been running at all (I never run if I can avoid it, which makes it even worse), and even my racing friends thought I was nuts.  Time to pull out all the stops!
Step one was to check out the course.  We took a day and headed up to see how we'd do on it.  We decided that Susan would do the run, I'd do the bike, and then we'd both run up the mountain together to see who would be faster.  Great idea…not.  Susan ran the course while I warmed up on the bike; as soon as she finished, I took off and rode the bike leg.  By the time we met up in the parking lot at Wildcat, we were both wondering what insanity made us want to continue up and climb to the top.  Wildcat, for those who don't know it, is a 4000+ foot mountain, and from the parking lot, the climb is well over 2000 feet to the top.  After a hard run and bike, this seemed totally ridiculous…expecially standing at the bottom and looking up.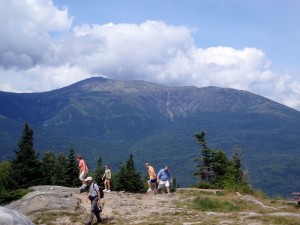 Turns out that ridiculous didn't even begin to cover it.  Clearly, the organizers of the Wildman have a sense of humor; they call it a "3 mile uphill run."  Run…no.  Walk…maybe.  Crawl…that's more accurate.  I got a bit of a lead on Susan, and then my left leg promptly cramped up; part of the problem was finding out that regular running shoes are NOT ideal for trails like this.  I was spending way too much time trying to keep my footing, which killed my legs.  So,  as I stood in the middle of a trail like a sweaty statue, she sailed by me.  Finally, the cramp released enough that I could start to slowly walk again; by now, Susan was barely in sight.  Still, slowly I caught up to her, passed her again on a steep section…then she passed me…you get the picture.  As we reached the final climb, we were side-by-side, and decided to just climb to the summit hand-in-hand.  Ah, togetherness; so far, we were living up to the Corinthians quote!  After much thought, we decided that on race day, I'd do the uphill leg, as she was more likely to badly abuse herself on the run and have trouble climbing.  One thing I'd learned, though, is that when I'm trying to race up those steep sections, it's natural to lean forward, which collapses my chest and inhibits my breathing.  For the last 6 months, I've been testing versions of the Opedix PS-1 shirt, which holds my shoulders in the ideal position for maximum breathing capacity (full review to come).  No question in my mind…if I wanted to improve my time, that would be a big help come race day!
That left us with a week and a half to get ready.  A quick look at the Wildman website showed us that our times from the test run would put us…well, pretty much DFL (for people who are new to racing, that stands for "dead last").  Now, racing, for us, is about getting out there and DOING it, not about winning…but, we're competitive by nature, so wanted to do our best.  Time to call in our "big guns"…a/k/a asking our successful racing friends what they recommend we do to prepare.
So, Susan called her friend Karen, who had been a highly successful college runner.  She came up with a plan…which promptly got scuttled, as Susan developed sore shins on the first training run.  Time for Plan B; bike along with me to keep her fitness up, but let her shins recover.  Learn from our mistakes…when you decide to try a race like this, start your training earlier!
My secret weapon was Jeff Dixon, or as I tend to call him, "Dr. Death."  Anyone who's ridden with him understands that name; his idea of a good time is setting a pace on a group ride that makes people behind him drool and cry.  A Cat 2 racer, he's ridiculously strong, and he's also an utter geek; he follows an exacting regime to prepare himself for races.  His first reaction was "you're doing the race when?"; apparently, he doesn't think much of people who aren't planning at least a month ahead.  Welcome to the real world, Jeff.
But, he was game to give it a try and see if he could improve my time.  The orders came in:  "Sat/Sun- Crush it for 90  minutes each day.  Monday- Light spin, 45 minutes.  Tuesday- 60 minutes, 4 8-minute intervals, relax between."  Etc…right through to exactly how many watts I should put out in my warmup for the race on Saturday morning.  It sounded horrible, but he's the expert.  Besides, he offered to loan me a set of his Zipp 404 race wheels, which are almost a pound lighter than mine.  Bonus!
I'll admit, I've never followed a specific schedule for a race in my life; I'm too lazy.  But, I was also testing a CycleOps PowerTap setup on my bike to see how it works for recreational cyclists, so this was a perfect time to actually pretend that I'm a serious athlete.  Since she couldn't run, Susan joined me faithfully on these rides, on the theory that she'd still get stronger and prepare her body for a maximum effort on race day.  Following this schedule was hard; the workouts were strenuous, and I really had to pay attention to what I was doing, rather than just go ride.  Susan had it easy…all she had to do was stay on my wheel and let me do the thinking.  Strong like ox, dumb like ox…she was taking a page out of MY playbook!  While the workouts were hard, I have to say that having a plan and following it made us BELIEVE that we'd be stronger and faster; and half of doing well in a race is the right attitude.  By Friday, we had butterflies but were actually looking forward to the race, and to maybe improving on our times from the test run!
Since it's well over a 2 hour drive to the Wildman start from our house, we headed up to North Conway the night before to cut the time down; otherwise, we'd have had to leave the house at 5 in the morning just to be able to get there with time to warm up.  Luckily for us, even in the busy summer season we managed to find a place to stay; the Red Elephant Inn's "Paris" room was available. Previously known under different ownership as the "Domestic Cat" room (no, I'm not kidding), new owner Rob Cappiello has simplified the decor and created a warm, welcoming, relaxing space.  Rob is about as welcoming as it gets, as well…his house rules pretty much come down to "have fun, and drink all of the wine and eat all of the chocolate you can find around here."  Since a small table at the entrance to the inn has both wine and chocolate on it, we assumed he wasn't kidding.  He made the mistake of asking us what our plans were; we told him we needed to eat breakfast at 5 a.m. in order to not, um, lose it during the race.  Rob turned a bit pale, but offered to get up and make us some fried eggs & oatmeal if we'd like.  Now, that's service you won't find at a regular hotel; chalk one up for the B&B experience!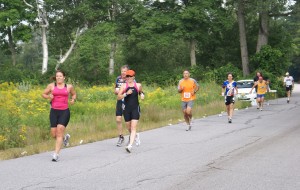 Morning comes awfully early when the alarm goes off at 4:30.  A quick cup of coffee, the promised eggs & oatmeal, and a quick yoga session in the room to loosen up (luckily, the Red Elephant provides DVD players), and on the road.  Both of us were feeling the "race queasies", wondering why we were about to do this to ourselves.  But, as soon as we reached the event, the race excitement started to build.  There's a feeling created by all of the people warming up, adjusting clothing, tuning up bikes, stretching, that gets the adrenaline going.  All too soon, the runners lined up, the gun went off, and the race began.  Susan, knowing how fast most of the runners are, positioned herself near the back of the pack so as to not let herself get sucked into running too fast too early; burnout in the first mile of a 10k can easily mean a DNF.  Even so, her time at the turnaround was WAY too fast, and she knew she'd have to ease off, particularly given the uphill finish.  And with a mile to go, it hit her…the exhaustion of having gone too high on her heartrate for too long.
But, back to Corinthians…"love endureth all things."  She just HAD to get to the finish line so I could start my bike leg…so managed to keep going.  When I saw her coming over the bridge to the finish, two things came into my head.  First was "she's 3 minutes ahead of her last time!"…and the second was "she's gonna fall flat on her face!"  She was so exhausted that she was stumbling, but managed to cross the line and send me on my way.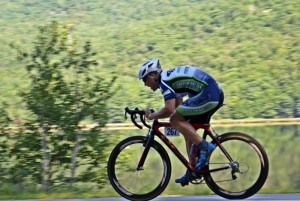 Now, with a performance like that to follow, I knew I had to give it my all.  So, I settled into my riding routine…with MY heartrate too high.  I forced myself to pull back a number of times (it's a lot easier to do that while cycling than when running), but still was pushing too hard…would it haunt me later?  As I started the climb up Pinkham Notch, I could really feel the burn; things were NOT looking good for me.  A faceplant while running is bad, but on a bike, the results can be disastrous!  Before I had a chance to get too worried,  I suddenly realized that the top was in sight.  And a look at my computer showed a time nearly 6 minutes ahead of my previous time…Dr. Death's workout program really HAD worked!  Or, had I simply pushed myself too hard, and ruined my uphill run?  Time would tell…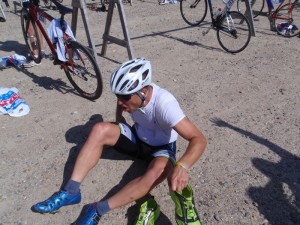 Into the transition, and the problems began.  As I started to change my shoes (I'd gotten smart, and gotten some lightweight trail runners from Timberland's new Mountain Athletics division), my abdominal muscles cramped so badly that I couldn't move; I just had to sit there and hope the pain would recede.  Slowly, it did…but it wasn't a cheerful way to start the third leg.  Finally, shoes on, helmet off, and I was moving…slowly.  I did make one smart move; at the water stop, I grabbed three cups, drank two, poured one over my head to cool down.  Dehydration is the cause of most cramping, and I knew I was in trouble already, so better to take a few extra seconds at the start than keel over halfway up the mountain!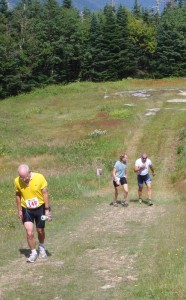 The first part of the climb, for a quarter mile or so, is relatively gentle, but it lulls you into a false sense of security; immediately after it, you start to realize just how steep green circle trails really are.  Ahead of me, I could see a string of "runners", but NOBODY was running.  It looked like a deathmarch…people with their heads down, hands on their hips, just trying to keep going.  Inspiring, actually, that all these people were willing to keep going and not give up, even on a hot, hot August day, climbing a ski slope in the midday sun.  When the next cramp hit me, in that same left quad, I had to stop for close to 2 minutes; but knowing that all of them were struggling as well made me know I couldn't quit.  And, knowing that Susan was headed to the top to come partway down and cheer me on to the finish…well, how could I possibly let my new fiancee know that I'm a wimp at heart???  So, as soon as my legs gave me ANY ability to move, I started again.  The more I walked, the more they loosened up; letting my heartrate come down for that couple of minutes gave me the break  I needed. The Opedix shirt definitely was working, as well; better breathing meant lower heartrate, and faster recovery.    And, luckily, there were 3 more water stops on the climb, which may have saved me.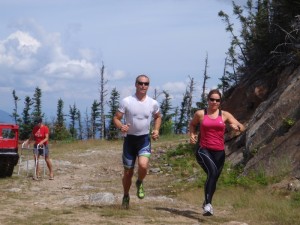 As I neared the top, I kept looking for Susan…I knew that she was going to meet me on the final climb.  And by this time, I really NEEDED the boost; I was  struggling to keep any sort of pace.  The few people near me were clearly feeling the same way…and in the best tradition of racing, we were all cheering each other on. It's one of the things I love about racing; most of the time, even though we're in competition, I find that people inherently want to help their "brothers in arms."  The shared struggle helps remind us that we're all in it together…well, until just before the finish line!  And I knew that I had an ace in the hole…and there she was, up the hill, shouting and waving her arms.  I tried to accelerate…nah.  Making her proud is one thing, falling down and not getting up is another.  I dropped back into my snail's pace crawl until I reached her, and then followed her, trying to stay with her for the last couple hundred yards.  I finally pulled even, and with the line in sight, we started to run; no way did we want to cross the finish line walking!  We were done…no matter how much pain, no matter how slow, no matter anything, we'd done what we set out to do.  And we'd done it together; planning, (short) training, and executing.  Of all the races I've done over the years, this was the best yet!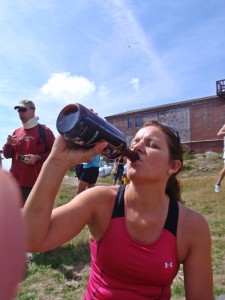 And the best wasn't over!  As anyone who's read "Why Race?" knows, I'm a cyclocross fan…and cyclocross is about Belgian beer.  Planning ahead, I'd had Susan bring up a big bottle of St. Bernardus Abt 12, a thick, rich, strong ale.  We opened it, took our swigs, and then started passing it around in the 'cross tradition.  Suddenly, we had a number of new friends…funny how being the only people with a beer can do that.  Great conversations ensued about the race, running shoes, beer, wine, the spectacular views; the camaraderie of racing was in full bloom.  We all cheered on runners who were still coming across the finish line, knowing how it felt when people cheered us on.  It was also great to sit there and watch other teams who, like us, had worked together toward their goals.  Some were multi-generational family teams, some were good friends; it didn't matter.  All of them were happy, excited, enjoying their own achievements as well as the atmosphere of the other people around them.   We soaked up the atmosphere for a while…but at some point realized that we were soaked with sweat, and getting cold.  So, into the gondola and down the mountain (and for those who haven't been on it, the Wildcat gondola provides truly breathtaking scenery).  We watched the lucky souls who were using the zip lines…ah, to let gravity do the work for us!  But, at the bottom, lunch awaited…the zip lines would still be there another day.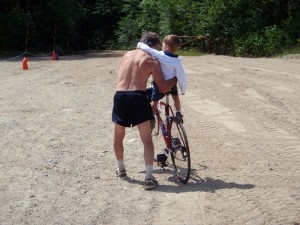 Lunch (LOTS of pasta salad!) over, the awards began.  And, shock of shocks…Susan and I came in second in our category!  The struggle we had both put in to…well, to show off for each other…paid off.  Finishing had been enough, but what icing on the cake!  I hadn't come in with a top-3 placing in any race for years, and thanks to my sweetheart, we'd both gotten one.  Yet, as exciting as that was, the most moving part of the event was watching the awards for the 70+ category.  Here we are, in our 40s, generally fit, working as a team, and happy to finish…and these guys, 30 years older, were doing it solo. And the 60+ category had solo racers with better times than ours.  We talked to one of the 70+, Bob Emerson, after seeing him in the parking lot with his grandson, and found that he had previously won his age group at the Wildman 6 times, ranging from when he was in his 50s until now.  Truly, these people are inspiring; we now want to try doing the race solo instead of as a team next year.  That will mean that I have to learn to run; but, Susan can teach me that, and I can help her with her time trialing skills…we'll still be a team, pushing each other to better solo efforts.
But, before then, we have to compete against each other at Sunday River's race…and with big bucks on the line.  We've decided that the loser is buying the wedding rings.  Susan, I'll take platinum…