The Mountain Top Inn and Resort in Chittenden (near Killington) runs equestrian camp for beginner to advanced riders several weeks each summer and offers trail rides and riding lessons throughout the summer and fall.  I've had a fair amount of experience on the back of a horse, but I immediately wondered if my friend Pat would join me.  She doesn't ride but  she likes horses. Could I trick her into taking a beginner lesson?  I would take a beginner jumping lesson and together we could participate in a trail ride. What fun!
As I was scheming, one problem kept niggling me… I'd already conned Pat into rowing longboats and now, maybe, horseback riding… What would  she dream up to get even with me…? Something, for sure. But what the heck! I wanted to ride and I wanted to share the experience with Pat. And so. . .
The name Mountain Top is certainly apropos for this inn! You drive up and up and up the final miles until the road seems to end at the resort. Down a sweeping grassy slope in front of the lodge and through a cover of trees lay the Chittenden Reservoir, and all around the reservoir were still more mountains enveloping us in quiet and  majesty. What an extraordinarily beautiful place to ride horses!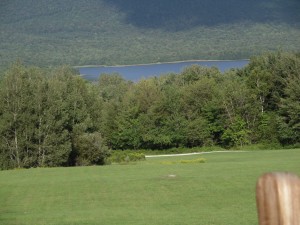 The lodge is attractively decorated in the Adirondack style – large and comfortable deep sofas, pictures of Indian canoes and elk in birchwood frames on wood paneled walls, a tanned animal hide covering part of the wall, a huge field- stone fireplace. Through a bank of windows  (in what was once and old silo!) opposite the entry we again glimpsed the peaceful reservoir. We checked in and discovered we had enough time to eat a lakeside picnic lunch before our riding lessons. We returned to our room-with-a-reservoir-view (called "Pheasant Ridge") in time to unpack our bags and pull on our riding britches and boots, then high-tailed it to the lesson barn.
Pat Rides Bolton
My introduction to my riding lesson began with fitting a helmet and then meeting my horse, Bolton. Even before I met him, I was encouraged by seeing a seven-year-old horse camper in the barn learning to groom a horse—and looking very comfortable brushing his tail.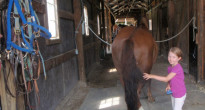 Mountain Top Inn runs a Children's Equestrian Summer program that provides kids with an understanding of horses and their care—including mucking stalls and grooming. They house 30 or more horses and give instructions to riders of all ages in basic Western or English riding, jumping and dressage. It would be possible to enjoy one of their equestrian camps at the same time that your grandchild was enjoying the kids' version.
Bolton, I discovered, had beautiful red lashes to match his coat. My instructor, Becca, assured me that he was  gentle, well trained. He was named Bolton both after a nearby mountain and because he has never bolted. She cinched his saddle as I stared into his eyes and talked sweetly to him. Becca has been working here for 5 years—starting when she was a young teen and now, as she completes her degree at the University of Vermont.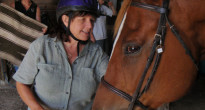 After mounting via a mounting block and adjusting my stirrups we entered the ring. I was riding a Western saddle with an English bridle; I had requested Western because I knew I would feel more comfortable with a horn I could grab onto if I got scared. What Barbara didn't know was that the last time I was on a horse I was in my twenties and on an English saddle; the image of falling off when my horse stumbled is still branded in my brain. They did make me get on again but riding a horse was never the same.
Becca walked beside me as we circled the ring. She told me how to carry the reins, how to get Bolton moving with my legs when he got lazy, and how to sit upright. After circling the ring a few times, keeping Bolton close to the rails of the fence, we proceeded through taking Bolton in half circles in both directions, figure eights, and then serpentines—using the dressage ring letters to make the turns. And I do mean we—Becca stayed with me the whole way, reassuring, complimenting  and giving clear instructions such as "look where you want to go before using the reins," and "reins above the horn."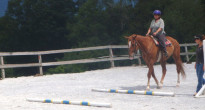 After about a half an hour, Becca asked me if I wanted to try taking Bolton over obstacles on the ground.   This is not jumping but having the horse walk over  poles placed on the ground, spaced for the stride of the horse. I was a little nervous about that stumbling thing, but game to try it. The trick to doing this well is to drop the reins so the horse's head can drop and he can see the poles.
The entire lesson was such fun and I loved knowing that I could actually make a horse do what I wanted! I was now ready for tomorrow's hour-long trail ride.
Barbara Jumps Jackson

Now it was my turn to feel a little twitchy about something new. Yes, I had popped over a few fences years ago, but I  was younger then! We got started and I quickly realized I needn't have worried. Jackson was steady, accustomed to helping beginners gain confidence in the jumping arena, and Krista was a sympathetic instructor. She told me about Jackson's 'buttons' (he prefers a light contact with the reins and is easily slowed down with a pull and release motion) and let me have a few laps of walk, trot and canter around the ring in both directions before we even talked about taking a jump. She adjusted the stirrup length, and then it was time to face the challenge.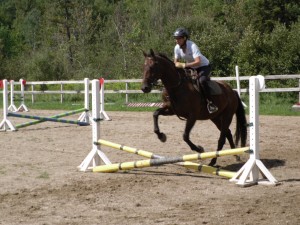 Krista coached me on how to approach the jump (in the middle. . . I should have remembered that much. . .), where to place my hands on Jackson's neck so as not to jerk him in his mouth when he leaned forward to hop the rail, how to keep my feet under my body weight, and to always look straight ahead to where I was going, not down at the jump. I gave it a go and the feeling slowly came back to me. The rhythm got easier and easier. At first we just trotted over the jump and after a round of six or eight tries and a break, I got the jumping fever and wanted to try at a canter. I actually found that easier and my position improved.
I ended on a high note, when Krista challenged me to a double: one jump, a canter stride or two and then a second jump. I did it and whooped! Of course the jumps were only a foot off the ground, but I got the sensation of leaping through the air and had a chance to build my confidence. Krista was very patient with my mistakes and I silently gave Jackson a gold-medal for doing his job without talking back.
Pat's Turn:
After our time in the ring Barbara and I watched a group riding lesson for what appeared to be a mother, father, teenager and young girl. What fun to do this as a family!
Since we still had almost 2 hours until our dinner,  Barbara decided to go for a swim. I opted for a shower and reading my book outdoors near the shuffle board layout.  I really wanted that view—the expansive lawn with the mountains, trees and reservoir bowl in the distance. I didn't get much reading done—I was having too much fun watching a three-year old child explaining "her rules" for shuffle board to her father. He didn't get to use a shuffleboard cue!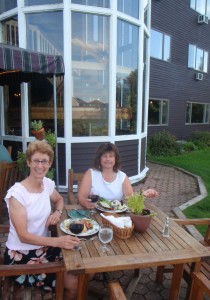 We had opted for an early dinner (Wednesday night is "Burgers and Brew") and an evening paddle on the reservoir before dark. It was a beautiful, warm night, the outdoor terrace was surrounded by large pots of honeysuckle and salvia and the hummingbirds were busy. I felt so blessed to be here. We each ordered a glass of Cabernet from their award-winning wine list and reminisced about our day. Life IS good!
I ordered "The Mountain Top BLT" made with apple wood smoked bacon on grilled multi-grain bread. Barbara had the Pan Seared Yellow Tuna on a sesame Kaiser roll with cilantro cusabi and avocado spread. The presentation was colorful and the service was attentive but not overbearing. We sat, relaxed and content, until we could no longer put off  kayaking or we would miss it entirely.
We drove the mile to the beach where we had a good choice of kayaks (we were the only people there). The air was still warm and the birds were trilling their evening songs. We could hear a group of other boaters on a far shore but other than that it was us chicks and the chickadees.
Our quest was to find a secluded rock with deep waters that we could swim off of in the morning. We paddled around the reservoir staying close to shore until we spotted two people swimming in the distance. "Let's check that out," Barbara suggested. They couldn't possibly stay all night, could they?
A mother and daughter team were swimming at "our rock" –their voices and laughter carrying across the water. They lived in the area and supplied more information about the reservoir (it stores water for power, not drinking, motorboats are allowed but can't exceed 5 mph, you can fish and there are hiking trails surrounding the reservoir on land owned by the Green Mountain National Forest). They assured us that we had found a great swimming spot; they were kayaking back to the public access and wouldn't be here!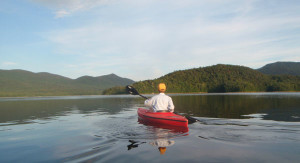 We were not ready to stop yet so kayaked out on the lake. The light was fading, the mist was rising on the water and an occasional fish jumped in the distance. We didn't want to end the fun and paddled slowly back to the Inn's beach.
Barbara's Turn:
After that wonderful evening paddle on the Chittenden Reservoir, Pat and I made a pact to rise early and take a swim at "our "rock before breakfast; we figured we'd have that whole beautiful body of water to ourselves. We were almost right! The morning was  damp and Pat was making a face at me like she didn't want to go, but I knew the water would feel warmer than the air temperature so I just ignored her. We intended to drive to the beach again, but discovered the gate across the road was locked. Aargh! Now I was making a face and Pat ignored me with a proposition: "Let's just drive to the public access at the dam ." Pat is brilliant! Within 10 minutes we were inspecting the rocks  at the boat put-in.  Swimming there looked very doable… so we did. Ahhhh!  The water was so soft, so beautiful, so refreshing. As my Mom liked to say while swimming, it makes you feel like a million bucks! Just as we were contemplating our wet exit, a car with a kayak on the roof pulled into the lot. The engine noise and doors slamming broke the magical spell of the quiet, but we later recaptured it t at breakfast, still feeling  like a million bucks!
We sat on the terrace with an unobstructed view of the reservoir eating heartily from the ample and yummy breakfast buffet. I stared at the view that had become familiar but not mundane and began to feel that the Mountain Top Inn & Resort was like a mini-Mt. Washington Resort in New Hampshire. But instead of the hulking Mt. Washington dominating the view, here it was the untouched Chittenden Reservoir. From the living and sitting rooms upstairs in the lobby to the terrace seating on the ground floor, the dining room, from the stair case, our bedroom, everywhere we went that view of the reservoir surrounded by untouched peaks of the Green Mountain National Forest was working its peaceful influence on me. I was like a buckle bunny following her rodeo hero as my eyes kept seeking out this view that released unknown stresses from deep within me.
Louise, the manager of the equestrian center, and Diane joined us for coffee and chat. They answered all our questions which is how we learned the history of the Inn (it began as a storage barn on a turnip farm!), about other summer activities such as hiking, tennis, kid and family activities and scenic pontoon boat cruises (how did we miss out on that?). They forgot to mention the 'self-play grassy hill' at the edge of the veranda – maybe THE best attraction overall – where kids awaiting their food, and after their meals (how did they do that on full stomachs?) rolled like logs down the slope, giggling and shouting, charging back up the hill for another go and calling out challenges to race. The live entertainment they provided was priceless! I want  to show this gem to my husband, so secretly I vowed to bring him back for a weekend of cross-country skiing on the Resort's 60 km of trails lacing over hundreds of acres, and to have a look at the Reservoir in winter to see if its spell still held me.
During our discussion, Louise mentioned that clay bird shooting is one activity popular among both sexes and all ages. Pat's and my ears perked up through our hair. Instinctively we looked at each other with wide grins. Louise, evidently quick at reading human behavior queried, "Would you like to give it a try?" We had been swimming already, trail riding was next, and then shooting before lunch? It looked like we were heading for another triathlon kind of day!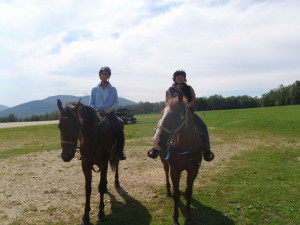 At the trail barn Pat and I were introduced to our mounts, Montana and Cassanova.  Montana was a sturdy beast and Pat climbed aboard the Western saddle. She looked the cowgirl part, bright-eyed and smiling, leaning on the pommel, relaxed and ready to ride the range. All that was missing for an authentic photo was a lariat, and, maybe, a rifle. I petted Cassanova and settled into the English saddle I had requested.  I wished I had brought along my cowgirl hat so I would look more the part. But it didn't matter, our brains were firmly clad in requisite riding helmets. Immediately Erin caught our attention with introductions to our fellow trail riders and the order our horses should follow. We fell in line behind our trail guide and headed out.
I fell into a relaxed lull from the steady rocking motion of Cassanova's walk. The horses knew their jobs and stepped sure-footed over branches, around rocks, up and down the old logging roads and trails. Erin asked friendly questions that broke the ice and soon we were chatting among ourselves.  I was last in line and enjoyed being able to ride quietly at times and look around. We passed through a cover of ferns, sunlight shafts reaching the under story here and there, lighting up the forest floor. A breeze ruffled the corners of our opened jackets. No bugs. I was in horsey heaven.
Shortly, we came into an open meadow on the crest of a hill, and there before us lay "my " view—the water, the lodge, the mountains. I took in a deep breath and shut my eyes to lock this scene into my memory bank.
Mountaintop's trail rides are grouped by ability and the guides always  keep the ride fun and safe for all participants. Because Pat was a novice we only walked – no trotting or cantering. No one in our group minded. At one point Pat's horse took a quick, short trot downhill and she handled it just fine even with that look of surprise on her face! Just being with the horses was fun; riding on this pristine property was a privilege.
Pat's Turn:
We had just enough time after our trail ride to get back to our room and pack up before the shooting began. I was so excited that I didn't have time to be sorry that we weren't staying another night. Barbara and I again high-tailed it–this time to the clay pigeon shooting range. Now I was really beginning to imagine that I was a cowgirl, giggling to myself at the idea.
We were met at the range by Roger Hill, Director of Programs & Facilities at the Inn. Roger started working at the resort from the age of 13 until college which took him away for a few years. His homecoming to the inn was in 2005. It says something about the Inn that so many of the people working here have been around for years.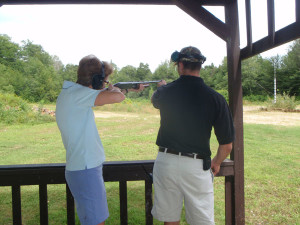 The shooting range at Mountain Top encourage success for novices. We were fitted with ear protectors and Roger's first emphasis was safety. We entered the shooting hut individually (for safety) and Roger gave each of us a private lesson explaining the 20-gauge shotgun, how to hold it to limit the kick, how to load the chamber and how to aim. He never talked down to us and acted as if it would be no time at all before we would get the hang of it. Now it was time to shoot!
Our job was to load 5 shells into the gun with the safety on, lock one shell into the chamber, shoulder the gun and take the safety off, then say "Pull" when we wanted the clay pigeon to be released. Of course then we were supposed to  hit the pigeon! We each had five chances before the next person shot. Barbara went first and  hit a pigeon! My first five rounds also resulted in that small orange disc splintering in the air. Instant gratification! This sport is addictive!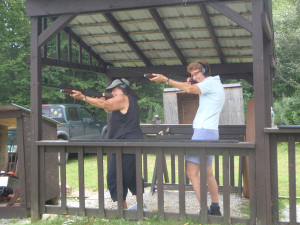 Each time we missed a shot Roger would explain: "Pull the trigger earlier (or later)." Or "You are sighting with your head instead of the shotgun, follow it slowly and then shoot". He also was quick to say "that's much better!" and "good shot!" when we did it right. I loved it and didn't want this part of cowgirling to ever end. Roger offered us a clay pigeon (whole) to take home with us as a souvenir, and  Barbara scrambled to pick up an empty shell. I was very sorry to leave but our stomachs were saying it had been a long time since breakfast!
We returned to our favorite eating spot at the Inn, the outdoor terrace overlooking the Green Mountains and the reservoir. The hummingbirds were still working those plants. Being a cowgirl I felt like eating beef so I ordered the "Tavern Burger" (certified Angus Beef with bleu cheese, tomatoes and lettuce on a French roll). Barbara chose "The French Dip Au Jus", tender beef on a crusty roll and fries. Although I was pleasantly full when I finished, I couldn't resist ordering the homemade Blackberry Ice Cream. Of course Barbara asked for a second spoon!
We dallied in the sun and immersed ourselves in the view for longer than lunch should take. Reluctantly, we said good-bye. Just for now that is.