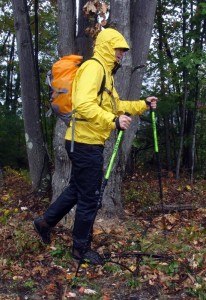 I've had a love/hate relationship with waterproof/breathable rainwear since my first Gore-Tex piece 25 or more years ago.  The early designs tended to leak; seam sealing helped, but contamination of the membrane still made them leak more, breathe less.  As the years have gone by, Gore-Tex has dramatically improved, to the point where the stuff is consistently waterproof under MOST conditions (though a steady, wind-driven rain can still penetrate your armor).  And, there are plenty of other waterproof/breathable options; while Gore-Tex is still the biggest name,  a host of other companies now produce excellent products. 
However, two problems still exist.  The first one is breathability, which is all over the map.  Some jackets breathe well, some are clammy in minutes…and that's with the same brand of membrane.  We are more or less of the opinion at this point that how a manufacturer mates the membrane with the other components of the raingear has as much to do with the comfort level as the membrane itself. 
The other problem is price.  There's lots of drool-worthy gear out there, but with price tags of $200, $300, $400, or more, they're out of reach of mortals with normal jobs.  At the lower end, the gear tends to be heavier, lower in features, and less successful at preserving the right waterproof/breathable ratio.  That's to be expected, but we can still dream about finding that fabulous parka in the corner of Filene's Basement for a ridiculously low price. 
Or, we can go out and buy Red Ledge's "Free Rein" jacket and pants. 
Who is Red Ledge?  Reasonable question.  Red Ledge is a company that's flown under the radar for years;  companies like Kittery Trading Post carry them, and the Appalachian Mountain Club sells their products at the huts, but they've never become a big "name" brand.  I bought one of their coated nylon anoraks probably 5 or 6 years ago.  It was inexpensive, seemed reasonably well built, and even though I'd never heard of Red Ledge I figured it was worth a try.  It's held up well to this day; would the higher end Free Rein product live up to the promise of their entry level product?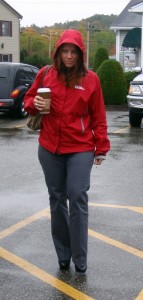 Rather than keep you in suspense, the answer is an unqualified "yes."  Over the past 8 months, both Susan and I have used the jackets and pants for everything from darting in and out of cars and stores to mountain biking to hiking in downpours, and they've performed admirably. 
First, waterproofness:  The Free Rein clothing is made of 2.5 layer T-Core LX laminate, which means a whole lot of nothing on its own… But, according to the information I could find, the "half layer" protects the membrane, allowing for no lining; translation, lower weight, and less "stuff" getting between your body moisture and its escape route.  In addition, their membrane is highly elastic, which keeps the fabric highly supple and comfortable.  Red Ledge imprints their logo on the inside of the jacket, which looks cool, but more importantly actually acts as a wicking material, increasing the effectiveness of the membrane at almost no weight cost.  On the outside, the shell material is a lightweight ripstop nylon with DWR (Durable Water Repellent) coating. This means some maintenance is necessary, as DWR wears off over time, but it's relatively easy and inexpensive to refresh the DWR coating.  The seams are 100% taped, keeping water from entering .  So far, impressive enough!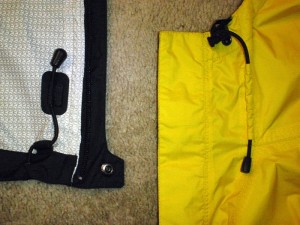 Where a lot of inexpensive products start to slip up is on features.  Given that labor is more expensive than materials in most cases, it's not a great surprise; provide basic functionality for cheap money and everyone's happy.  However, the Free Rein jackets aren't stripped down models. Given the retail price of $79.99, they've got a surprising range of goodies.  For starters, they have pit zips.  These zippers underneath the arms allow for heat and moisture control without letting rain in. But, to be fully effective, these have to be  waterproof (expensive).  Check…these are. 
Pockets are mesh on the inside; obviously, while that increases the breathability and decreases weight, you have to use some sound judgement to not load them with things that will tear the mesh.  The hood is large and well-designed, with a semi-stiff brim to keep water off your face (but that still rolls up or stuffs into your pack). The drawstrings run through channels on the jacket so that the wind doesn't blow them up into your face (very nice touch), and a drawstring at the back  allows you to adjust the angle of the hood so it doesn't obscure your vision.  Finally, there's a full double storm flap protecting the main zipper, just to make sure water doesn't penetrate from that angle.  Given the mission of the parka to be ultralight, it's hard to argue with the features Red Ledge has chosen. 
Okay, so…it's built well, and it's ultralight.  Oh, wait…or should that be weight?  Just how light IS ultralight?  Well, Red Ledge claims a weight of 12.3 ounces; my scale has it at 11.5 (bizarrely enough, they claim 19.0 ounces on the women's jacket; Susan's weighs in at 11.4).  Either way, that's light.  In your hand, it feels lighter, probably because we're so used to rainjackets being significantly heavier.  And on your body, it almost feels like you're not wearing anything; between the low weight and the flexibility, it flows with you.  Definitely an A+ in this category.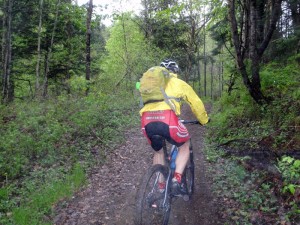 But, what about breathability?  In our experience, that's the Achilles heel of most raingear; it keeps you dry from the outside, but just can't keep up with perspiration.  Here again, the Free Rein excelled.  After several hours of mountain biking in the rain in May, my jersey was actually drier than if I'd been riding in dry weather; with the combination of breathability and a cold rain constantly cooling my body, I never developed a good sweat.  Walking around town in a 70 degree, steamy rain, I could feel the humidity, but the inside of the jacket was never wet.  Even when using it as a windbreaker on a surprisingly cold backpacking trip (we often use our raingear for multiple purposes, since it blocks wind as well as keeps rain out), I never felt any sense of clamminess.  Interestingly enough, it also offered NO noticeable insulation value on that cold trip; that's the first time I've ever had raingear so light that it was "heat-neutral".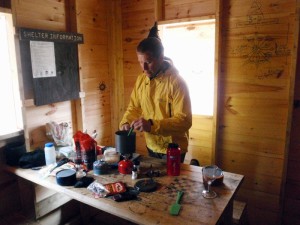 Finally, durability.  Based on how well it has survived this summer, I'd say that it should be good for several typical years, at least.  Of course, that will mean sporadic treatment to refresh the DWR; when water stops beading up on the outside, you'll know it's time.  But, with minimal care, there's no reason you shouldn't get a good long life out of your parka. 
Now, pants.  Frankly, they're just not as interesting to talk about as the parkas…but they're just as functional.  Mine were the pullover style ($59.99 retail), with a quarter zip to help get them over my boots; Susan's had a full zip the length of the leg ($74.99 retail).  Both have drawstring, elasticized waists, zipper pockets, and drawstrings at the cuff.  A nice touch there; the drawstrings are held on the inside of the pants leg, keeping them from getting dripping wet, muddy, and catching on everything.  Both kept us dry and comfortable, just as the jackets did.  Mine weighed in at a paltry 8 ounces; Susan's, with the extra zippers and storm flaps, came in at 12.5.  Personal preference, but the long zipper does make them a heck of a lot easier to get on and off; you may decide that the convenience is worth the extra weight.  The cut is fairly slim, so if you're on the edge of a size range, go for the larger one.  Either way, you can't go wrong; you'll get a well-built, well-designed pair of pants that will keep you dry in rotten conditions. 
Bottom line:  Red Ledge's Free Rein jackets & pants are quality gear at bargain basement prices.  You'll be hard pressed to find a better value out there; if brand-name cachet isn't important to you, buy these and you can save enough to buy a new, more waterproof tent!