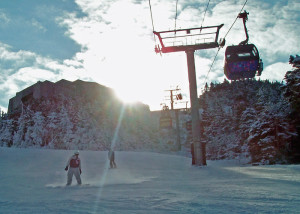 It's been frustrating . . . as usual.  Mother Nature is teasing us with colder temps and snow flurries, but refuses to let real winter settle in and make us happy. So please, get out and do your sacrifices to Ullr and dances for snow or, at least,  cold weather so the resorts can make snow.
While Sunday River in Newry, Maine and Killington in Killington, Vermont have been open for awhile now (some people already have 10 or more days on snow this season!)  and even tiny Woodbury Ski Area in Hotchkissville, Connecticut managed to get open for five days last week,  other areas have been waiting for the magic words "extended cold spell" to fire up their snowmaking systems.
On Thursday morning, November 18, Sugarloaf in Carrabassett Valley, Maine started blowing snow.  They turned their first lift, the SuperQuad   Sunday, November 21. Read what the conditions were like on Opening Day here (the ES team skied Sunday River, too!). Bretton Woods in Bretton Woods, N.H., opened Monday, November 22.  Okemo Mountain Resort,  in Ludlow, Vermont opened Tuesday, November 23
Loon Mountain Resort in Lincoln, N.H. is making snow and plans to open on Tuesday, November 23. Stowe Mountain Resort in Stowe, Vermont is blowing snow and will open on November 24, the day before Thanksgiving.and Stratton Mountain Resort (1-800-787-2886; ), in Stratton, Vermont are  also blowing snow and trying for a pre-T-Day opener.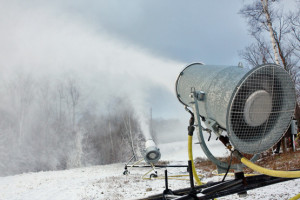 Sugarbush in Warren, Vermont and Mount Snow in Dover, Vermont, started blowing snow last week and plan to open on Thanksgiving Day.
Cannon Mountain in Franconia, N.H., Cranmore Mountain Resort in North Conway, N.H., Gore Mountain in North Creek, New York, Smugglers' Notch in Jeffersonville, Vermont, Waterville Valley in Waterville Valley, N.H., and Whiteface near Lake Placid, New York are all blowing snow and all planned to open the day after Thanksgiving but the weather didn't cooperate at all and at least some had to postpone until Saturday
Jay Peak in Jay, Vermont. is blowing snow on Stateside and has six inches of natural on the ground.  They are looking to open Saturday, November 27.
Attitash (603-374-2368; ) in Bartlett, N.H, and Jiminy Peak in Hancock, Mass haven't actually fired their snowguns yet, but they are ready and are hoping to offer skiing for the Thanksgiving weekend. Mohawk Mountain in Cornwall, Connecticut had hoped to open for Thanksgiving, but temperatures just haven't cooperated . . .
As always, at this time of year, call ahead or check the website before you leave the house. Mother Nature can still be cranky and shut things down in a heartbeat. But right now, there's snow on the slopes. What are you waiting for?
Other Projected Openings (Weather Permitting, of course . . .) :
December 3:  Bromley Mountain in Peru, Vermont; Gunstock in Gilford, N.H..
December 4: Hunter Mountain in Hunter, New York, Pats Peak in Henniker, N.H.; Wildcat Mountain in Pinkham Notch, N.H.
December 10: Bolton Valley (1-877-9BOLTON,  ) in Bolton, Vermont; Ski Butternut in Great Barrington, Mass.
December 11: Burke Mountain in East Burke, Vermont, Dartmouth Skiway in Lyme Center, N.H.; Saddleback in Rangeley, Maine; Shawnee Peak in Bridgton, Maine
A Different Drummer . . .
To prepare this story, I contacted every ski resort in New England, New York and Quebec asking if they were blowing snow and when they planned on opening. The reply from Eric Friedman at Mad River Glen in Fayston, Vermont (which, of course, does not make snow or allow snowboarders on its slopes) is a classic:
"Ummm, we're  not exactly 'blowing snow,' but it is spitting a bit here and there and the slopes are in fact white! We plan to open anytime Mother Nature allows from Thanksgiving weekend on. THINK SNOW!!!!"
Good advice!