In their own quiet way, cross-country skiers are every bit as fanatic as their downhill skiing kinfolk. At this time of year, the X-C crowd (and I'm one of them) has the gear ready and everyone is waiting for snow. In a great year, we get to burn off some Thanksgiving calories with a brisk session on skinny skis while everyone else shops on Black Friday. In a bad year, we're still waiting for Santa to bring us enough snow to slide on. In a really bad year, New Year's Day is celebrated with a hangover instead of a ski excursion….
When the snow is deep, the entire northeast is a wonderful cross-country ski resort. If you've got your own touring gear (racing and skate gear require groomed trails), any field, meadow, golf course or smooth woodland trail is your personal playground. All it takes is snow and a willingness to get out and enjoy it!
But very early in the season, before the snow gets deep, the maintained trail systems of the dozens of cross-country ski  centers scattered about the northeast are your best bet. Some are no more than a country inn with a few pairs of skis for guests to borrow or a golf course with a trail groomer. Most of these won't open until the snow is deep. But others are large operations either connected with or run like alpine ski resorts.
Before Thanksgiving, most cross-country ski areas are holding their collective breath, waiting for snow. But some of the big guys will make some snow, usually on a loop of flat, smooth ground and  groom it for both tracks and skating . It may only be a 1k loop, but it's a place to ski!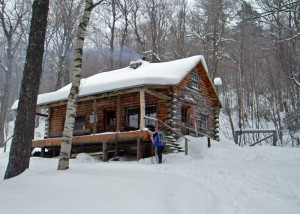 Add in those areas auspiciously located where natural snow comes early and you usually have a handful of opportunities to get out on your cross country skis before Christmas.
Fortunately, you don't really need a lot of snow to get started. Cross-country skiing is like any other sport; you get rusty during the off season. No matter how much cross-training you do, the only real way to get in good shape for good skiing is to ski. Early season opportunities, however limited,  are a great excuse to get out and begin polishing your technique and building up your stamina so you're in position to take advantage of the deep snow when it comes.
One word of advice, though: At this time of year, conditions vary greatly and can change even hour-to-hour. ALWAYS call or check websites for current conditions before you head out the door to go skiing.
So, Who's On First?
Weather being weather, a random snowstorm somewhere can always changes things, but year in and year out, some cross country ski areas get operating earlier than others. One of the surest bets in early-season cross-country is Trapp Family Lodge in Stowe, Vermont. They've got an extensive snowmaking system and a need to cover the open field that is the gateway to their 100-km trail system, so they blow snow early and deep. This is where I usually start my season.
Elsewhere in Vermont, Grafton Ponds in Grafton has snowmaking on 5km of its 30 km groomed trail system. They fire up the snowmaking as soon as the weather turns cold after December 1. You can also be certain that Mountain Top Inn and Resort in Chittenden, will use the snowmaking on 1.5km of their 60km trail system to offer at least some skiing by Christmas week.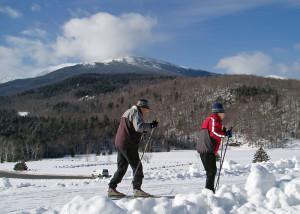 In New Hampshire, the surest bet is usually Great Glen Trails which has a high-altitude location that brings early snow, AND a 1 km snowmaking loop that they fire up in early December. Nearby Jackson Ski Touring doesn't have snowmaking, but they do have some very high altitude, well-smoothed terrain  with trails for all abilities that frequently gets early snow; they'll shuttle skiers up to the snow if necessary. Historically, the other good bet for early skiing in New Hampshire is  the Balsams Wilderness in Dixville Notch, N.H., which is w-a-y up north and high up, too. Good combination for early snow. Sadly, they closed in 2011 but are scheduled to reopen in the summer of 2013.
In Maine, head for the "The County." The Maine Winter Sports Center's two huge Nordic facilities, the 10th Mountain Ski Center in Fort Kent and the Nordic Heritage Ski Center in Presque Isle both usually open early (often the first in the nation which is why they are located where they are!) on natural snow. The other great possibility for early season skiing is at the Sugarloaf Outdoor Center in Carrabasset Valley, Maine.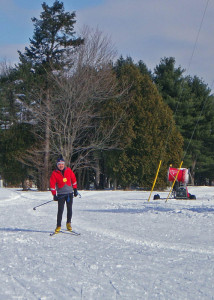 Believe it or not, one of the earliest cross country ski opportunities in New England is located right near the junction of the Mass. Pike and Route 128, just minutes west of downtown Boston. Weston Ski Tracks has snowmaking on a 2k  golf-course loop of its 15k groomed trail system. This loop is lighted for night skiing.
In the Adirondacks of New York, my bet for the first cross-country skiing is Lapland Lake Nordic Vacation Center in the southern Adirondacks, where lake-effect snow often comes with the first cold winds out of Canada. Of course Garnet Hill Lodge which is located near North Creek and has been under dynamic new ownership since December 2011 is anotherr good bet, as are the numerous resorts around Lake Placid.
For the folks who live in Connecticut and wait to ski there,  the Winding Trails Cross Country Center in Farmington, has 20 km of groomed trails that they usually open in mid-December.
Ski De Fond!
If you are really fanatic about your early-season cross-country skiing, be prepared to cross the border for cross-country skiing in Quebec, where cross-country skiing is a way of life. The epicenters for early-season skiing are the highlands of the Laurentians north of Montreal,  the Outaouais Region north of Ottawa, and Mont Ste Anne east of Quebec City. A (very) little later, the Eastern Townships, which border Vermont, offer wonderful XC getaways.