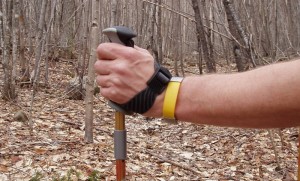 In the cycling world, the name "Road ID" brings to mind Levi Leipheimer, their spokesman and one of America's greatest cyclists.  And, after the 2010 Tour de France, Road ID is in the minds of lots of people who aren't necessarily avid cyclists, but enjoy that particular annual spectacle; all of the commentators wore their bracelets, and participated in roundtable discussions about them.  But, in this world of cell phones with  "ICE" numbers, is there really a need for an ID bracelet?
First, what exactly is Road ID, and what makes it special?  For starters, it's a company, not a product.  Back in 1999, Edward Wimmer was training for a marathon, and his father Mike was bugging him to carry ID with him, just in case. He, being young and cocky, ignored that advice until the morning he found himself in a ditch after nearly being hit by a truck.  That "duh" moment led to them starting the company in their basement. From the original product (resembling military dogtags), the line has grown to include a variety of wrist, ankle, and shoe IDs and accessories.
Road ID's focus is on making it easy and comfortable to wear, and to allowing you to put the information on that you want, not just the typical name and address.  Want to have 3 emergency numbers?  Sure.  Want to cover a drug allergy, or epilipsy, or diabetes, so that a first responder will know immediately what might be wrong with you? Sure. Have a particular quote, phrase, word that means something important to you?  Put it on.  Whether you want it around your neck or on your shoelace, the information is there.
According to Road ID's statistics, close to a half million athletes a year end up in emergency rooms without ID.  Without trying to sound melodramatic, some of those people could literally have their lives saved by having basic information available immediately to emergency responders and healthcare providers.  A few years ago, I was riding my bicycle when a van came over onto my side of the road; I headed for the ditch, he hit my bike (luckily, NOT me), slamming me to the road and spinning me off into the weeds.  I was confused, disoriented, but, luckily for me, a friend was riding with me and gave the police & ambulance appropriate information.  Was my life at risk?  Nope…I'd smacked my head, but in the gravel, not on the pavement.  Was it too close for comfort?  Yes.
But, what about the ubiquitous cell phone?  Think about it; you're riding along on your bike, cell phone in your pocket, and a truck hits you from behind.  Three bad options; the phone comes out of your pocket and lands in a puddle 20 feet from you, or is crushed when you land on the pavement, or has a screen lock and the first responder doesn't know your password.  And, of course, your cell phone isn't going to carry medialert information, and if your emergency contact isn't available, they won't know who they should call next.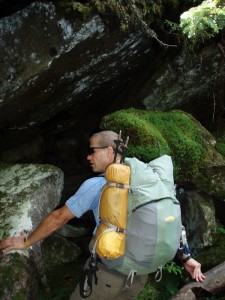 Those potential glitches made me decide that I wanted to wear Road ID.  The decision for a wrist band was easy for me; first responders are always looking for medical alert bracelets, so they'd be sure to notice it.  A quick look at their website identified two wrist versions, the Sport and the Elite.  The Sport  is a nylon web version that costs a whole $19.99; the Elite, a silicone band with a stainless steel clasp, in multiple colors.  Hmmm…yes, there's yellow.  As a cyclist, I've supported Lance Armstrong's "Livestrong" foundation for years, and have worn the yellow band; this would allow me to still wear the yellow, and protect myself at the same time.  I ordered one, and within days it came.  A very slick product; the clasp looks like it came from a higher end watch, the stainless ID tag is laser engraved extremely professionally and precisely. On it went; after a couple of tries, I cut it to the right length, and left it on.
And left it on…and left it on…and left it on.  The more I thought of it, the more it made sense to simply wear it all the time.  My life is a series of situations that have the potential for disaster; cycling, hiking, running in and out of the woods, kayaking, crossing the street, driving my car, etc.  A lot of the time, it's the only form of identification that I could easily carry, and when it's on my wrist, I don't have to worry about remembering to bring it with me.  Within a few weeks, it became a 24/7 item; it simply stays on me all the time.  It's become my own little security blanket; I feel safer with it on.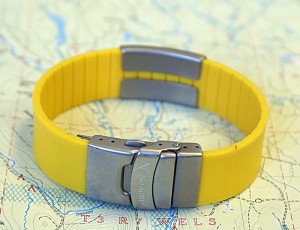 Now, my first version wasn't perfect.  Over time, two things happened.  One, the yellow band darkened; not to the point of being unwearable, but…not as bright and shiny as I'd like. And two, the clasp had an odd habit of popping open at random times.  Not a big deal; it didn't happen often, but it was still a minor annoyance.  Now, here's when you find out what a company is really like; how do they handle problems?  In a word…proactively.  I received an email from Road Id that said, in part, "You previously purchased a Wrist ID Elite from us.  It has come to our attention that a very small percentage of the clasps on the Wrist ID Elite are not functioning properly. A few customers have reported that the clasp 'pops open' unintentionally." Along with that came a link that allowed me to get updated replacement parts, no charge.  Wow…no waiting for me to complain?  And offering a free fix???  That's the way business should be done!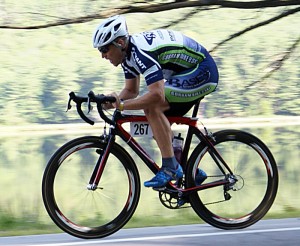 But, I still had the darkening yellow band.  So, I sent them an email and asked them about it.  And received a prompt reply, apology, and a request for my address so they could send me a new version.  Which arrived, with an elaborate, expensive-looking new buckle, in a couple of days, also at no charge.  And, a few days later, a follow-up email came, asking if I was happy with the replacement.
It's nice to run across a company that cares so passionately about its product and its customers' satisfaction level.  Couple that with their product being genuinely useful, and it's hard to find a flaw in their business plan.  I recently ordered one for my fianceè, and noticed that they have gift cards available online.  Hmmm…Christmas and birthday presents?  Instead of an ugly tie or a pair of socks, how about giving someone something that actually could save their life?  Time for me to go check my list…
CONTEST: I've been wearing my Road ID since this spring, and it's appeared on me in a number of photos.  The first reader who emails me at dshedd@easternslopes.com with the correct number of photos that show it will get a code for a free Road ID Elite!  Watch this space for the winner's name…and hurry up to beat everyone else!  UPDATE:  We have a winner! Daniel LaFiette found all 16 photos of me with Road ID on and visible, plus he noticed that I was wearing it in the "boot repair" video.  Great work, Daniel, and we hope you enjoy your Road ID as much as we do ours!